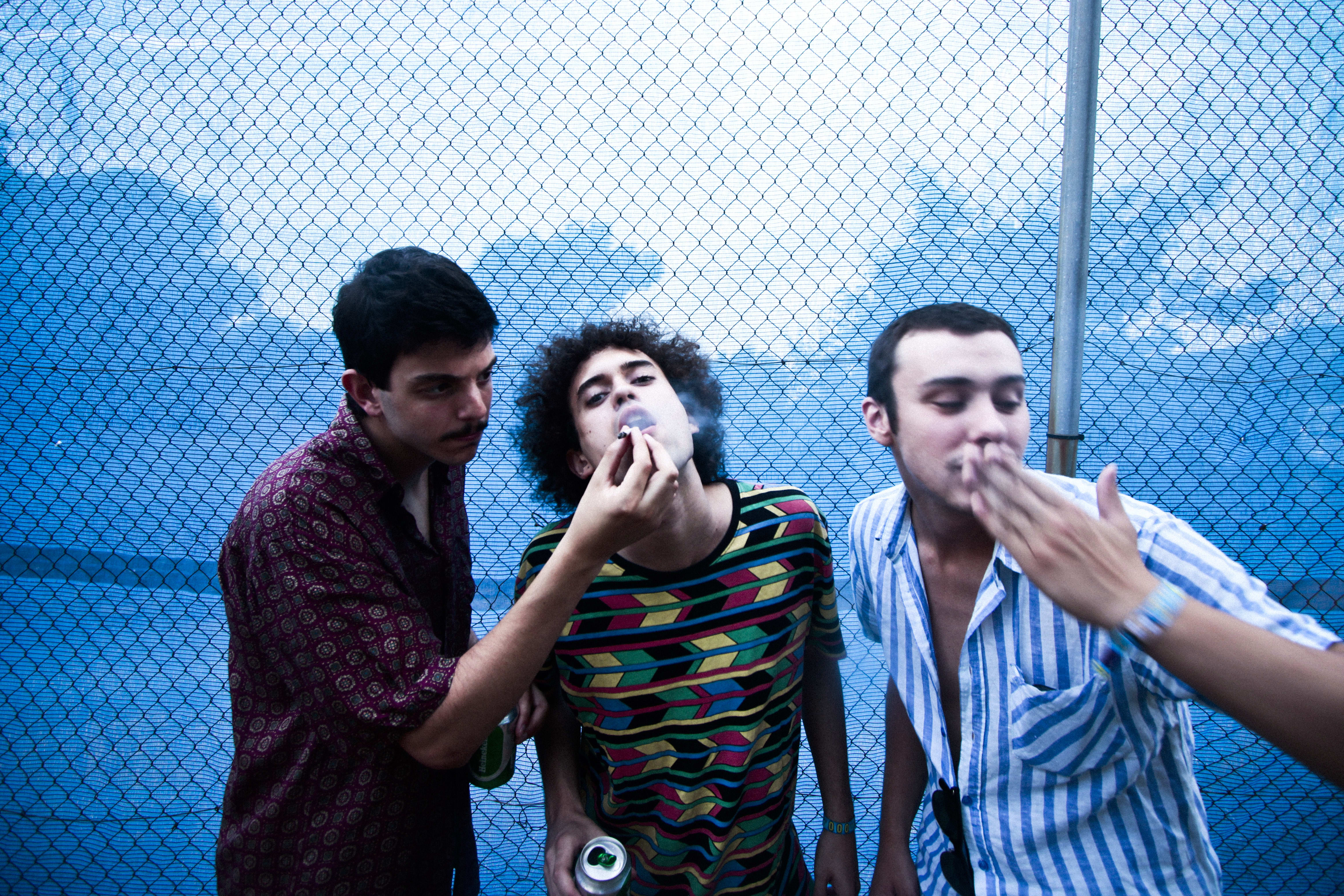 Daily Discovery is a feature that will highlight a new or recently discovered artist that we're excited about. See the rest of our Daily Discoveries here.
---
The Madrid garage-surf trio The Parrots started making music together as an excuse to cut class. Diego (guitar & vocals), Alex (bass), and Dani (drums) have turned their schoolboy antics into credible albums and raw, energetic live shows. They are confident and skilled, yet unpretentious—frontman Diego delivers vocals in his signature scratchy, just-smoked-12-packs-of-cigs-in-the-garage voice, while Alex and Dani sing backups between blips of their own skillful solos. It's clear that these guys are having a ton of fun right now.
Despite being fresh out of college, The Parrots have released an EP, two 7" albums, and have an impressive résumé of live shows. They've toured London and Paris, and most recently invaded the Fuzzland stage at the international festival Le Guess Who in The Netherlands (which hosts big name acts like St. Vincent and King Tuff). In their native Madrid, the trio is embraced and supported by the thriving underground scene. Carlotta Cosials, who makes up one half of Deers, their labelmates on Bachelor Records, directed their music video for "I Am a Man." This track's energy will make you wish you were at a live show and luckily for some of us, The Parrots will be returning to the US for their sophomore performance at SXSW this spring.
---
How old are you, where are you from, what do you do besides make music together?
We are from Madrid, in Spain. We are 25 years old. We play music, hang around, and enjoy Madrid's nightlife.
How long have you been playing together?
We met in university. We wanted a reason to skip class and do something more productive. [Laughs] Four years ago we started playing, but it wasn't in a band. Two years ago we started making songs as The Parrots.
What musicians or bands are you influenced by?
We love The Ramones… and lots of music, I don't know, so many. [Laughs] Right now the Spanish bands playing in Madrid are building up a scene, playing really good music. There are lots of bands here; we are influenced by them because we live together, have the same taste. We should also mention the San Francisco scene, bands like Thee Oh Sees and Ty Segall, stuff like that.
I hear in Madrid, the way to tell if a bar is good, is by how much garbage they have out front—the best bars have the most trash outside. Is that true?
Yeah, it's true. Drinking in bars is so expensive in Madrid, so the cool bars are the ones with lots of people drinking outside. There are people in the street who sell cans of beer for one euro, all night, until seven in the morning. When you're in a good bar, you just listen to the show, go outside, buy some beers, drink some beers, leave the beers there, then go in and party.
---
Your live shows have a lot of energy coming from the crowd. Do you guys try to hype the crowd up or does it just happen?
We try to send our energy and feeling into the crowd. We love to play, it's our favorite thing to do. And have fun. The people just recognize that.
You toured all over Spain, London, and Paris this fall. Any wild moments from your tour?
Last weekend, we played Le Guess Who festival in The Netherlands. It was crazy because as we were playing, we were on the floor, and the crowd was on the stage. People from the Netherlands were singing our songs. I went down with the crowd, started a mosh pit, and Mac DeMarco was there! My brother recorded it. We got a video of Mac DeMarco very happy—it was a great moment. I ended up under the stage. I kept playing under there, it was a good show.
You guys have gained quite a following in Madrid. When are you coming to the US?
We're playing SXSW. We think we're going to stay there for a while and and play more shows.
You put out two 7" records this year, Dee Dee Dangerous and Loving You is Hard. What can you tell us about them?
First we released a demo, Aden Arabie (in January 2013). After that we wanted to continue making songs, so made two songs and released them as fast as we could, and then did it again. It's gone really well.
What's next for you guys?
We're going to release a 10" record in January or February. It will be a little different because it's six songs and we have more time to record them. The sound is the same, but a different kind of vibe. The album will be titled Mediterranean Psych.
---
Listen to The Parrots on theparrots.bandcamp.com and look out for their US shows in 2015.