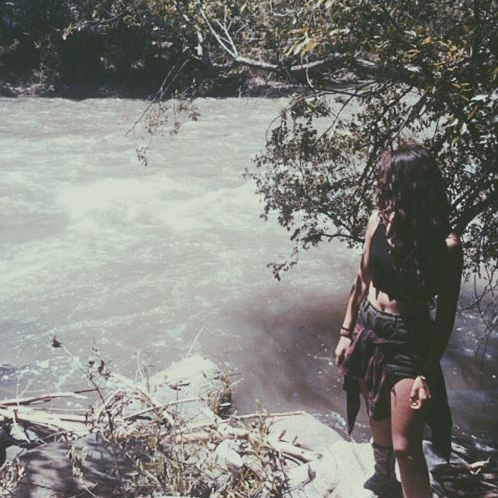 Daily Discovery is a feature that highlights a new or recently discovered artist who we're excited about. See the rest of our Daily Discoveries here.
---
Enigmatic singer sosi isn't one to ramble. She doesn't have a Twitter account full of enraged rants. No LiveJournal. In the five months that we've known her, since her first release on January 3, 2015, sosi hasn't shown her face. No location, no age. No social media presence.
What she has been giving us, though, is a string of songs, soothing and emotional releases that make you stop typing, stop walking, stop thinking properly. Beginning with "this is the thing" in January and continuing with "harsh hair, crooked fingers" in April, sosi blessed the world with two vibe-heavy waterfalls, both over Team Sesh affiliate and former Daily Discovery drip-133's production. Both tracks incorporate music that forces you to focus intently not only on the lyrics that sosi breathes so smoothly, but also on the flow. She is able to drag herself through a beat and come right up on the drum kick, making her crystallized voice (oftentimes heavy with reverb) sound like a complicated piece of the instrumentation. It's hard to explain without listening, but the way that sosi matches vocals to production is both unconventional and riveting.
---
While those two songs stand on their own, it was her first feature alongside Bones ("you guys go ahead, i just gotta grab my jacket") that really grabbed the web's attention. The track, again produced by drip-133 with help from Blank Body, didn't even feature any lyrics by sosi, just her oohing and ahhing in the background at the end. Like a test run, like a teaser from a ghost.
In late April, sosi broke the silence (and a tiny bit of the mystery) and made a Twitter account (@seesosi), one that currently only has tweets to music and one point of clarification: it's not her we see in her one music video. She only seems to tweet when new music is out, promising the audience and her fanbase that anything delivered to that site will be a link to passionate art. No promo, no hype, just art.
---
Not long ago, sosi blessed us with her first music video for her first track "this is the thing." The technicolor vintage countryside bliss is directed by Holly Gable, who has also directed for artists like Thundercat, Flying Lotus, J*Davey, and more. Then, over the weekend, sosi popped up on Misogi's excellent album PINK2, on the uptempo opening track, nonetheless.
Team Sesh, Brainfeeder, Misogi? sosi certainly knows what's good.
While sosi was very selective with her words and which questions to answer during our interview (she declined to answer a large chunk of the questions), she did give us some small tidbits of information, like where she lives and how she approaches songwriting.
But really, the who, what, and where is unimportant when the music is this good. Make sure you follow sosi on Soundcloud here.
---
Hey Sosi, how's it going?
It's going alright.
Where do you reside, where do you roam?
Illinois.
You've released only a few tracks without letting the public know anything about you. Do you enjoy the mystery or are you trying to let the music speak for itself?
I just value my privacy.
Are you officially part of Team Sesh?
No.
Have you released music in the past under a different identity/moniker?
No, this is my first time.
What inspires you?
Anything. Anything is capable of being an inspiration.
Do you often have lyrics prepared before hearing an instrumental or do you need to hear the music first?
I have a collection of writings, but if I am otherwise inspired while listening to an instrumental, then I will let the music guide my words.
What producers are you currently working with?
Just a few friends.
Any final words or thoughts?
I am so grateful to anyone who is listening, supporting, and guiding me through this. It means so much.
---