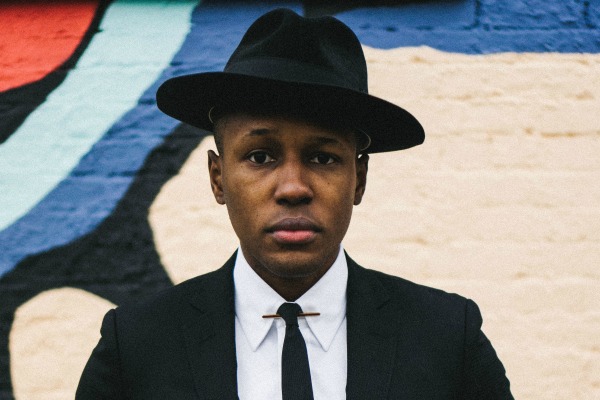 Daily Discovery is a feature that highlights a new or recently discovered artist who we're excited about. See the rest of our Daily Discoveries here.
---
Though many of us have been taught to never judge a book by its cover, soulful singer Jonny P hopes people do exactly that. With one quick glance is clear to see that Jonny is a sharp dresser who puts effort into his presentation, and for good reason. An old lesson from his father reminds Jonny that you are your own store front window.
While his outward appearance may spark intrigue, Jonny P's velvety vocals over rhythms and melodies that fuse Motown influences with modern soul is what will keep new listeners hooked. Ever since the 32-year-old New York native relocated to Nashville, Tennessee, he's perfected a distinctive sound that continues to draw new listeners in.
---
Tell us a little bit about yourself. Where are you from? How did you get started?
I'm from New York originally. I was born and raised in The Bronx, and went to school—junior high to high school—in New Rochelle, New York. I've been involved in music in some capacity since I was very young. It wasn't until about college that I really developed the desire to sing—publicly, that is. I started writing songs in my mid 20s that was soul music, and I wanted to get it done so I moved to Nashville to explore that. I was just thinking that Nashville would be the place to make the magic happen with players and producers. That's kind of how it all went down, I've been here for four years nows.
What's the difference between New York and Nashville in how it influences your creative process?
I don't really think Nashville influences my creative process per say. I think there is no comparison in any way, shape, or form of New York City to Nashville. I don't feel bad about saying that [laughs]. It's just two different worlds, I think anyone would agree. Nashville has made things a little more compact and focused when it comes to trying to find musicians, and trying to find the right people. It's more of an incubated environment, so it allows you to be more focused.
Whereas New York, I'm sure there are a bunch of insane musicians, obviously. I know a bunch of them. But I think the rat race to and from a creative space, or just trying to live there and be creative sometimes can inhibit you from creating pure art, rather than art as a necessity to stay alive in that environment. That's what I think Nashville has afforded me—a peace of mind, and allows creating to be more of a slow burn, instead of scrapping. I think my art would have suffered a little bit more in New York.
Because there's less pressure you think it all flows more organically?
Not so much. It depends, pressure helps to make you. For me, I always have pressure. It's not only a geographical thing.
From your outward appearance and style, people may think your sound is going to be strictly nostalgic but your Right To You EP has blends of '60s Soul-inspired sounds with a modern twist. It's a bit difficult to categorize, so how would you describe your sound?
I think my music and my style on the fashion side is definitely vintage inspired. I always say that I try to add to the story of soul—sometimes it works to my benefit, sometimes it doesn't—but I don't ever want anyone to listen to my record and think, "Oh I wonder if this was just recorded or if it was recorded 50 years ago?" To me, that would be a bad representation of my time on this planet.
I don't think it's anything negative to pull inspiration from other eras, I hope people do that from us living now. But at the end of the day, we have the opportunity to advance the story of a genre and we have to do that. That's what I try to do. I dress somewhat vintage too, but my shit's tight [laughs]. I try to have my own perspective and make sure it's just true to who I am. My music is true to what my influences have been growing up. I grew up on gospel, hip-hop, jazz, and that's what you'll hear in my music—or at least what I want to portray.
I've heard some of your newer releases like "Magic" and "Stand By," and I can already hear the difference and growth. "Magic" is very bluesy, so I can only assume your new music is going to be more versatile.
Yeah "Magic" is more of a like early '60s/'70s funk song. It lends itself to early Motown but I think people are going to be very surprised when they hear the whole song. The only thing that's out there now is a video of me singing the song with a guitar. When they hear the full thing that we're working on now it's going to be like, "Oh shit, I didn't see that coming," but I'm happy that it's out there.
---
What artists would you say inspired you?
I love hip-hop, I've always loved hip-hop. I love Kanye. Just because, to me, he really embodies what a true human is—conflicted, arrogant, humble, broken. Every time he says something, it's almost the polar opposite of the last thing he just said [laughs]. And for me, you could number my thoughts and every time I'm a really good person, my very next thought is something super bad. That's just how it is. There's so many others too though: Q-Tip, Mos Def.
On the R&B side, Musiq Soulchild, PJ Morton, Maxwell. On the gospel side, Kim Burrell, obviously can't leave out Kirk Franklin. I'm not a huge music listener, which is not something many artists would say but I grew up heavily in the church. All I listened to was gospel, so I wasn't the kid who'd have the MJ tape in their room blasting because my mom would be like, "Turn that off!" I'm still like that to this day, sometimes music overwhelms me, like the amount that's available. But I'm inspired by everything.
Yeah, the list that you just shared really makes your own sound make more sense because you're really pulling from everywhere. But is there anyone you'd like to work with in the near future?
Ah man, I'd love to work with Q-Tip, Andre 3000, Raphael Saadiq.
I saw that you were on tour with Leon Bridges, do you guys have anything planned?
Actually we didn't tour, he's just one of my best friends. We joined each other on stage for a song at the Ryman Auditorium when he last played in Tennessee. We're always scheming and dreaming, I don't know what will ever amount to reality out of a lot of the stuff that we do. We're just good buddies. I think he's a good person that helps to keep me balanced and inspired on a daily basis, and I try to do the same for him. But we don't really have anything planned. We're just trying to make this music what it should be again, in the scheme of the music industry.
---
I also saw that you and your wife have a clothing company. How important is style to you? How did you two start this company?
To me style is paramount. First, being from New York and my parents are both immigrants to this country by way of Jamaica so they didn't have a head start in America. One of the things that my dad always ingrained in me was, "You are your store front." You are your store window everywhere you go.
And if you think about a store, a lot of times it's what's in the window that makes you want to inquire within. So the way that I look is only to start conversations about who I am. I think that's most important. There's so many opportunities that I've been able to have in my life that would have never happened—people would have never walked up or noticed me potentially, if I didn't look different. I've just always used that as the catalyst for the bigger picture that I'm trying to accomplish. So style is very important from the fundamental standpoint.
As for the clothing line, [my wife and I] started that before we moved out of California from New York. We just started it based on what we were good at, and needing to keep other dreams going. We decided let's do something risky and different, but that we're comfortable with. It's just continued to grow.
Anything you want new listeners to know about you? Plans for the rest of the year?
I'm going on tour with a great band called Johnnyswim. We're hitting a lot of the states in the midwest. Right after that I'm going on tour with another great artist called Bernhoft from Norway. That's always important, I love to meet people on the road and have them see the stuff that we've been working on. I'm also in the studio everyday, actively, preparing for a record release at the tail end of the summer. It's just an exciting time.
---
Jonny P is currently gearing up to release new music this fall. In the meanwhile, take a listen to his 2014 EP Right To You below.