"I felt like it would be cool to set the stage with the most stripped down version of myself," Morgan Saint says of the video for her debut single, "You."
Saint looks directly at the camera with a piercing stare in the video's opening moments, confidently introducing herself with a song that manages to be catchy and a little haunting at the same time. Over stripped-back production and a few finger snaps, Saint presents the song's honest lyrics with a memorable vocal performance that very much lives up to the "moody pop" description she gives her music.
"It sort of sets the stage for the stories that will follow in my upcoming EP, 17 HERO," she says of her choice to introduce herself with the Cass Dillon-produced single. "I see it as the first chapter of a grander story."
Watch the premiere of the Nathan Crooker-directed video for "You" above and continue for our full interview with Morgan Saint.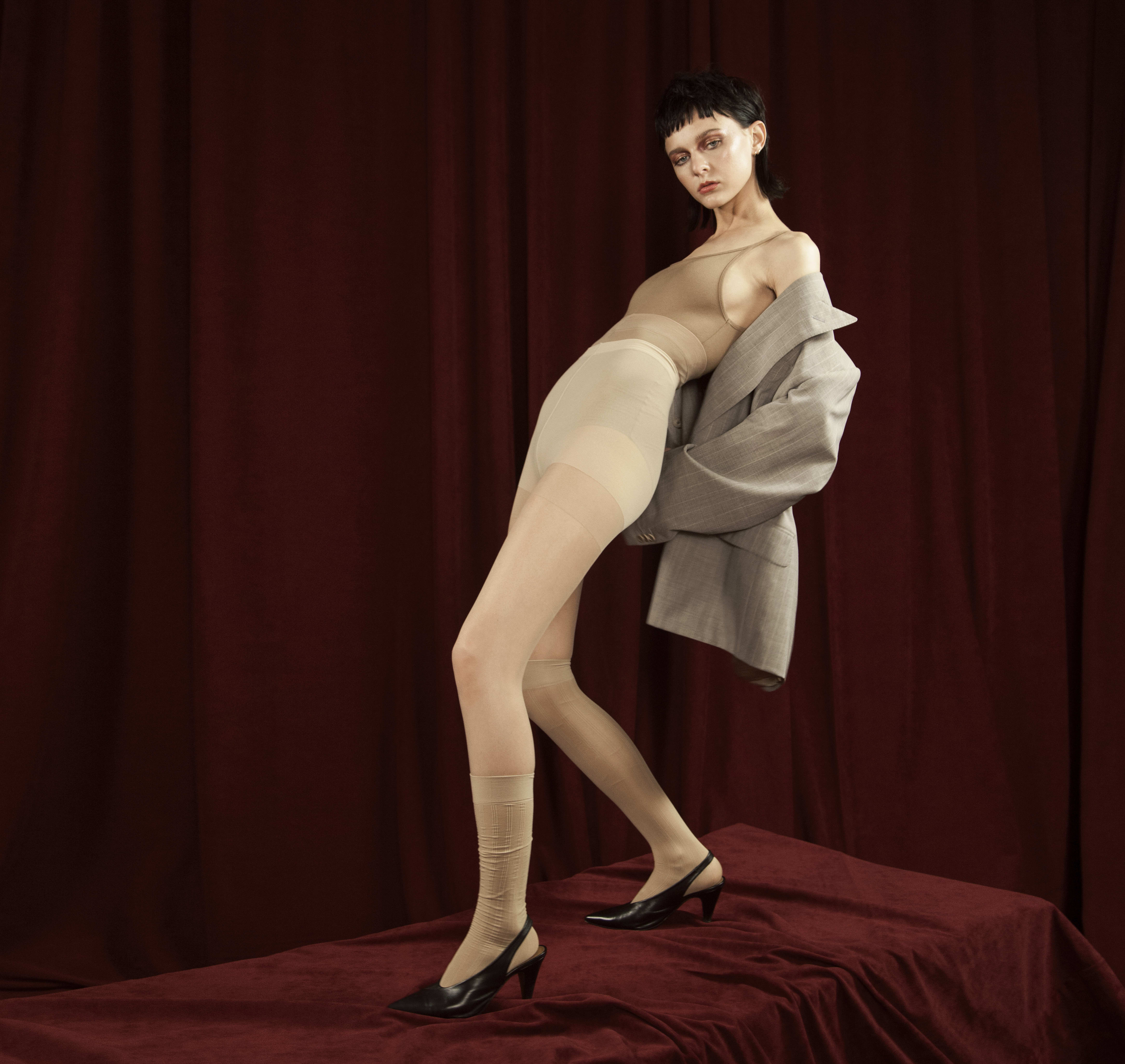 I think what I like so much about "You" is that it's catchy and immediately accessible on first listen, but it has an almost haunting edge to it that makes it really interesting. Is that what you were going for? What attracts you to music like that?
 
Thank you, that means a lot. I think that's precisely in line with what I was going for. Nearly all of my favorite songs share a definite sense of catchiness and accessibility. In my mind, what separates a simply catchy song from a song that has the ability to trigger emotion, is its depth and uniqueness both lyrically and sonically. I am attracted to music like that, because I think that it is not always easy to come by. When I do come across it, however, I am instantly enamored.  My ultimate goal is to create art that challenges "norms," has wit lyrically, and sticks with you. I always hope that people can find their own little homes in my songs. 
 
For many, this song will serve as an introduction to you. What about "You," specifically, made you want to share it before the rest of the EP? 
I wrote this song over a year ago at a major turning point of self-discovery. It was the beginning of a reflective time period in my life, where I came to terms with some really important personal questions.
I thought it made sense to share it first, because it sort of sets the stage for the stories that will follow in my upcoming EP, 17 HERO. I see it as the first chapter of a grander story. 
You're releasing "You" along with a video, which is really striking and well-made. I know you have a background studying illustration and photography. How important are visuals to you when it comes to your music?
Thank you! I studied at Parsons, The New School for Design, so naturally anything visual excites me. When I think of myself as an artist, or a maker, I sort think of myself as a storyteller. I would feel totally limited if I could only tell my stories through sound. In order for me to feel fully fulfilled as an artist, I need to have complete control of the whole creative process—meaning everything that includes any of the five senses. There is no question, that visuals are super important to me! Whenever I write a song, I hear the sounds in colors and layers. Making music reminds me of creating a watercolor painting. When I can visualize sound in that way, it makes it easier for me to know when a song is complete. 
 
Who directed this video and what kind of feeling were you guys trying to convey?
This video was directed by Nathan Crooker. He's awesome—I can't praise him enough. He allowed me to be super creative and opinionated, and helped my vision come to life seamlessly. I'd also like to credit Sofia Colvin and Jason Banker, who in addition to Nathan, helped breathe life into this visual.  In our minds, the goal of this video was to create a visual that captured the emotion of the song in the most simplistic and pure way. Being a person who turns to fashion as a major form of self-expression, it was important for me to allow the styling to shine through. We wanted to focus on simple, expressive movements and moments. My videos to follow are more narrative, but I felt like it would be cool to set the stage with the most stripped down version of myself.
 
Do you have a background in dance or was that new for you in this video?
 
[Laughs] I have to be honest—I have absolutely no background in dance, although I wish I did! I wouldn't necessarily consider my movements in this video dance, as much as I would just an emotional response to the song. I sort of just tried to feel the music, and Nathan captured me doing just that! 

What was it like working with producer Cass Dillon on this? Do you think he pulled anything out of you that you wouldn't have been able to express solo? Or what was your guys' dynamic as collaborators?
 
Cass is one of the most musically talented people I've ever come across. I actually wrote this song on my guitar in my shower (for the amazing acoustics of course) [laughs] and I never imagined that it would be my debut single. When I got into the studio with Cass, we spoke about what the lyrics meant to me, and decided that this song would function best if we kept it airy, open, and as honest as possible. I think that we both knew it was a special song, and we finished it in like record time! He and I certainly share a special bond as musical creators, and he has the ability to challenge me when needed, and certainly guides and encourages me always.