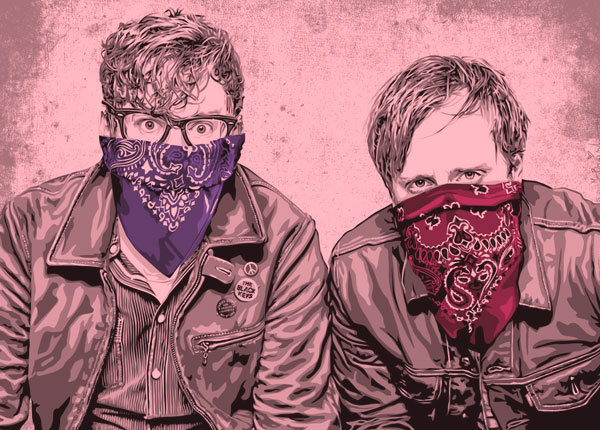 Musically, 2012 has been one of the weirdest years yet. In a period where "Gangnam Style" is king, rappers' cats are releasing singles, and trolling is the norm, it's nice to know that there are still bands out there who have an appreciation for the sound and style of eras past and who believe consistency, showmanship, and creative control over the music they create is paramount to true success.
For the last decade Dan Auberbach and Patrick Carney have been producing some of the purest blues-laced garage rock in the business. Their story is all-American, but their path to success wasn't easy. Regardless of the challenges they faced, the Akron, OH-born duo remained steadfast in their quest to achieve both critical and commercial popularity.
Not counting collaborations (Blakroc) or features (Rza's "The Baddest Man Alive") The Black Keys have seven complete albums and a few EPs to their credit. That's nearly 100 songs to choose from. While so many are excellent, some still stand apart and have cemented The Black Keys' spot as one of our times' finest rock bands. Here are our picks for the 15 Best Black Keys songs.
Hit "next" or click the pictures to read on…

15. "Lonely Boy" (2011)
El Camino
The second single off of their most recent album is a raucous mess of fun. The intensity of the roaring electric guitar coupled with the rockabilly rhythm of the drums already makes for a catchy song, but it's Dan Auerbach's voice that pushes "Lonely Boy" to new levels of infectiousness. Somehow the theme of so many rock n' roll classics—a man who has fallen for a shady woman—is made into an upbeat, strangely carefree jam.
14. "10 A.M. Automatic" (2004)
Rubber Factory
When it comes to the Black Keys, less almost always proves to be more. This sentiment is particularly true in the case of "10 A.M. Automatic." A straightforward rock song about mistrust and addiction, the tune came at a time when the duo were still in the earlier stages of their original song writing careers. While it doesn't carry the theatrics and playful tweaks of some of the band's later work, "10 A.M. Automatic" is a must-have in the catalog of any well-versed Black Keys fan.
13. "Have Love, Will Travel" (2003)
Thickfreakness
As the Keys were coming up, a portion of their early catalog contained cover songs from past influential acts in the blues and garage rock genres. One such record was their take on "Have Love, Will Travel," a tune originally recorded in 1959 by doo-wop legend Richard Berry. The song has seen a number of reincarnations since Berry's original, but none more popular than a version released in 1965 by Tacoma, Washington protopunk band The Sonics. It was in their rendition that the Keys found inspiration and with a sound so deeply rooted in this style of music it was an almost mandatory cover for them to attack.
12. "I Got Mine" (2008)
Attack & Release
Danger Mouse's involvement in Attack & Release aptly shines through on the album's second single, "I Got Mine." Historically revered for their unrefined and somewhat coarse sound profile, the backdrop that Danger Mouse included in his production of the album led to a much fuller and more realized result than anything the Keys had released before. This evolution in the band's music and recording process allowed them to function as something larger than a simple two-piece outfit and would be an approach that would carry forward into their future material.
11. "Girl Is On My Mind" (2004)
Rubber Factory
"Girl Is On My Mind" was a hit single featured on the band's third official release entitled Rubber Factory. After Carney's landlord sold the building where the band had recorded their first two albums in its basement, the pair was forced to find new accommodations. They eventually settled on a former tire factory in Akron where they would arrange a makeshift studio and complete the new recording.
This song, inspired by another Sonics track called "Shot Down," was licensed by the Keys for a Sony Ericsson commercial, which helped to grow the band's popularity at the time. Critical respect increased and commercial success was felt for the first time after Rubber Factory peaked at 143 on the Billboard 200.
10. "Howlin' For You" (2010)
Brothers
Arguably one of the The Black Key's catchiest songs, "Howlin' For You" is a standout single from the band's sixth studio album, Brothers. Fuzzy guitar effects offset the playful "da da da da da" stadium chant of the refrain, while Carney's steady drum line drives the tune forward at a calculated tempo. The entire thing kind of feels like it's being performed in a high school gymnasium by a pep rally band on steroids.
MTV nominated the video below for its 2011 MTV Video Music Award for Best Rock Video. "Howlin' For You" ultimately lost to the Foo Fighter's "Walk," but the single itself would go onto achieve certified gold status in U.S., a consolation prize the Keys gladly accepted.
9. "You're The One" (2006)
Magic Potion
By the release of their fourth "studio" album, The Black Keys had established themselves as one of the more critically-approved and commercially appealing bands to come out of the second garage rock revival, which also hosted a diverse set of acts like the Yeah Yeah Yeahs, Black Rebel Motorcycle Club, and Interpol. Magic Potion was the band's first major label recording on Nonesuch Records. Despite their access to a wider range of resources, the Keys opted to again record the album in Carney's basement. It was their first project to contain all original material and included the melodic soulful single, "You're The One."
8. "Gold On The Ceiling" (2011)
El Camino
Showcased in "Gold On The Ceiling" are Auerbach's impressive guitar skills. While the song may start off slow with an off-kilter chugging, it blows up in typical Black Keys fashion. At around the 1:20 mark, Auerbach takes the reins and masterfully plays a short but sweet guitar solo. One can't resist singing along, thanks to the refrain full of hand-clapping, a bouncing sway led by the drums, and a chorus of singers joining Auerbach.
7. "Your Touch" (2006)
Magic Potion
"Your Touch" is like something straight out of another era, yet remains a perfect example of how The Black Keys channel that classic rock sound. Lyrically, a straightforward approach is taken. But this song isn't necessarily meant to highlight Auerbach and Carney's songwriting abilities. Rather, it demonstrates their affinity for creating epic levels of sound and energy from two measly instruments. It would be in support of Magic Potion that the band would embark on their most extensive tour up until that point, allowing them to play their eardrum-busting style of garage rock to some of the largest crowds yet.
6. "Everlasting Light" (2010)
Brothers
The release of Brothers ushered in a number of "firsts" for The Black Keys, most notably their first five Grammy nominations and first three wins including a nod for Best Alternative Music Album in 2011. Coincidentally the album's first song "Everlasting Light" happens to be one of the best the duo has ever recorded. It's a statement track that would accurately set the tone for what would prove to be the band's most diverse and cohesive album to date.
5. "I'll Be Your Man" (2002)
The Big Come Up
Released in 2002, The Big Come Up was the world's first formal introduction to The Black Keys. Using an 8-track tape recorder in lo-fi, the duo recorded their entire debut album in Patrick Carney's basement. As a mix of cover songs and original material, the release featured the tune "I'll Be Your Man," which would eventually be used as the theme song for the HBO program Hung.
It was on The Big Come Up that the pair forged their signature raw in-your-face sound that remains a staple of the band's music today. Women, love and relationships often find their way into Aurerbach's lyrics, and "I'll Be Your Man" is one of the first tracks where we hear his growling guitar and raspy vocals touch on the topic. If you want to know who The Black Keys are at brass tax, this is the best place to start.
4. "Set You Free" (2003)
Thickfreakness
Their debut album The Big Come Up didn't do much for the Keys commercially, but it was a critically applauded release that helped initiate a small cult following for the band. Their sophomore album Thickreakness (also recorded in Carney's basement in a single 14-hour session) found the duo fine tuning their sound and earning further positive reviews from critics. It also produced the track "Set You Free," one of the band's most popular songs to date. Time magazine would go on to name Thickfreakness the third-best album of 2003.
3. "Little Black Submarines" (2011)
El Camino
"Little Black Submarines" highlights Dan Auerbach and Patrick Carney's pure musical abilities. The song starts off gently – Dan's singing is accompanied by some stripped-down, bare bones acoustic guitar playing. It's one of the few songs where we're really able to just hear Auerbach's vocals.
The Black Keys have always displayed the attitude of a "throwback band." This song in particular though is more a nod to something Led Zeppelin-esque. At around 2:05 the heavy distorted guitar and abused drums come blasting in. "Little Black Submarines" is a tune drenched in emotion all the way from the soft acoustic to the heavy aggressive electric guitar.
2. "Strange Times" (2008)
Attack & Release
"Strange Times" came during a pivotal period in the band's career. As the lead single from their fifth album, Attack & Release, the song's title metaphorically spoke to some of the experiences Auerbach and Carney were facing at the time. Their prior releases had all been self-produced and recorded in basements or vacated warehouses, however for this album they turned the production reins over to noted experimentalist Danger Mouse and chose to record in a professional studio for the first time ever.
Those decisions led to the release of an exceptional album and perhaps no song better represents that step up in quality and polish than "Strange Times." Danger Mouse helped to enhance the classic Keys' sound while still leaving room for the blazing guitar riffs and aggressive cymbal-smashing that the band had become known for.
1. "Tighten Up" (2010)
Brothers
2010 saw the release of The Black Keys' sixth studio album, Brothers. It also reconnected the band with producer Danger Mouse, but only for the lead single "Tighten Up," which at the time would prove to be their most successful song. The track would achieve certified gold status in the U.S. and stand as the first Black Keys record to chart on the Billboard Hot 100, peaking at number 87.
It's rumored the song was written in response to a period of animosity the pair had previously endured. In 2009, Auerbach unleashed a solo album called Keep It Hid, which Carney claimed to be unaware of. The timing of the solo project coincided with Carney's divorce, ultimately leading to a rift between the two. Cooler heads eventually prevailed, although some fans believe remnants of this disconnect can still be seen in the video for "Tighten Up," in which Auerbach and Carney's fictitious sons have it out on the playground over a young female.