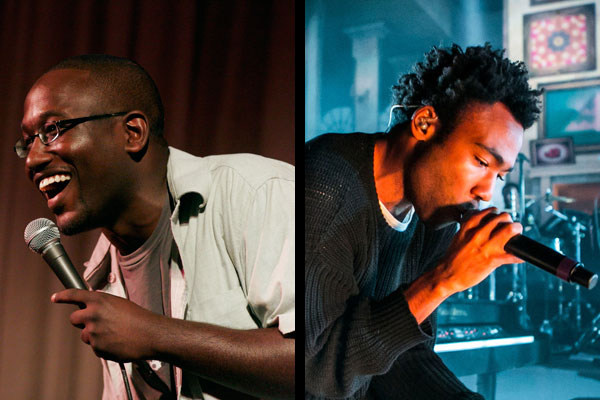 At first blush, hip-hop and comedy couldn't be more different. Fictional assassin/actual Canadian Seth Rogen talked to comedian Hannibal Burress about the differences between a rapper's larger-than-life character—"it's totally acceptable to talk about how you are the greatest rapper ever and how everyone else sucks and how fucking amazing you are"—and a comedian's on-stage persona. Burress' retort is that "comedy is basically self-deprecation." The approaches to persona couldn't be more disparate.
But the dynamics of both performances are similar: rappers and comedians both work off the crowd's energy, gauging responses to particular lines and fine-tuning minutiae like phrasing, tone, and pace. Both require extensive writing, rehearsal, and editing. Both have issues with misogyny. Rappers and stand-ups can either kill it or bomb. Aspiring rappers and comics are equally cringe-worthy when they fish for promotion. Yadda, yadda, yadda. All of this is to say that the similarities go way deeper than trafficking in punchlines.
In recent years, the Venn diagram of rap and comedy has started to overlap, and the lines between the two have blurred.
In recent years, the Venn diagram of rap and comedy has started to overlap, and the lines between the two have blurred. Take Three Loco for example: a trio made up of solo pornstar-turned Vine celebrity Simon Rex (aka Dirt Nasty), bon vivant manchild Andy Milonakis, and rapper-turned-WWE superstar Riff Raff seems farcical on paper. But figure in production by Diplo et al, and their eponymous project doesn't seem like a complete joke. It's not Weird Al. Instead, it's hip-hop with a sense of humor. There must be some appeal to jocular rap because Milonakis has gone on to work with trap and drill royalty, featuring on Chief Keef's Sorry 4 The Weight and Gucci Mane's Views From Zone 6.
---
Riff Raff's career marks another pivotal moment in the intersection of hip-hop and comedy. After transitioning from VH1 scene-stealer to rap phenom, The Curious Case of Jody Highroller had many wondering if Riff Raff was truly about that proverbial life or if it was all an elaborate Andy Kaufman-esque act. His absurd lyrics coupled with his cartoonish social media persona led many to believe that the Neon Icon was a conscious lampoon of Southern hip-hop (read: black) culture. Jody's antics were validated for swaths of fans and critics only when rappers like A$AP Rocky and Drake co-signed him, thus dispelling many accusations of performance art minstrelsy. Instead of a postmodern satire of hip-hop culture, Riff is just a rapper with an off-beat, larger than life sense of humor… right? If this doesn't convince you, don't worry: some remain skeptical.
Comedians have been mocking hip-hop on various grounds for years, and it makes sense. Rap is, at times, a ridiculous genre populated with bizarre personalities. Just ask Aziz Ansari about Kanye West or 50 Cent:
---
There's even been inter-genre beef between Hannibal Burress and the Snowman himself, Young Jeezy, all over a joke about closets. Burress is at the epicenter of the hip-hop/comedy Venn diagram I mentioned earlier, even admitting that he rapped before he started doing stand-up. Burress' bits often refer to rap directly, commenting on the molly trend within hip-hop and borrowing elements, including a DJ, six ballerinas, and even going so far as to perform "Gibberish Rap" (produced by none other than cloud-rap gawd Clams Casino) nine times at the end of one show, a la Kanye West & Jay Z's "N*ggas in Paris."
---
One of the first name that comes up in discussions of the rapper/comedian trope is Donald Glover. Glover leads a double life as emo-rap heir apparent Childish Gambino and writer-slash-actor on 30 Rock, Community, and the defunct sketch comedy group Derrick. This portfolio led many (including Pitchfork's Ian Cohen) to question the sincerity and self-awareness of the Gambino persona. Was Glover a rapper who happened to be a comedian, or a comedian who wanted to be a rapper? Glover himself maintains that he doesn't see the difference between the two careers, and his latest album Because The Internet does a better job than Camp of joining both halves of the Gambino ying-yang through the eponymous multimedia screenplay and the Clapping For No Reason short film. While many may dismiss Glover's musical output, his creative drive is undeniable, and his upcoming pilot, titled Atlanta, promises to further the synthesis of comedy and hip-hop.
There's plenty that rappers could learn from comics, if only they could let their guard down and learn to laugh at themselves.
Some of Kanye's most poignant moments have been conveyed through comedy: the principle skits on College Dropout, Late Registration, and the Chris Rock interlude on "Blame Game," to name a few. Drake made a similarly cutting point when he crooned, "I don't like how serious they take themselves." Drizzy is statistically the hottest rapper in the game right now, yet he still takes time out of his schedule to goof around on SNL, Kimmel, and other late night shows.
If the two hottest rappers on the planet can be self-aware and self-deprecating, maybe they should be looked upon as examples to follow. Much of the power of comedy lies in the vulnerability that it requires from performer and audience alike. There's plenty that rappers could learn from comics, if only they would let their guard down and learn to laugh at themselves more often.