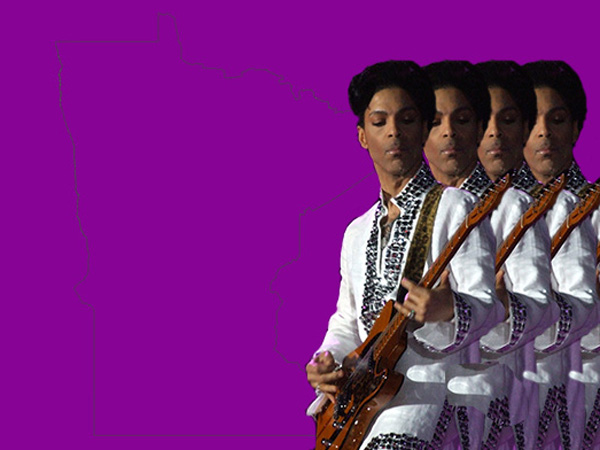 My only person memory of Prince is meeting him back in the winter of 2013.
At the time, a close friend of mine was his personal assistant. They were casting extras for a few 3rdEyeGirl videos, so I went with a few other young artsy kids (Allan Kingdom included) to Paisley Park [Prince's home and place of death].
Paisely Park honestly looked like Pee-wee Herman's playhouse, if Pee-wee was a black man who had a whole lot of style. We weren't allowed to take any pictures, and we weren't allowed to swear, smoke, or consume alcohol inside the building or in the parking lot.
The first day, we were brought into a gigantic warehouse space in the middle of the property. I'm guessing this is where all the dance parties and concerts went down. We learned a couple of choreographed dances, and we shot party scenes. The first night was nothing too special, and there was no sign of Prince.
We all left disappointed, but happy about the experience nonetheless.
About a week later, I got another invite to go back to Paisley Park. This time, the amount of extras had shrunk to 15 kids. They had us back in the warehouse area, where we shot more party scenes. Nothing too different from the last visit we had.
After an hour of dancing and partying, during which the competition to get cameos in the video grew fiercer, one of the instructors stopped us. "Turn on the lights," they said, "Someone wants come thank you for your hard work." Lo and behold, this short, light-skinned man dressed in all black—with the rounded John Lennon shades—gave us a wave.
I don't know about everyone else, but at that moment my heart sunk into my chest because it dawned on me that this same man had been in the room with us the entire time, and no one noticed him walk in. It was seriously like he materialized out of thin air.
After this shocking ordeal, we were instructed to go back and wait inside the purple lobby. Some people thought it was over and left, but the few of us who stayed were led to another room inside the facility that was set up with a drum set, and three guitars. We waited in that room for about 20 minutes before Prince (dressed as Jimi Hendrix) and 3rdEyeGirl came in to serenade us with a private live concert, in a room no bigger than someone's basement.
My older stepsister's dad is Jelly-Bean Johnson from Time, so growing up I had all kinds of access to rare Prince merchandise. That night I wore one of Prince's old tour jackets that I had stolen from my sister for the occasion. As I was leaving, I was pulled aside. "Prince wants to know where you got this jacket," they asked me. I told them my connection, praying I don't get in trouble with Prince—but they just asked me if they could take a couple of photos, which made my night.
---
That was it. We went home, and I've never been back to Paisley Park. Unfortunately, those videos never came out. But the experience was definitely once in a life time.
Knowing that I'm from the same city that Prince was from made me believe it was possible to be a megastar. The way Prince carried himself as an artist and how comfortable he was with his sexuality gave me confidence to be who I am as an artist. He gave me the confidence to dress how I do, and to be fearless with my music. Growing up, I was bullied a lot and called gay, because my clothes actually fit me.
When I was in the ninth grade, I saw a poster of Prince. His nails were painted, and he had eyeliner on. I thought to myself, "This man has so much confidence in himself and who he is that even though he takes on female characteristics and people question his sexuality, he still carries himself in a way that commands respect. It actually made girls love him more." From that moment on I knew that as a man and as an artist I wanted to have that much confidence in myself.