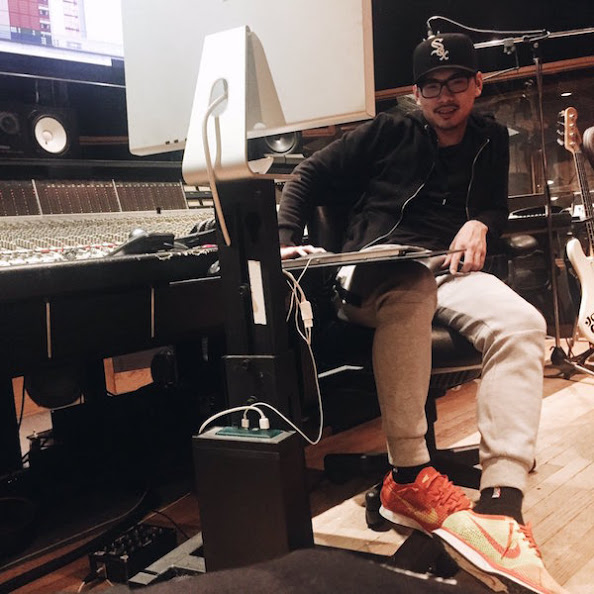 Of all the players that make music tick, engineers are among the least celebrated. Our favorite songs simply wouldn't sound so good without them. Mixing/mastering engineer Elton "L10" Chueng has worked with Chance the Rapper for years, handling much of 2013's Acid Rap before working on several songs on the recently released Coloring Book. Given the nature of his role, Chueng intimately witnesses how records really come to fruition.
The Chicagoan first crossed paths with Chance around the time of 10 Day in 2012 as an intern at Classick Studios, a staple destination in the Windy City that's seen the likes of Mick Jenkins, Saba, Vic Mensa, Tyler, the Creator, and many more walk through its doors. His journey most recently brought him to the historic Chicago Recording Company (CRC), where a team of collaborators logged thousands of hours alongside Chance to realize his ultimate vision.
Behind every great album or mixtape is a great engineer (or, in this case, several). L10 took the time to speak with us about working 23 hour days to finish Coloring Book, his reaction on hearing Future's guest feature, and the most important thing Chance ever told him.
Related: The Story Behind Chance The Rapper's Mixtape Covers
---
What songs did you work on for Coloring Book?
Ahh, I wish I had more but I only ended up with "Smoke Break," and "Finish Line/Drown." I actually have mixes of half of Coloring Book that didn't end up on the final because a few of the songs were arranged differently from Chance's vision, other ones got cut, and the rest he never got the time to listen to because there was so much going on. Jeff Lane was the head engineer of this project so the majority of the time Chance was working with him to get a lot of the recording/mixes done.
Do you have a memory of working on Coloring Book that stands out?
Bro, when they told me Future was going to be the feature for "Smoke Break" I was like, "This man Chance, cannot be stopped." I hounded Pat [Chance's Manager] several times to see when that verse was coming in. When it did and I heard it instantly I had to run it back. I really connected with the song and think it's really well written.
In what ways did you see Chance grow as an artist during the making of this project?
Let me start off by saying that this man Chance brought in the Chicago Children's Choir, another choir, and an orchestra to record on this album. Compared to Acid Rap…what?! That's crazy.
Aside from being a great artist, he's a great producer and I feel like he's dabbling in that realm similar to how 'Ye, Quincy Jones or even Puff executive produces.
What's the oldest song on the project? How much time went into recording Coloring Book? Did Chance begin after Surf or was he juggling other things?
I believe "Drown" is the oldest song on Coloring Book, it was initially created by Cam O'bi & Donnie Trumpet right after Acid Rap for Surf. From what I hear the song took many twists and turns before landing on Coloring Book. Those Pro Tools sessions were insane but we made it work. The entire recording process was an ongoing thing leading all the way up to the last few days before turning it in for master.
In what ways did you see yourself growing as an engineer?
I learned a couple of cool things to add to my workflow. However the most important thing was simply learning how to be honest and point out dope and wack shit! It's a very important skill because it's about the art. When you put that first, you win. You never want yes men on your team, that's how you fail.
You never want yes men on your team, that's how you fail.
What guest features were you in the studio for?
Jeremih came through a few times, dude is insanely talented and very underrated. Ya'll need to put some respek to that man's name, for real.
Speaking of names, Noname! She slid through with the bars on "Drown," but by the time we were finalizing that record, I think Chance was getting sick. However, when he heard Noname's verse for the first time his eyes LIT UP and we ran it back like ten times.
He wanted to make some minor changes so we instantly went upstairs to another studio room to get that done. Chance was in his Quincy Jones mode and directed a lot of the background vocals with Peter CottonTale. That session was definitely a highlight because of the great energy in the studio.
How would you compare the creation of Acid Rap to that of Coloring Book?
I don't know how public this was made but we had a studio lock-in for this album, and that shit was crazy. I personally logged over 225 hours in a little over two weeks. It was an intense experience, but we made it fun. CRC [Studios] has some stupid-strong coffee, I swear they sprinkle Adderall in that shit. I ran a 23 hour day without noticing because there's no windows in the room I was working in, so shoutout to that coffee.
Acid Rap was pretty chill in comparison, it felt like a jam session between close friends throughout the entire process which was raw as hell.
What is the story behind the title Coloring Book?
Well damn…This is awkward, no one ever explained to me the significance of the album title! GET CHANCE ON THE PHONE!
What's the most important thing Chance ever told you?
During one of our sessions for Acid Rap he came through and we were hungry as hell. We ordered a couple of pizzas from Lou Malnati's and he tried to write but wasn't feeling it. We basically spent the entire session eating pizza while chopping it up about where he was at with his career and how he got to such a pivotal point.
He told me it was because he gave himself no choice but to go out and make it happen, from passing out mixtapes to random people to playing shows when nobody was fucking with him. I took what he told me and applied it to my career as an engineer, and now we're here three years later with a No. 1 album/mixtape on iTunes over Drake, and over Kanye.
[Chance] gave himself no choice but to go out and make it happen, from passing out mixtapes to random people to playing shows when nobody was fucking with him.
How would you describe your relationship and workflow with Cam O'Bi?
Cam is my musical soul brother! Honestly, he's one of the most genuine people I've ever met. Ever since working on Acid Rap together, we just clicked. I understand what he looks for in a mix because I understand where he's coming from as a producer and that's hella important. It's very similar to how I work with Monte Booker, they let me do me on the mix because they trust that I understand the vision.
They just listen to it in the end and we fine tune from there. I'm really looking forward to working on Cam's project in the near future, that shit is gonna be fuego! If you was rockin' with "Grown Ass Kid," you'll be in for a treat on Cam's album.
When did your journey as an engineer begin? What's your backstory?
This is a crazy long story so I'll try to summarize as much as possible.
I couldn't stand school, and wasn't physically or mentally able to apply myself to shit I wasn't interested in. Music was the only thing I was passionate about so I dropped out of college after not being able to decide on a major and interned at Classick Studios. I had been friends with Chris Classick and Stefan Ponce for a little while prior to that.
Somehow I lucked up and started to work with Chance as an intern there cuz Stefan brought him through the Classick Studios crib for some overnight sessions. This was right after 10 Day dropped. I think one of the first sessions I worked on with Chano landed on Childish Gambino's Royalty mixtape for "They Don't Like Me." That shit was raw and the rest is history. I appreciate Classick and Stefan for all the little things they've done for me, because I've been able to turn those things around to make a much bigger impact. I'm just super grateful to turn absolutely nothing into a career.
When you're mixing a song, what are you most comfortable with? What are you actively trying to learn next?
Vocals, vocals, vocals! Got to make them sound natural, never harsh. I want to explore the analog world a lot more, it's a never ending learning process in the world of audio. I'm constantly researching to find new things to incorporate in my workflow. I wanna be the very best, that no one ever was. Shoutout Ash Ketchum.
What have you learned working with an artist like Chance that you can apply to someone like Smino?
You snapped with this question! They are two very different artists and my relationship between them are really different.
Smino is like my brother and we work together all the time. I'm like the MixedByAli to his Kendrick Lamar. This album is the first I've worked with Chance since Acid Rap, so my answer to this question is actually reverse. I've actually learned a lot from Smino to apply to a Chance album. And that's not to take anything away from Chano.
Ideally I would want to craft his sound as much as I craft Smino's sound and I believe there will be a time and place for that but ultimately that will be up to him. I hear what he's doing and I feel like I know exactly what to do to take it to the next level if given the opportunity. I'm way better than I was during Acid Rap, and I let that show a little for two songs on Coloring Book. It will definitely show for Smino's upcoming project. It would be crazy to get them in the studio again to work on another song but I digress…
Shoutout Chance and the gang, Pat the Manager for calling me in to help on the project, Cam O'bi, Chris Classick for the words of encouragement and the fans for listening! All of you are amazing.
---