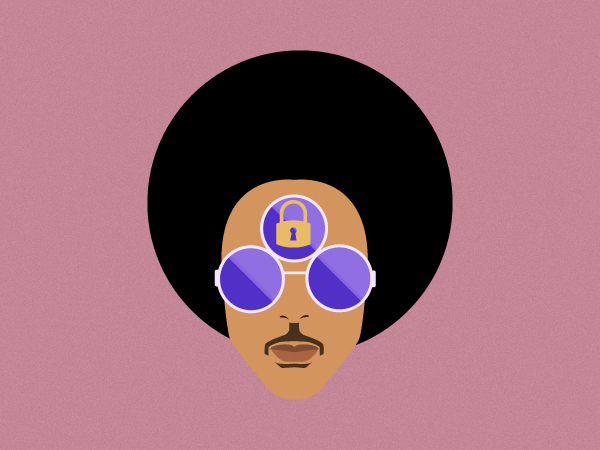 Prince's back-catalog of legal disputes is nearly as dazzling as his celebrated discography. Yet for an artist so conscious of his intellectual property rights and willing to go great lengths to protect them, it is a tragic irony that Prince's biggest legal battle will be resolved without him.
Prince spent years and probably hundreds of thousands of dollars chasing down fans who made unauthorized uses of his music and continually disputed control over his works with record labels. However, in his final chapter, it appears that he failed to leave a will, which could have instructed how these rights were to be managed in the future.
---
Prince was no stranger to the courtroom; in 2014 he sued 22 fans who had posted download links to bootleg performances and pirated recordings, asking the court to award him "no less than $1 million" per defendant. In the midst of what would become an eight-year battle, springing from a mother's 29-second post of her children dancing to a Prince song, Prince announced his intention to sue YouTube, eBay, and The Pirate Bay in an attempt to "reclaim his art on the internet."
In 2013, Prince became one of the first artists to take advantage of a newly applicable statute enabling him to reclaim the rights to his music previously held by his record label. Under the Copyright Act of 1976 (which actually came into effect in 1978), artists are able to claw back ownership of their own masters after the first 35 years of copyright protection. For Prince, this meant that from 2013, his masters released in 1978 and after became available for re-appropriation. He used this leverage to negotiate the pre-emptive return of his works and in exchange, Warner Brothers would handle the re-issue of Purple Rain. Many artists have since taken advantage of this provision, and most, like Prince, have benefited by entering into negotiations with their labels instead of court battles.
When Prince announced that he had obtained ownership of his music, he also announced that he had re-signed to Warner Brothers Records. This was a strange turn of events, given that prior disputes with the label surrounding the release of his music had culminated in Prince changing his name to "an unpronounceable symbol whose meaning has not been identified," in an attempt to dodge his contractual obligations. In the heat of this quarrel twenty years earlier, Prince likened these contractual obligations to slavery and famously performed with the word SLAVE written across his face. After announcing in 2015 that his newest release would available only on Tidal, he declared "Record contracts are just like—I'm gonna say the word—slavery… I would tell any young artist… don't sign."
After Prince's death, millions of fans flocked to the internet to listen to his music and were disappointed to find that none of his songs or performances were available on Spotify, Apple Music, or YouTube.
---
After Prince's death, millions of fans flocked to the internet to listen to his music and were disappointed to find that none of his songs or performances were available on Spotify, Apple Music, or YouTube. It was no mistake that only a few of his records could be found for sale on iTunes, and some were available for stream only on Tidal. Other Prince works cannot be found on mainstream digital platforms at all. Prince—once declaring that the "internet is completely over"—kept a remarkably tight hand on digital exploitation of his copyrighted works.
He also kept a keen eye on uses of his likeness, often enlisting lawyers to send takedown notices requesting that fan websites remove any photos of or references to him, and once, requesting a fan website even remove photos of Prince-inspired tattoos. These are examples of situations in which Prince invoked his 'right of publicity,' or the right to control the commercial exploitation of his identity. Some states, like California and Indiana, allow heirs to inherit publicity rights so that they may control commercial use of a celebrity after death. However, Minnesota law does not currently provide a statute or have any caselaw protecting publicity rights after death. It is therefore unclear whether his estate will have the ability to continue to control these unauthorized uses.
Some fans have already begun to sell merchandise with Prince's image and likeness, and the heirs are considering filing a test case to see where a Minnesota Court would come out on the issue. This week, Minnesota lawmakers introduced a bill entitled 'PRINCE,' an acronym for Personal Rights In Names Can Endure, clearly aimed at preserving the rights to Prince's name and likeness beyond his death. The bill explicitly covers his voice, name, signature, photograph, and likeness and prevents commercial use of these characteristics for at least 50 years after death. If the bill becomes law, it will allow his estate to control his likeness. If not, Prince's estate could be left powerless in the face of this type of exploitation he fought so hard to avert.
Prince—once declaring that the 'internet is over'—kept a remarkably tight hand on digital exploitation of his copyrighted works.
---
Unless a will is found, most of Prince's assets, including his portfolio of trademarks and copyrights, his back-catalog and any unpublished music, will be divided amongst his siblings and half-siblings. In Minnesota, inheritance statutes treat half-siblings the same as whole siblings. As these rights will be subject to the explicit control of his heirs, without a will to the contrary, we can expect to see a notable change in the way Prince's IP rights are exploited. Without a financial incentive to withhold, it is likely that Prince's digital restrictions will be loosened and his music will become available on more platforms. The outcome of this saga is markedly important to fans eagerly hoping to hear 36 years' worth of unreleased material in the "vault" Prince kept at his Paisley Park estate. At this stage, it seems likely to take a very long time for the copyrights to be distributed and the heirs to come to an agreement surrounding a release.
Additionally, it is questionable whether or not Prince's heirs will pursue his fierce legacy of using legal action to combat certain uses of his name, likeness and copyrights if they are not guaranteed to be financially lucrative. At times he certainly exaggerated his own rights, requesting removal of user-generated content that was likely covered by fair use. In 2013, the Electronic Frontier Foundation, a nonprofit organization designed to "[defend] civil liberties in the digital world" created "The Raspberry Beret Lifetime Aggrievement Award for extraordinary abuses of the takedown process in the name of silencing speech" and awarded it to Prince.
The legal battle between siblings and other claimants is poised to remain in our headlines for months, if not years. Prince clarified in 2015 in an interview with The Guardian that when he said that the internet was over, what he meant was that "the internet was over for anyone who wants to get paid." Perhaps the omission of a will was simply Prince's final surrender to the digital shift of the music industry, or maybe it is a clear message that only Prince is able to exercise the control he saw necessary to protect his art.