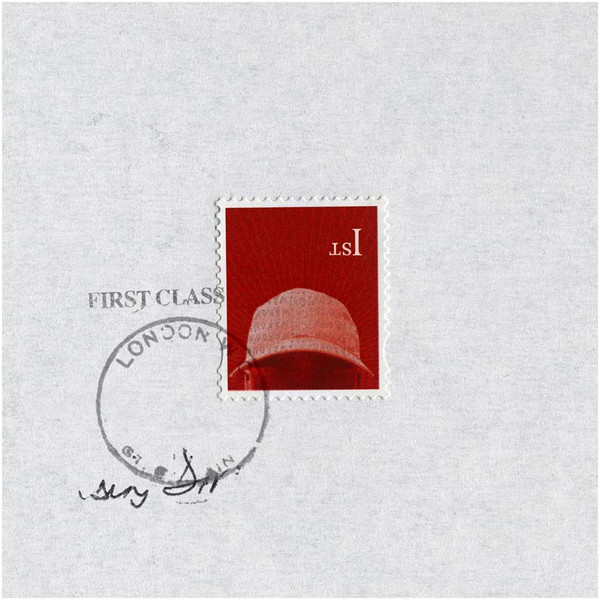 "This Skepta album is fire! It's his first one, right?" a friend and hip-hop fan asked me earlier this week. It got me thinking about the unique position the British MC and producer now finds himself in—a veteran in music and a legend in the grime scene, but an unknown quantity for many American rap fans who are being introduced to him through a Drake Instagram or a Hot97 interview.
Konnichiwa, Skepta's fourth studio album, successfully navigates his cross-Atlantic appeal, proving that it's possible for a grime artist to make an album that resonates with rap listeners without losing any of its distinctly British edge. "Just the way that drill music is something that's different in Chicago, grime is just a different style of rap," Skepta told us in 2014, and his vision of the future is one in which London's raw street music can and will be accepted and appreciated worldwide.
Skepta is not the first grime artist to gain recognition Stateside. Dizzee Rascal's 2003 debut album Boy in da Corner was critically acclaimed at home and abroad, winning the UK's prestigious Mercury Prize and scoring a 9.4 review from Pitchfork the same year. Although music did not spread as quickly around the world in those pre-SoundCloud, pre-Spotify days of promo CDs being sent abroad, it wasn't long until Dizzee was touring America. He played his first show in Williamsburg, New York in 2004 and would go on to perform with N.E.R.D. and make songs with U.G.K.
In an interesting twist of fate, Dizzee was actually back in New York playing Boy in da Corner in full the same week as Skepta released Konnichiwa. Although the two artists are not close friends—see Skepta's stone-faced reaction when Peter Rosenberg brings up Dizzee in an interview—it is difficult to talk about Skepta's new album without considering Dizzee's Boy in da Corner. It is the first classic grime album, and in a genre that often doesn't translate particularly well to full lengths, it has yet to be topped in terms of sheer creativity.
Skepta uses Dizzee Rascal's song names and lyrics in the first two tracks on his album, first referencing Dizzee's "Fix Up, Look Sharp" from Boy in da Corner and "Respect Me" from Showtime on opening track "Konnichiwa":
Fix up, look sharp when I enter
And talk with respect when you discuss me
A lot of these MCs disgust me
Real talk, you ain't best MC in the country
On second track "Lyrics" he raps, "Tell a pussyole look sharp, fix up," another reference to "Fix Up, Look Sharp" and also to "Pussyole (Old Skool)" from Dizzee's third album Maths + English. Whatever the motive (some say it's a diss, but Skepta reminded DJ Semtex that he had repurposed Dizzee lyrics before), it situates Konnichiwa in that lineage, and, four studio albums into his career, it may well be Skepta's defining album.
---
Where Dizzee's 2003 album appeals to Americans in its total foreignness and relentless bombardment of beats and bars, Konnichiwa is more nuanced and more inclusive. Dizzee looked inwards, working in his mentor and manager Cage's London studio, whereas in the time that Konnichiwa has been gestating, Skepta has traveled the world, making genuine, grassroots connections from New York to Tokyo to Toronto.
This approach is very different from that of other British rappers, who in the past have seemingly collaborated with whichever big name U.S. artist they (or their label) could secure. Tinie Tempah's pop-orientated debut album Disc-Overy hit No. 1 in the UK charts in 2010, and a year later it got a U.S. release. The new version of the album featured Wiz Khalifa crooning a very brief hook on the generic pop rap track "Till I'm Gone" and the Boi-1-da produced "So Addicted." These songs, which fit in perfectly well on mainstream U.S. radio, might have gained Tinie a bit of exposure, but they did not not create a lasting and loyal fanbase who would consistently support his music and come to his shows.
In the time that Konnichiwa has been gestating, Skepta has traveled the world, making genuine, grassroots connections from New York to Tokyo to Toronto.
Equally, the only noticeable result of Chip's three-year foray into the American market has been the alienation of his UK fans. Chris Brown, Keri Hilson, and Trey Songz featured on his 2011 album Transition, and the same year Chip signed with T.I.'s Grand Hustle label. He released a mixtape hosted by DJ Drama in 2012 and appeared on a label compilation alongside the whole Grand Hustle roster in 2013, but this affiliation did not end up with a successful album release, a U.S. tour, or have any other lasting impact. In fact, since Chip's return to grime at the beginning of 2015, he has won back the respect that many fans lost when he started making pop music.
It seems that Skepta has learned not only from the past mistakes of English MCs seeking to appeal to an American audience, but also from his own past missteps. Skepta's 2009 album Microphone Champion included the electro-rap of "Sunglasses At Night" and "Rolex Sweep," which were his highest charting songs at the time, and brought him to the attention of a more mainstream audience. 2010 album Doin' It Again seemed to attempt to capitalize on this new popularity, with a slew of pop and R&B choruses ("Rescue Me," "Taking Too Long," "Cross My Heart") and sugary dance pop production ("Amnesia," "Bad Boy"). These songs were commercially successful (three charted in the UK Top 40 and and the album broke into the UK Top 20) but do not stand up well five years later, and do not represent the fearless creativity and personality that Skepta possesses.
---
Since, "That's Not Me," however, Skepta has played his cards perfectly. Yes, he's good friends with Drake and the two have collaborated on music. Yes, he's performed at a Boiler Room with A$AP Rocky. Yes, he's hit the studio with Kanye West. But none of those artists appear on the album. Instead, multiple generations of grime MCs, from Wiley and D Double E through Chip to future superstar Novelist appear, alongside Skepta's Boy Better Know Crew and brother JME.
Back in 2010, Skepta was on the grime remix of P. Diddy's Diddy Dirty Money track "Hello Good Morning." They made a video, and the track itself isn't terrible, but rather than drawing listeners into his own world or collaborating on an equal footing, Skepta was jumping on a track that was already popular.
When he does look beyond the U.K. on Konnichiwa, however, the collaborations feel organic and fresh. Even the Pharrell collaboration "Numbers," an undeniable surprise, finds a middle ground between their two styles, with P revisiting the production approach that he pioneered as part of The Neptunes, a minimalism which is in line with grime's sparse soundscapes. Elsewhere on the album, Skepta builds a bridge from London to America on the punishing grime/Three 6 Mafia hybrid "It Ain't Safe" with Young Lord and the smoother, poppier "Ladies Hit Squad," featuring a low-key earworm of a hook from A$AP Nast.
The internet is breaking down barriers, and this is reflected in a rapid spread of sounds, styles, and slang. The results can be rather awkward (Drake's Popcaan karaoke impression on "Too Good" and recent Instagram captions, for example), or they can feel natural, a reflection of the times we live in. Despite the fact that Skepta is comfortable over Americanized beats and uses some American slang like "opps," at the end of the day Konnichiwa is an invitation into his world, the London musical underground.
At the end of the day Konnichiwa is an invitation into Skepta's world, the London musical underground.
Konnichiwa, especially its opening four-track salvo, is thick with British slang, London references, raw grime production, and commanding MCing. Criticism of his lyricism as simplistic is missing the origins of grime. This is a genre with its origins in soundsystem culture where the "deejay" gets on the mic and "toasts" or talks while the selector spins tunes. From there, you can trace the origins through rave culture and UK garage, where the beats are primary and the MC acts more as a guide for the crowd, but soundsystem culture's "clash" element—competitors seeking to win over the crowd—appears clearly again in grime. The bars are constructed to get a reaction in the rave or on radio, where memorable catchphrases tend to trump tongue-twisting double entendres.
"Lyrics," the raw second song on Konnichiwa, directly references this history of competition and live performance, opening with a sample of Pay As U Go Cartel and Heartless Crew's famously aggressive clash in 2001. The hook, too, harks back to pirate radio days by sounding as if it's being transmitted through a slightly fuzzy transmitter. Last but definitely not least, Birmingham MC Devilman, whose 2006 Lord of the Mics clash with Skepta is the stuff of legend, is called out once again, after the two MCs reignited their rivalry with diss tracks aimed at each other last year.
Amongst the boasts, disses, and self-confidence, however, Skepta remains relatable. "Went to the Brits on a train," Skepta raps on the title track, going on to say, "Man shut down Wireless then I walked home in the rain." The loss of friend and MC Lukey Maxwell, who was killed last year, hangs heavy over Skepta, as does being targeted by the police ("Crime Riddim"). Those who know him from "Shutdown" and "It Ain't Safe" might be surprised by the romantic "Text Me Back," but Skepta has never been one dimensional, as a look back at "Sweet Mother" (2007), "Skepta" (2009), "Castles" (2012), and "Lukey World" (2015) will amply demonstrate.
---
The increase of American interest in grime over the past few years is great, but it is also a double-edged sword for Skepta. Rather than being taken at face value, Konnichiwa is under scrutiny from UK fans who are concerned that he will sell out in an attempt to reach a larger audience. It's not "real grime," they say, a surprising comment for a genre that is still so young, and one that echoes the reductive "real hip-hop" comments aimed at any boundary-pushing or non-conforming American rappers. On top of that, ill-advised talk of a "grime takeover" (There is never going to be a grime takeover of U.S. rap, the two can coexist and be appreciated in tandem.) doesn't sit well with some American rap fans, who refuse to even try and get past the foreign-sounding beats and rapping style.
Whether you're a fan or not, Skepta has stayed true to himself and to grime with Konnichiwa. Yes, he has ambitions to take his London sound worldwide, but rather than attempting that with an album full of watered down tracks and big name features, he mixes real grime MCing and production with more polished, accessible sounds. This has never been done in an authentic way by a British rapper before.
Konnichiwa is the fourth album of a career that has stretched over a decade already, and although it's the culmination of a journey that started with 2014 return to top grime form "That's Not Me," it is also the beginning of a new journey. Skepta is shining a light on his culture and his country, while extending an invitation to anyone, anywhere who wants to engage with it in a meaningful way. Konnichiwa should serve as inspiration for rappers in the UK, US, and around the world, who aren't afraid to push the boundaries whilst staying true to themselves.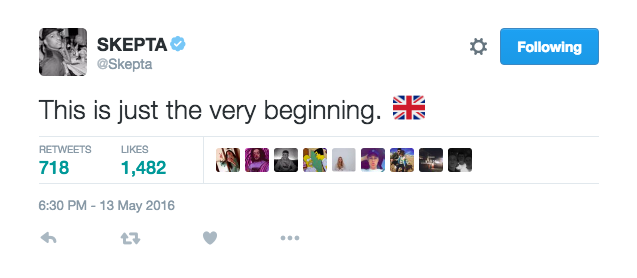 ---
Skepta's new album Konnichiwa is out now.