Just as quickly as the SoundCloud rap scene caught fire, it burst from the Internet into venues across the country. Artists are leaving behind the conventional path to rap stardom and releasing eccentric, genre-bending music at a breakneck pace. Many are also opting to take their viral success on the road, drawing big, passionate crowds and shifting the paradigm of live performances in rap.
 
Nelson Grisby is the director of operations for the booking agency Sean Healy Presents, which has booked dates for artists like Wifisfuneral, $uicideboy$, and Ski Mask The Slump God, as well as veteran MCs like Big Boi and Scarface. He cited Chicago, Oakland, Los Angeles, and Portland as cities that are particularly receptive to rising rap talent.
 
"I'd say a lot of the newer artists book opening slots for other larger acts, in an effort to try to get some exposure from other audiences," Grigsby noted.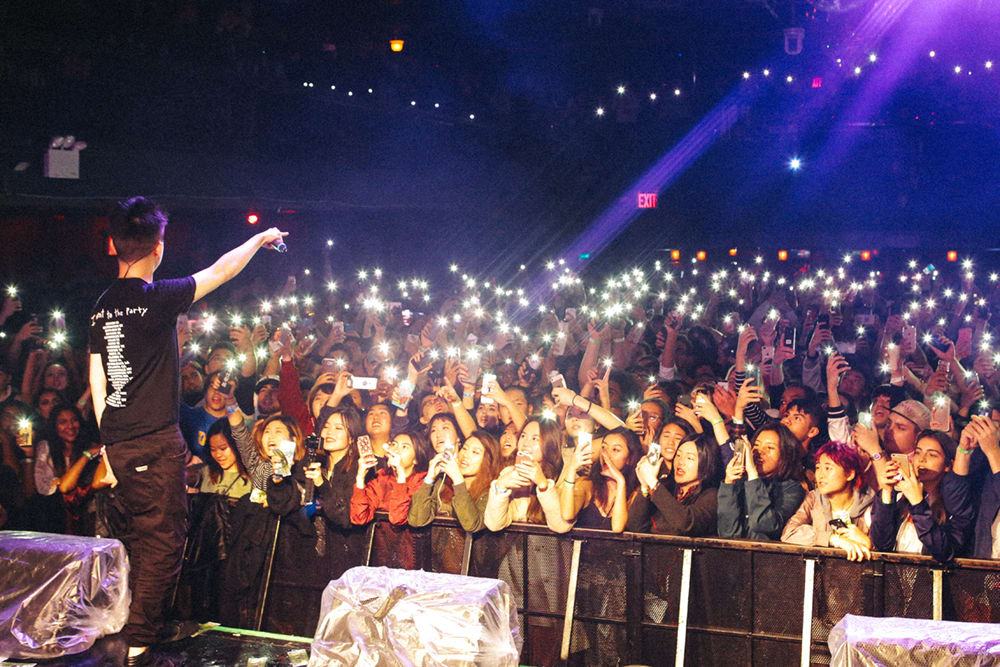 But in the new frontier of rap, young stars can rise so quickly that they only need a few reps as an opening act before gaining enough buzz to be named headliners. Rich Chigga recently wrapped his Come to My Party tour, which included 28 stops across the States—three of which were major festivals (Day n Night in L.A., Voodoo Festival in New Orleans, and Gold Rush in Phoenix).
Though his discography is brief, Chigga has shown chops as a solid performer with an off-kilter sense of humor and a growing self-awareness: His back-to-back shows at New York's Irving Plaza sort of felt like a thousand people living in a meme.
While Chigga (born Brian Imanuel) rapped in front of gigantic projections of his own face, at least one "Daddy!" chant broke out, and he brought actor Ansel Elgort on stage the way most rappers bring out fellow MCs. The crowd was well acquainted with his more recent work, including the Mac DeMarco-referencing "Glo Like Dat" and the Diplo-Young Thug-Rich the Kid collaboration "Bank Roll," but the roar for his breakout "Dat $tick" dwarfed any other track in the brief set.
Originally from Jakarta, Indonesia, Imanuel became a viral sensation with the March 2016 release of "Dat $tick." Met with a mix of both skepticism and genuine curiosity from writers and rappers alike, Imanuel also captured a large, youthful fanbase in the States that includes a sizable Asian contingent. He famously responded to a Twitter user's glib question "You have like 5 songs how you go on tour?"  with the deadpan, "On a bus," and to a degree, his live show mirrors that same sensibility. 
Imanuel is self-aware enough to understand that an Indonesian teenager who started off making web sketch comedy isn't the most likely candidate to be headlining rap shows at mid-major venues in America, and he has fun with that. A group of fans I spoke with—one of whom was Indonesian—said that seeing an Asian rapper on stage was special, and there was a loud swell from the crowd when Imanuel asked if anyone in the audience was Indonesian.
The power of this unique representation in hip-hop was also on display when I saw $uicideboy$ the night before they played Lollapalooza this summer. The tone was far less playful than Imanuel's show, and there was with an emphasis placed by the duo on the shared hardships of mental illness and addiction. 
 
$uicideboy$, who are in the midst of their Global Epidemic Tour now (and have a slew of international dates in 2018), use their shows as a kind of collective catharsis. Their sound and aesthetic is closely tied with metal and punk, and the Hypebeast x Hot Topic look of the teenage crowd fits that description as well. The venue, Chicago's Bottom Lounge, was sold out, but the crowd was so tightly packed in the front that it was easy to move around on the peripheries—I even spotted a handful of parents loitering near the exit.
When it comes to their catalogue, $uicideboy$ are on the opposite end of the spectrum as Chigga. They're constantly putting out work (their SoundCloud has over 200 tracks), and there's a dark comic sensibility in their song titles ("I Hung Myself for a Persona," "Now I'm Up to My Neck in Offers," "Stop Calling Us Horrorcore") as well as the name of their "Kill Yourself" series.
The lack of polish creates a genuine sense of excitement in the room that comes from that deep, personal connection and the pure joy of simply hearing these songs live.
The show itself is raucous and high-octane. The tracks play in their entirety—vocals and all—at a thunderous volume. While Ruby da Cherry and $lick are still developing as performers, they're able to create a unique, confessional atmosphere that achieves the same sense of unity as a great emo show.
Drug use is a frequent topic in the New Orleans group's music, as it is with many of their peers. While some young artists are still in full glorification mode (though others, like Lil Xan and Lil Uzi Vert have been vocal about the dangers of abuse) $uicideboy$ do take time to address the downside of substance abuse during a more somber moment in the set.
 
"If you've got drug addiction, depression, anxiety, remember one thing: you're not alone. You've got me and Ruby forever," $lick says to the crowd.
 
There's a raw nature to these performances—$uicideboy$ in particular—that feels fitting of the punk rock branding that has accompanied the rise of SoundCloud rap. More than detract from the show, the lack of polish creates a genuine sense of excitement in the room that comes from that deep, personal connection and the pure joy of simply hearing these songs live. Tracks like "Dat Stick" or "South Side $uicide" are received like gospel, and there's real spontaneity and unpredictability that can't be achieved by a rapper touring for their third or fourth album.
Veteran rap fans might offer up lines about the artists rapping over full tracks and lacking classic MC skills, but these shows tend to exist in wholly separate worlds, berthed from radically different origins, and appealing to a completely different cross section of fans.
Occasionally, the atmosphere at some of these shows has spiraled out of control, resulting in violence inflicted on and by the rappers themselves. Ski Mask the Slump God and XXXTentacion have each been jumped on stage, seemingly as part of a beef triangle with fellow Floridian Robb Stone. Lil Pump kicked a fan in the head during a show in New York, as documented by The New York Times' Jon Caramanica. Trippie Redd has also had his share of backstage brawls.
Of course, altercations at rap shows are hardly unique to the SoundCloud scene, but given how young and passionate fans of these artists are and the tremendous connection they feel to these rappers, the atmosphere feels particularly explosive—even before you factor in the disturbing allegations and charges that have been made against atists like XXXTentacion and New York rapper 6ix9ine. Cancellations of XXXTentacion shows have resulted in near riots both in his home state and elsewhere. Wifisfuneral was attacked while crowd-surfing at a Houston show this summer, but said the incident was something he ultimately was able to brush off.
"Safety of fans and artists is always a primary concern for us, so we stay away from booking artists or events we feel like put that at risk." - booking agent Nelson Grisby
"Just because that situation happened didn't make me lose focus on what my goal was," Wifi explains. "Whoever wanted to see me fail that's their problem, because that's not in my plans. I'll never let no tribulation get in the way of my career, and the moment someone tries to knock me off they'll fail because I love this shit so much. At the end of the day this shit's hip-hop, shit like this happens."
Grigsby says that these violent incidents do have an impact on who Sean Healy Presents considers booking, and that in the promoting world there can be something of a snowball effect.
"Safety of fans and artists is always a primary concern for us, so we stay away from booking artists or events we feel like put that at risk. Almost any incident that happens at one show can impact another show, whether it's ours or someone else's," Grigsby explained. "Unfortunately, people tend to generalize within genres and crowds as well, so when something happens at another promoter's event it can affects the rules/regulations of our next shows."
While this handful of incidents may cause some trepidation for venues and promoters booking these  rappers, it hasn't stopped the surging subgenre from scheduling its own events on a massive scale and getting increasingly high profile opportunities.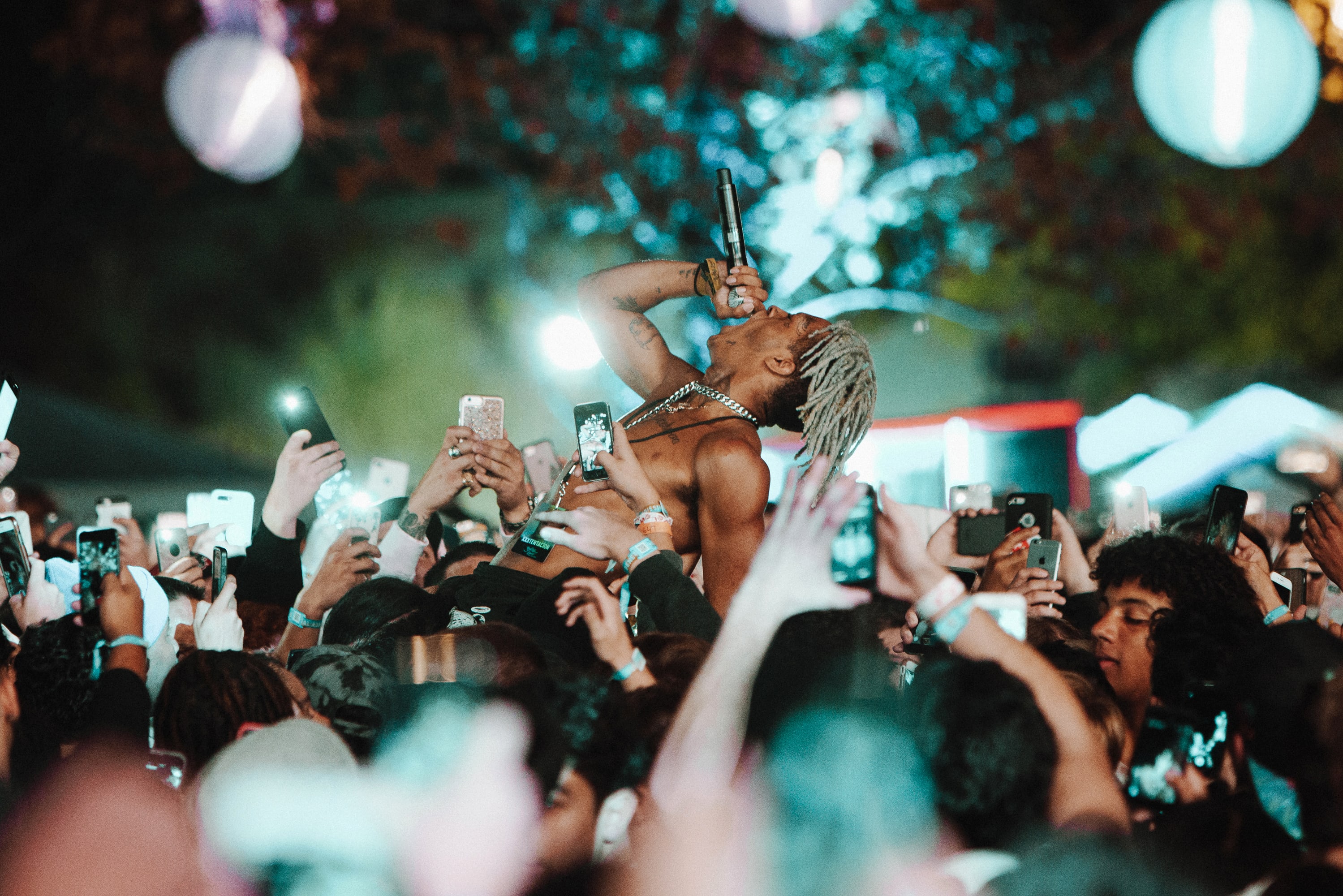 If there is a name brand in bringing SoundCloud stars on the road, it's Rolling Loud, the now national, soon-to-be international festival. Beginning in Miami in 2015 and masterminded by Tariq Cherif and Matt Zingler, Rolling Loud has now expanded to include stops in Southern California and the Bay Area, with dates in England, Japan, and China planned for 2018. 
 
The lineups shift a bit to account for regional taste (the Bay Area iteration included Rexx Life Raj and Nef the Pharoah, the L.A. version promises Duckwrth and Heavy Mellow), but much of the bill is comprised of young, rising artists who first made waves in the SoundCloud world and are largely absent from multi-genre festival slates. This year, Rolling Loud featured artists from Ski Mask The Slump God to $uicideboy$ to Sahbabii. The festival has been criticized for the lack of female artists on its bill, which Cherif and Zingler have addressed and said is a reflection of the taste of their largely male audience, not the founders' preferences.
 
Cherif stressed that their main goal is simply to showcase emerging talent, and said that mainstream festivals are slow on the take when it comes to rap. This is something that he's been able to use to his advantage by booking rising acts with huge internet followings while they're still on the ascent.
 
"For the most part, these multi-genre festivals, their talent buyers and organizations in general are not in the conversation and not part of the culture when it comes to emerging hip-hop, so they're always late," he explained. "We had [Playboi] Carti and [Lil Uzi Vert] in 2016, but you didn't see them the way they're on every festival lineup this year. The ones that graduate to get those platinum or gold singles, that's when the major talent buyers start taking note; at that point it's simple math."
$uicideboy$ opened the first day of Lollapalooza 2017, though many of the people I spoke with at their show the night before Lolla weren't planning to be there (they had a mid-afternoon Thursday slot). As with any burgeoning musical movement, there's a risk of the transition from underground to mainstream being bumpy, and the social media reaction to their ultimately well-attended set was a mix of thrilled fans and people who sounded like they'd just survived a tour of duty. Most major festivals have yet to announce their 2018 lineups, but that should serve as a litmus test for whether these artists are actually being absorbed into the mainstream or not.
 
As such, Lolla is one of the first widely mainstream festivals to give a slot to someone from this crop of new SoundCloud artists, but many other figures and organizers more directly in touch with the culture are staging their own events as well.
Festivals like Day n Night (which rebounded from some logistical issues in its first year with a strong sophomore showing), Mala Luna and ComplexCon have all emerged in recent years to bring the underground to cities around the country. Adam22, host of the popular No Jumper podcast, regularly sponsors tours that have featured the likes of Lil Pump and Smokepurpp, while the blog Masked Gorilla regularly stages its Unmasked concert series in Los Angeles. Previous performers include $uicideboy$, Ugly God, Ghostemane, and Denzel Curry. 
"We try to have as many underground guys on the lineup and then figure out which mainstream artists the people who like the underground artists like. It's important to book the A$AP Rockys and the Travis Scotts and Uzis—underground guys that have graduated." - Tariq Cherif, ROLLING LOUD
Cherif says that one thing they look at when booking new artists for Rolling Loud is high engagement on streaming and social media. But he adds that there's always space dedicated to the Miami-area artists who have been essential in putting this scene on the map.
"We always try to put on for Florida, and everyone in Florida exemplifies that. We like to have that base and give [it to] the customer, and specifically with Rolling Loud, we like to give them a reason to spend the extra money on that expensive ticket," Cherif explains. "You need to have a lot of artists you like on the lineup. We try to have as many underground guys on the lineup and then figure out which mainstream artists the people who like the underground artists like. It's important to book the A$AP Rockys and the Travis Scotts and Uzis—underground guys that have graduated. [You] try to maintain a common listener there."
For as quickly as a lot of these artists made their way into the national spotlight and took to the road, many already have their sights set on Travis Scott-level billing. Wifisfuneral, a three-time Rolling Loud veteran, says he hopes to stay on the road and expand into more festivals.
"I really want to give my fans an experience, I feel like they have an experience regardless because we turn the fuck up, but I really want to give them an experience like when you go to a Kanye show or a Travis Scott show," he said. "I want to have people remember that day specifically, what they were wearing, what the hell happened, if  they got in a car crash before they came to the show because they were that amped. If they had the time of their lives."
The hunt for the next generation of SoundCloud-born internet rappers is already on, and the growth of festivals and show opportunities catering to this sound seems to be a harbinger of even more concerts to come. The question in these situations is often whether the more extreme and problematic aspects of the subculture can be smoothed over and made suitable for a mainstream audience. But SoundCloud rap has taken off so precipitously and found such a hungry fanbase, both online and, increasingly, in person, that it seems that may not even be necessary for this thing to keep expanding on its own terms.