In the summer of 2015, Fabio Enzo was about as far away from the music industry as you can get.
Like thousands of other teenagers around the world at the time, Enzo had become completely obsessed with Tyler, The Creator. He spent months digging up anything he could find about Tyler, Odd Future, and other emerging rappers. He started visualizing ways that he could someday be a part of this world, but he was stuck on the west coast of Norway. All of the artists he was listening to felt out of reach. 
Despite the distance, Enzo became determined to find a way to interact with the music he was so infatuated with. He watched every interview Tyler ever did and spent countless hours carefully putting together a list of questions that he would ask him if they ever crossed paths.
In August, Enzo noticed Tyler had been booked to play a set at the 2015 Øya Festival in Oslo, Norway. The festival grounds were an eight-hour train ride away from his home and he didn't have a ticket or any way of getting the press credentials necessary for an interview—but he kept looking at his list of questions and was dying to see what Tyler's answers were. He had to figure out a way to make it happen. This might be the only chance he'd ever get.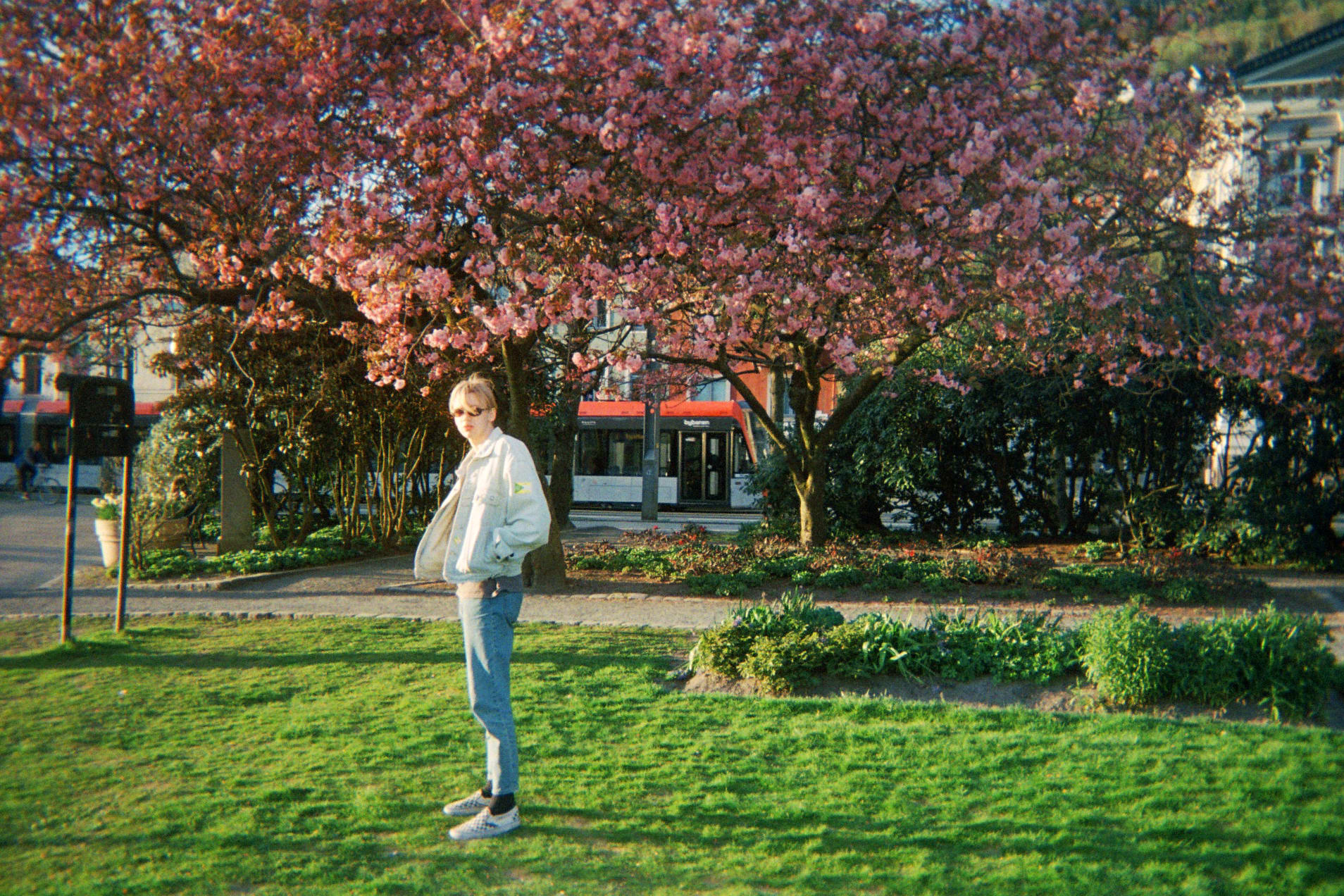 Enzo believes in the butterfly effect.
He believes that anyone with good ideas and motivation can make their goals a reality if they get the ball rolling and set a plan in motion.
He knows this to be true from experience. Two years after obsessing over those Tyler interviews, Enzo has successfully cracked into the music industry from the middle of nowhere. He owns a record label that's home to a promising young star racking up millions of plays on a buzzing new single. He's been fielding calls from major media companies that want to turn his YouTube channel into a music discovery platform. And he has a budding clothing company that's getting ready to drop a highly anticipated new collection.
This was all made possible by his crazy idea to interview Tyler, The Creator back in the summer of 2015.
"Something just made me want to get to know artists as people and not just musicians putting out music," Enzo says, looking back at the spark of motivation he got after watching a bunch of Nardwuar interviews. "That just triggered something weird in me."
"My friend [William Glandberger] and I went to Oslo with the sole goal of interviewing Tyler," Enzo says, remembering the first steps of his far-fetched mission to find Tyler backstage at Øya Festival. "Obviously we couldn't get any type of accreditation or anything to be press at the festival. We didn't know how that shit worked at all back then. So we lied to so many people, saying we worked for up-and-coming YouTube channels and news outlets. We were just lying our way through it, but no one would let us through."
With no other way into the backstage area of the festival, Enzo and his friend signed up as volunteers so they could get their hands on official Øya vests. Then, on the morning of Tyler's performance, they snuck into the festival and hid inside porta potties until festival doors opened for the day. Wearing security gear, they moved through the grounds in hopes of spotting Tyler before he went on stage. "It was full on, like, Mission Impossible, CIA shit," Enzo laughs.
we jumped over the final fence, I looked over, and Tyler was pointing at us, laughing with Jasper and them.
"It was just coincidence after coincidence that were so perfect," he remembers. "We crawled under one fence and there were security guards having lunch. So we snuck behind the bench where they were having lunch and ran to the next fence where there was bike storage. Then we jumped two more fences and the last one was where we waited until Tyler came into the backstage area."
Finally, they saw the whole Odd Future crew walk into view. As soon as they spotted Tyler, he noticed them and looked right back.
"Tyler and them fully saw what we did," Enzo says. "Like, they were looking at us the whole time. I looked over the fence and I was like, 'Should I yell his name?' But then I thought that would blow our cover. So we jumped over the final fence, I looked over, and Tyler was pointing at us, laughing with Jasper and them. So I just go 'shhhh!' and then we ran over there and asked him for an interview."
Tyler declined their first request for an interview because his set was about to start and he needed to get ready for the show. But Enzo persisted and attempted to build a rapport with the rest of the crew: "I started asking Jasper about some tweets where he said how bad the food was. And I kind of got a thing going with him."
After Tyler's set, Enzo walked up and tried again.
"Tyler was sitting on the ground because he was exhausted," he says. "I was still, like, 'Yo, you saw me jump the fence. Can I still get that interview?' He said he didn't want to be interviewed, but Jasper was like, 'You get ten seconds to ask him whatever you want.' I had left my notes with the questions somewhere else, so I thought, 'Alright, this is my shot. What the fuck do I ask him?'"
I got this phone call from one of the biggest TV production companies in Norway. They were like, 'This is great. You obviously have some type of talent.' So they hired me to do interviews for them.
The first thing that came to Enzo's mind was a question about Tyler sponsoring a soccer team and how he would design their jerseys. Disarmed by the unique question, Tyler ended up hanging out for 40 minutes and answered everything Enzo had prepared for him—something he didn't do for any traditional media outlets at the festival.
"I met a guy backstage from Rolling Stone and he was trying super hard to get an interview," Enzo recalls. "There was one point during our talk where Tyler said, "Oh, he's salty because he wanted an interview."
By the end of their conversation, Tyler was enjoying himself so much that his tour manager had to step in and end the interview. At one point, Tyler's caught on camera saying, "Why do we have to leave? This is the first fuckin' show we met people we can speak to."
After the festival, Enzo compiled all the footage and put together a six minute long edit called "777TV MEETS TYLER, THE CREATOR." Somehow, Tyler found the interview within hours of its upload to YouTube and tweeted out a link to the video, sparking coverage from websites around the world.
Within days, the video had over 100,000 views. The first interview of Fabio Enzo's career was a hit.
"A few magazines and stuff in Norway picked it up," Enzo says of the reaction back home. "Then I got this phone call from one of the biggest TV production companies in Norway. They were like, 'This is great. You obviously have some type of talent.' So they hired me to do interviews for them."
​From there, he got a job with Red Bull for an interview series with emerging artists. "That was such a sick opportunity for me to work with proper professional people," Enzo says. "That, too, has led to so many great opportunities for me. It's a crucial part of my CV and part of the reason that I got into the University that I go to."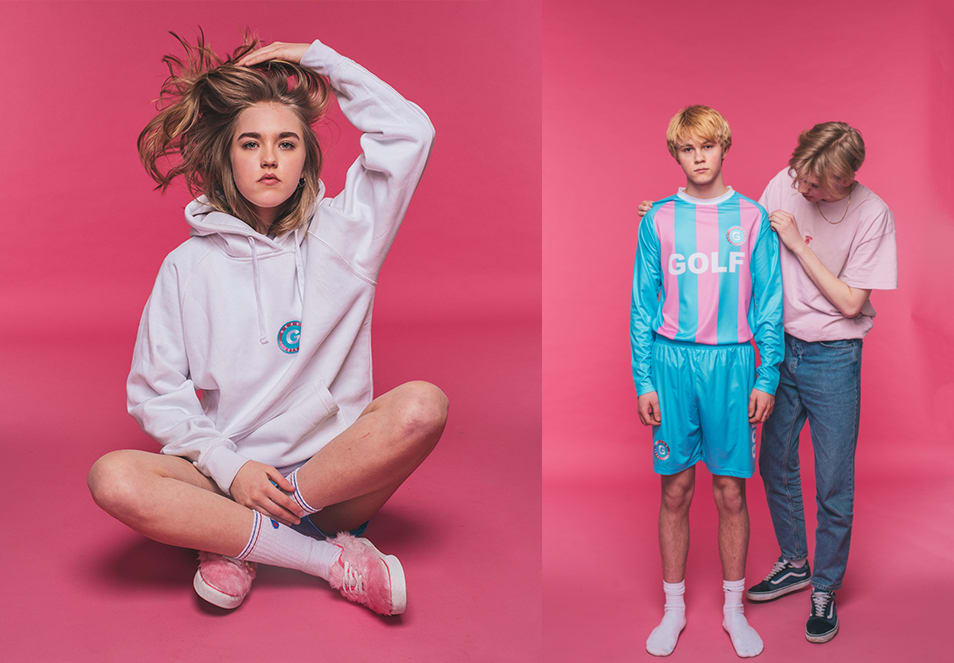 Cleverly using the buzz from the interview to jumpstart his interests in fashion as well, Enzo created a full "fan art" collection of GOLF clothing inspired by the question about soccer jerseys that he asked Tyler. The collection—which included scarves, pants, T-shirts, and hoodies—was a hit with fans and sold out immediately. Tyler even reached out and asked Enzo to send him the one-of-a-kind jersey.
"People are constantly asking me when I'm selling more of them, because I made it limited on purpose," Enzo says, explaining how the hype around the collection helped him start his own clothing brand. "Now I'm working on another concept that I'm dropping early next year, which is more of my own project than fan art. But I'm at the point where I've worked with a bunch of different distributors and manufacturers. So I'm dropping my own fully independent, proper clothing brand."
Enzo's interview with Tyler also helped launch a successful YouTube channel. He created an account called 777tv so he could upload the video, and the momentum from the interview's success has snowballed into his own promising media company.
Taking advantage of a healthy subscriber base that accumulated because of the interview, Enzo kept uploading interviews with bands and music videos for artists signed to his 777 label.
In March of 2017, Enzo struck viral internet gold for a second time when he uploaded a music video for 777 band Boy Pablo called "Everytime." A YouTube algorithm quirk (helped in part by the popularity of the Tyler interview) ended up bringing millions of views to the clip. And thanks to the sudden surge of attention, Boy Pablo's career has taken off and he's about to head out on his first headlining tour in Europe.
"After the Boy Pablo video blew up, I've been invited over to the YouTube HQ a bunch of times and I've been talking to people over there," Enzo says, hinting at big plans to turn the channel into a music discovery platform for aspiring artists.
The butterfly effect is in motion.
Two years after sitting in front of a computer all summer, trying to figure out a way to contribute to the music that he loves, Enzo has already surpassed many of his dreams.
"It all just makes me think, 'Damn, where would I be if I didn't jump that last fence?'"