I first heard of Bridgit Mendler through an email featuring an upcoming single. The song "Atlantis" was attached, and I was instantly into it, plus it featured young Florida rapper Kaidyo, who hasn't disappointed yet. We locked in a Pigeons & Planes premiere, and for the next couple of days, "Atlantis" was in regular rotation. Then, all of a sudden, #Atlantis was trending on Twitter, showing up everywhere on my timeline in hundreds of tweets. That's when I noticed that Bridgit Mendler has over four million Twitter followers.
A quick Google revealed why: Bridgit was already famous. She started as an actress in movies like Alice Upside Down, The Clique, and Labor Pains, then signed with Disney and appeared in Wizards of Waverly Place, Good Luck Charlie, and Lemonade Mouth. Throughout her teenage years as an actress, she built up a very loyal fan base, and those fans followed her into music when she released her debut album in 2012.
That debut album of sugary, catchy pop music did very well, but "Atlantis" was different. It's moody, subtle, and modern. It feels more personal, less generic. It's a turning point for Bridgit Mendler—a potentially awkward one where old fans are alienated by an unfamiliar direction and new ones are confronted with the reality that their new favorite song was created by an ex-Disney star who already has fan clubs in other countries. 
Bridgit Mendler is keenly aware of all of this, but she doesn't seem to be bothered by it. She arrives in New York fresh off a flight from L.A., dragging a suitcase behind her, talking about school papers she's putting off, and trying to work out the details of a tour. There are a million things going on, but when we start talking about "Atlantis" and the upcoming album, it's very clear that right now, Bridgit Mendler is focused on the task at hand—she just wants to make music that she feels good about. 
I discovered you through "Atlantis" which was interesting. I didn't make the connection with your background, so I was just hearing it as this new single from a new artist. Do you find it difficult because "Atlantis" is so different from some of your older music?
I wasn't sure how people were going to receive the song. "Atlantis" was an intentional choice to make a song that really just felt like it had a specific mood to it. That was my biggest priority, to set an emotional tone and then to hopefully bring people along from there. I do want to reintroduce my sound as it is now and I love that people have been receptive to that.
So the reception has been good all around?
 
If anything, people have said it took me a couple of times but they invested a couple spins into it, which I think is cool. It's good to see because my fans have been tremendously loyal over the many years.
 
Did you ever consider completely rebranding? So many artists now do anonymous releases and create some new character to release music under.
 
Yea, I definitely considered that. I felt a lot of self-filtering pressure. I had a whole history of being aware of exactly what I should put out and then at a certain point I was like, "Forget that, I'm just going to do something that's completely against that. I was going to make my project title Nemesis. Nemesis, for me, means confronting that fear and just standing face-to-face with it. That was going to be the project title and then I actually realized I haven't taken full ownership in my identity as I am. So I decided it would be important to keep my name and keep that consistency and own it. I feel happy about the medium that it's at right now.
 
Do you ever feel like your Disney background restricts the kind of music you can make?
 
No, I feel really comfortable. I was in a session yesterday and it was so fun because it's just creative exploration. That's where it's at right now. It feels like there's that freedom to try whatever weird random things I want and just have an authentic connection with the people I make music with. The climate for music is good right now.
So when you were getting ready to release "Atlantis," were you nervous?
 
Yes. I was just panicking.
THERE ARE SO MANY DIFFERENT ANGLES THAT PEOPLE SEE YOU FROM. ALL OF A SUDDEN, I'M REALIZING THAT I HAVE NO IDEA HOW I PRESENT MYSELF ON SOCIAL MEDIA, BECAUSE I'M LIKE AN OLD WOMAN WITH THAT STUFF.
Worried what other people would think?
 
A little bit, but my version of that translates to trying to control every aspect. I try and think of a million different scenarios that can happen, especially since I am reintroducing myself in this climate. There are so many different angles that people see you from. All of a sudden, I'm realizing that I have no idea how I present myself on social media, because I'm like an old woman with that stuff. I've had to do research to get caught up on that. Stuff like fashion—I don't put a lot of effort in and that's kind of how my M.O. with a lot of things pertaining to pop culture, so I've had to catch myself up for the purpose of communicating who I am to my audience because I want them to get it. I want them to feel like they're getting an authentic, true perception of me.
I saw you reached two million plays on Spotify. That's crazy.
 
Yes! I'm pretty shocked by it. It feels really, really, really good to be authentic with myself and authentic with the fans and even authentic with the people in my world who know me for who I am as a person.
When did you start making music?
 
There is the cliché: "I've been making music my whole life!" But the first song I remember writing—I was like seven. Then professionally I did music for Lemonade Mouth the movie, when I was 17.
And the music has changed a lot since then. Do you feel like it's still changing? Do you think in five years you'll be making something completely different?
 
Maybe. I would hope so, because I would like every project to feel like a complete reinvention. Not in a sense of discrediting what was done before—even with this project I feel a consistency to my identity from the last project. I've always loved hip-hop music. "Ready or Not" was a Fugees interpretation. There are certain strains that will always stay. For instance, Frank Ocean's album comes out and it doesn't sound like anything he did before, or anything anyone did before, and I think that it's so cool. It doesn't feel like Frank Ocean is trying to be something he's not.
 
What music did you grow up listening to?
 
It was an odd selection. My parents supposedly had a big record collection in storage, but I was never exposed to it. I got the random of collection of CDs that were put on when cleaning the house or something. So there's Tracy Chapman, one Van Morrison album, 10,000 Maniacs. There was a kids version of all those classics like "Build Me Up Buttercup," and some Beatles songs that were on loop in the car. It was just very random. But my first favorites were Britney [Spears] and Destiny's Child for sure.
 
When did you get into hip-hop?
 
I loved Destiny Child when I was eight, but I went through a period of time where I wasn't listening to hip-hop, and then I had some older friends who would turn on different stations on the radio when I moved down to Los Angeles. I had one friend who was into Three 6 Mafia. And I also memorized "Shoop" by Salt-N-Pepa. So I got some random exposure—I think that's really my taste; it's just completely random exposure to things.
 
What are you listening to now? Your work with Kaiydo and Demo Taped suggest pretty eclectic taste.
 
Yeah, I definitely listen to music all over the map. One of the first people that I loved that you guys posted about was Rationale. A new album that I love is the new Unknown Mortal Orchestra. I really dig that one, I also love the new Vince Staples. So those are some of the current things I've been listening to. I was at a wedding this past spring and somebody told me I should listen to Al Green, which I'd never done before. I listened to his album—the one with "Love and Happiness" on it—and I love that.
 
It's so fun to discover old music. I feel like I never go back and listen to 70's music or 60's music because I'm so caught up with newer things.
 
Yes, have you listened to The Animals' retrospective album? That's a road trip album.
 
I have to check that out.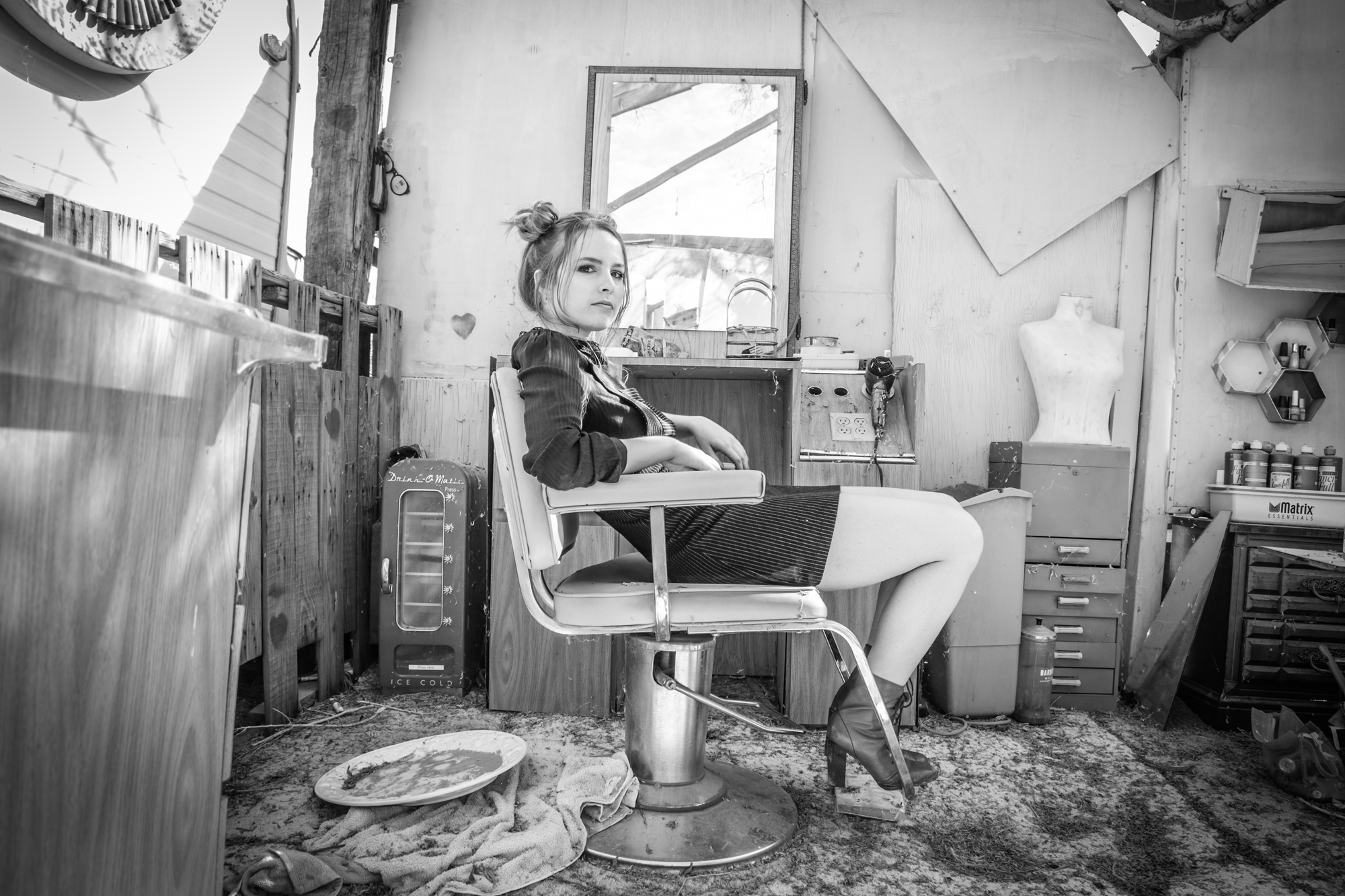 Can you talk a little more about Kaiydo, the rapper on "Atlantis"? I was so surprised to see that because he's so new. How did you decide to get him on this track?
 
Cruising around through the blogs, I saw him on your site and I liked the music that he had been doing and we wanted a counterpart to the song. I was brainstorming different people to put on the song and when his name came up we thought that he would be a cool fit for it. I have a eclectic taste and I wanted to honor that as I was presenting myself to people.
 
Was it just one take, or did you go back and forth?
 
Yeah, pretty much. We altered the production a little bit once he put his verse into it. I thought it was cool he wanted to do a long verse too, like good on you dude.
 
Have you met him in real life yet?
 
Yes, now I have met him. I didn't meet him before putting the verse on the song but then I met him, he came out for the Echo show that I did for Popshop, and he's also in the music video.
 
And then the Demo Taped remix—what was the story with that?
 
I had heard Demo Taped's music, and thought he would be able to put an interesting spin to put on it. I think that's what it is, we just want to have interesting combination of things that are going to draw out something unique. When I got the remix in I had just woke up at 3:30 in the morning for whatever reason, and I saw that it came in and I listened to it and I stayed up probably another half hour just listening to it over and over again. I was like, "This is so tight!"

Why did you decide to put the remix out so soon after the song dropped?
 
I don't know. I like putting stuff out. I get ADD, I think that's what it is. For me, maybe cause I've been living with "Atlantis" for so long it feels like it wasn't rushed but yea I don't know I'm all about more content.
 
Do you think you're going to have other official remixes, or do you encourage producers to remix the song on their own?
 
Yes and yes. I have another remix coming soon.
 
So is music your main focus now?
 
Right now, yes. I am currently putting off writing a paper for school—I'm very delayed on that. A lot of things are on hold with the music rollout but I don't plan on abandoning acting at all. I think this whole music rollout has been a process of becoming authentic with my audience and really communicating who I am now and I would like to do that with my acting as well. But music will always be important to who I am.
I think this whole music rollout has been a process of becoming authentic with my audience and really communicating who I am now and I would like to do that with my acting as well.
What's next for you?
 
Video coming, album coming, I think I'm going to be back in New York for some sort of EP premiere show. I want to tour, I really do. I just want to keep doing shows. I've been locking in the live set up so it's ready to rumble.
 
Do you enjoy performing? Do you like being on stage?
 
I do, but it's funny. When we started doing the rehearsals of the songs, that was another level of backing my music that I realized I had to come to terms with. I had accepted the songs in their produced forms, I was excited about it, but in putting out new music you have to stand behind it and that was something I was timid about because I had not been releasing anything for so long. It felt like a really strong statement, so putting on a live show felt like the ultimate statement of portraying who I am now. That was very intimidating.
I can be a bit of a perfectionist, so I worked really hard on it and made sure that a bunch of friends and family came out to my shows so that I knew they'd be happy audience members. Now I'm really excited to share it. I think putting in the work is the number one thing that gives me peace of mind. If I know that I'm prepared, then I'm good.
 
Do you have another single before the album drops?
 
I think that's how the rollout is going to go. The timing is all in flux so that's something that I've just had to go with the flow with, but yeah there should be another single.
Anything else about the album that you want people to know?
 
I want to capture a mood. I really like how "Atlantis" captured a feeling and I want it to feel emotional and raw. I want each song to be distinct. I just want it to feel honest.
Bridgit Mendler's Nemesis EP comes out November 18.