"When I was in Jamaica Dexta's song was on the radio 24/7—he was the man." So said M.I.A. upon the release of "Foreign Friend," a collaboration with Dexta Daps on her recent album AIM.

The song ruling Jamaican radio was a hard-driving track called "Shabba Madda Pot." It describes the street vibes in Seaview Garden, the West Kingston ghetto famous for raising superstars like Shabba Ranks, Bounty Killer, and Elephant Man. This is the where Dexta Daps grew up.

It's not easy getting Mr. Daps on the phone. But after three days of WhatsApp messages, the phone rings and it's finally Daps on the line. He's at a late night studio session in Kingston, where he's been working on his debut album.
What's going on?
Well I'm in the studio here holding vibes.
Work going well?
You know we gotta make sure something's happening, so we working now on some big things.
Congratulations on the M.I.A. collab.
That's a big one right there, that's a very big one.
That all happened in Jamaica, right?
M.I.A. came down here and told me she wanted to do a song, we just got together and the magic happened.
The song almost sounds like a relationship story. What is that song all about?
Maya came down, and she's my foreign friend so we just decided to do a song… [Laughs]
That's just it? You're just foreign friends?
We just did a song about us. About she being my foreign friend and me being hers. "Paper Planes" is my joint, and right now "Borders" is really leading...
Who thought of the song idea?
It was just a vibe. We were just chilling in the studio. We basically had a studio for a few days and we just stayed there and we just worked. It was just a vibe, me and her just chilling in one place. I mean, stuff comes up. You know what I'm saying? So as I said, my "foreign friend" came down to do a song and we did it!
She talked about how her favorite song by you is "Morning Love?"
[Laughs] She told me "Shabba Madda Pot" and "Morning Love" were her songs, and she wanted something in between there. I didn't know what to do, but I just did everything. 
Speaking of "Shabba Madda Pot," my hairs stand up on the back of my arms when I listen to that song. It feels very real. I'd love to hear from you what that song is about.
It's all energy in that song. We made that song so we can dance, we can enjoy. But it also has meaning for my area, Seaview Gardens. It's like my area's history in that song. And when I say "Shabba Madda Pot" I'm not talking about Shabba there, I'm talking about his mum. His mum used to cook a lot of food for the community.
So it's all real? His mom actually did that?
Yes, yes it's real life. This lady was so nice to the community she actually cooked and made sure that kids would have a meal. Or at least some soup. Just the courtesy and means of getting food. You know what I'm saying? So she did a lot for the community. And we definitely appreciate Muma Christie same way.
So when her pot gets hot, the streets are hot?
Oh gosh! The whole scheeeeeeme get hot.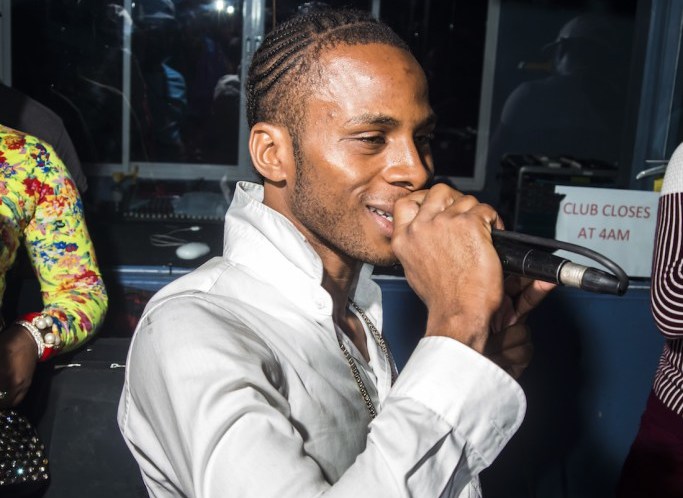 I know you talk about your community Seaview Gardens, but there are many places in Jamaica can relate to that type of song.
Yeah, yeah definitely. Many places across the world. That song is just a hard track.
What was it like for you as a youth being bought up in that environment?
It has its ups and downs. Some things you learn really early growing up in a scheme as such. You learn so many things that adults are exposed to. You get so exposed so young it's not even funny, and you just learn so quickly.
You've have been doing music for a while—singing since you were 10—who have been your musical heros that you've looked up to?
The great Shabba Ranks, Bounty Killer. I look up to those because those are first-hand testimonies right there in front of me. Shabba Ranks is that person that did it as a big elder. And you can see it with your eyes, he comes back to Seaview Gardens to hold a vibes and you're like "Wow, this is a superstar."
Being that they are first hand experiences, they really helped me. Really big influences to me. You also have the likes of Beres Hammond with the sweetest voice in the world, then you have Morgan Heritage... I mean, there are a lot of artists that I've been watching for a long time.
Last time we spoke, you mentioned that your grandmother always told you to surround yourself with positive people. Has that been an important thing in your life?
Yeah, I mean it turned out to be the best thing I ever did, cause I have great people around me now and I'm doing really good.
We must touch on Daseca Productions, who you work with now. How did that connect happen?
A couple of years ago a friend carry me up here to meet them and they just told me that they wanted to start working. And from then we've been working and we've never stopped.
How important is it to find the right producers?
You just don't want to voice anything and put it out there. You want some thought behind the work, and Daseca is one of those producers that is going to spend time and make sure that beat is a number one beat. So it's very important to have great producers around you that actually know what they are doing.
The last time I saw you perform, you said, "Dexta Daps is a yute who sings for the girls and gallis."
Yeah yeah yeah…. ladies' sugar.
Your songs have that joyful thing with the ladies—"Jealous Ova," "7eleven," and all those songs are still a hit in the clubs.
It feels really good to know that you're doing songs that people really appreciate. It stands out and stays in their mind for a good time, you know what I'm saying?
We are in very interesting times in dancehall at the moment. How does that make you feel?
Proud to be a Jamaican. This culture is energetic. It is a culture of fun and laughter, you know what I'm saying? So anybody would wanna embrace it. So it's not really surprising when you see other artists take up dancehall and do it. I mean, it's music. To me it's just music. There's no pop; there's no dancehall. It's just music. You need something inna your ears. I don't care who sang it. I'm just listening to music and embracing good music.
It must make you feel amazed when Drake dropped his album Views over the summer. It was literally laced with patois. This is one of the biggest pop stars in the world speaking Jamaican patois.
I mean, you have to feel good about that. Being a Jamaican you have to feel proud. And it's not like he's using dancehall to just sing anything; he's singing good songs. It's actually hot songs. Number 1 songs. I'm proud of him for doing that.
Are those same songs hot in the dances in JA?
Definitely. The same songs you hear all the way over there, it's the same here.
Often when I speak to artists, they say that when you get the girls on your side it doesn't matter about everyone else, because the guys are gonna follow anyway. So the girls really are your true fans?
You're definitely right with that! The girls are definitely supportive. Once the girls are saying that you are the man, that's really what you need. I mean you need the thugs them as well, but... they will always follow. Everyone want a new girl. Who don't want a new girl wan' two girl.
Dancehall is predominantly a male-dominated thing, but there are some good girls coming up. Which of the female artists currently on the scene do you respect?
Spice is doing really good actually. Spice is definitely going on with a bag a things. But one of my favorites is—and she might not even know this—but Gaza Slim. I think she's really really good. She has a nice voice and she's using it pretty well and she's not out there enough.
What do you think it is about the island of Jamaica that fascinates the entire world?
It's that little "let's have fun" kind of vibe. It's that happy moment. It's that joyful feeling. It's that stress-free mentality that Jamaicans travel with.
So do you think that people are ready for that vibe? We're faced with so many issues in the world right now, do you think people are ready to feel free within themselves?
Yeah I think that's where people are going right now. Free their brains and just live. You got to approach life with that stress-free mentality.
I did notice on your IG you were preparing something for the ladies—something about how you can't wait to be in bed with her?
"Mi C Mi Bed N Miss U" is a new song I'm gonna start promoting. It's about a real-life situation where you miss that person so much you go home from work one day and you just see the bed and you're like, "Oh my God! Where's my significant other?"
But why is she not in bed with you?
Maybe she's out there with another man? I don't know. Maybe she's cheating? That's why I gave her a "Chinese Jordan." [Laughs]
What I find really interesting about you is that Jamaican men are known to be very "Boasy," and they don't like to think about their women with other men. But you seem to take it in stride.
[Laughs] I'm telling you I have no stress. I'm trying not to stress. I'm just trying my best.
I mean from what I hear in your songs it doesn't matter to you where she has been. If she has some time for you, you're okay?
Let me tell you what I really believe. Whether or not she is doing it I will never know, so I'm not gonna put it in my mind that she's not, I'm not gonna put it in my mind that she is. I just don't care. If she does, I'm right at "I don't care." And if she's not, I'm still at "don't care." Me are her are good. We are still good.
So you don't feel the need to rise your AK or anything like that?
No. No. What mi a rise the AK for?
Well, I think more guys should take a leaf out of Dexta Daps' book!
You can give 'em the whole book because a whole heap of copy mi have.