It's sunny, the air is swirling, and has a Chicago bite. The tall, black gate in front of me reads 1648. To the left, Chicago's downtown skyline peeks out from the top of a pair of elevated tracks. A few minutes later, Saba pulls up in his car and hops out—he's visibly at ease, even as he shares with me that his family's dog passed away just two days earlier.
Saba's band mate DaeDae lets us into the studio, and once inside, Saba picks a guitar up from the couch. He sits down and places it in his lap, his hands moving tentatively across the strings. He's been teaching himself the guitar using YouTube videos, and seems to have a newfound appreciation for the instrument.
Along all four of the room's walls are pictures and phrases, drawn by DaeDae and his visitors. Some of the tags are uplifting and inspiring, some exclamatory or haphazard, and some are just signatures. One wall reads "focus" right next to "Sad Boyz Club." Pivot—the name of Saba's collective Pivot Gang—is tagged in a couple of places, too.
If Saba's name isn't already familiar, you might remember him from Chance the Rapper's 2015 song "Angels," a moment that thrust Saba into the national spotlight. But unlike Chance, who reps Chicago's South Side—more specifically, the Chatham neighborhood, and even more specifically, 79th Street—Saba puts on for the West Side, and for Austin Boulevard. Anyone who's been mindful of Chicago rap is familiar with his solo work: He broke through the scene in 2014 with his project ComfortZone, a 14-track mixtape indebted to neo-soul and the town that raised him.
Now, a little over two years later, he's releasing the long-awaited follow-up, Bucket List Project. It's just as influenced by Austin as ComfortZone, though that might not be obvious until the fifth cut from the tape, "Westside Bound 3." It's the project's anchor, and the song's second verse opens with the lyrics, "I'm from the part of the city that they don't be talking about / I gave the West Side a new meaning."
"I never realized until the day that I was in [a Young Chicago Authors] class, that [ComfortZone] was that driven by the West, and that that was such an important role in the music," Saba says. "Part of hip-hop is being proud of where you're from, and for me it was just one of those things where, especially being in Chicago now, [the West Side] is forgotten about. A lot of people live here, so I think that was one of the reasons that I just felt the need to continuously bring it back."
PART OF HIP-HOP IS BEING PROUD OF WHERE YOU'RE FROM.

Chicago has a history filled with hip-hop legends like Kanye and Common, but it was Lupe Fiasco's 2006 debut Food & Liquor that really moved Saba. The album profoundly resonated with Saba in part because Lupe is from the West Side—he references Madison Street, where Saba went to school. In a way, his aim is to continue that legacy. "After the class, I realized that there was a purpose behind the two ['Westside Bound' songs], even if I didn't know what the purpose was at the time. I think 'Westside 3' is me knowing that purpose and trying to write for that, and a lot of the stories that are told on [Bucket List] are based around that experience."
Throughout Bucket List, Saba attempts to confront preconceived notions about his neighborhood. "Everybody's from the South Side," hey says, "There's only a few of us [from the West Side]. But just making sure that even though there's only a few of us, that people know that this is also a place, like we don't just die, we don't just gang bang and do dirty shit. There's also life and culture and habitat."
I've only been to Austin twice, both times to visit Saba at his grandparent's house. Along the drive, vacant lots poke holes in city blocks, weeds sprout up through sidewalks, and clusters of kids wait for the bus. Saba mentions that the nearest Domino's is in the adjacent suburb of Oak Park—which is within walking distance but won't deliver to Austin—and that the area is just now getting a grocery store.
"It feels like, 'let them die out.' Whatever about the gun violence, whatever about the drugs, whatever about all of it… It's bordered off, it even feels like there's nothing around you, you don't have anywhere to go. The buses stop earlier than the other parts of the city; the trains stop earlier than other parts of the city."
Saba uses the West Side as a foundation for the project's overarching bucket list theme: what do you want to accomplish during your lifetime?
"Riding with my niggas in a bucket / Scratch another button off my bucket list," was the lyric that sparked the whole idea. It's from a song called "Heaven" that didn't make the final cut on the project, but the fatalistic nature of a bucket list stuck with Saba. "I think a lot of people look at a bucket list like as a really positive, as a really happy thing. But if you think about it, there's a darkness to it. What do you wanna do, but before you die?"
While he used ComfortZone as a tool to feel safe with creative expression—he was a pretty shy and quiet kid—he used Bucket List to further encourage himself to be bold. "Mentally sometimes I'll hold myself back, and I think Bucket List is just getting out of that habit and creating that fearlessness," he says, "It's really easy to get discouraged in music, in art in general. I think it's one of those like humbling things—but look at where you are and that came from that fearlessness and it's like, imagine if you applied that same fearlessness to other aspects of your life."
To that end, Saba incorporates other people's bucket lists throughout the project: voice memos from fans, friends, and family: Chance, Lupe, Stunt Taylor, and Saba's father make special appearances; a fan mentions he wants to make a mixtape, another wants to have his first meal from In-N-Out, and another wants to de-gentrify her city's neighborhoods. Saba asks people of various creeds, colors, and ages what they want to do, what they envision for themselves, because on the West Side—and in a lot of lower-income areas in Chicago—people are often taught that dreams are just dreams. Dreams are not reality; dreams get tucked away. 
"It's the balance, but it's the preparation and the fearlessness and all that, I think is what I hope to gain from Bucket List. Fearlessness for myself and for listeners. A lot of people want to do a lot of dope shit that they can do, and that they have access to do."
Saba has been blessed with positive reinforcement, and was raised to believe that he has options. When he was 14, a lot of his friends took to the street life, a thought that also crossed his mind at the time. But he knew himself, and could easily make a distinction between himself and his peers: He watched The Boondocks, listened to Lupe, wore glasses, and had a "Norbit afro." He felt different, a part of "the black kids from the hood who were profound thinkers."
"I think [a support system] is the one thing that a lot of people, from similar environments don't have," Saba says. "I had a lot of ideas placed in my head from when I was younger. The kind of ideas that… I try to reiterate in my music. It's this kind of dreamy, very optimistic message."
"I always tell the truth in it, and I think that's just how a lot of people, especially by me, need to hear it. Like yes, we got homies in prison, we got homies dead, we got this wrong with our family, we got this wrong with ourselves, but we can still do whatever we want to do about that. We can let that defeat us or we can boss up," he adds, laughing.
Bucket List is formed by the same neo-soul aesthetic as ComfortZone, something that was inspired by Saba's father, who is also a musician. While Saba produced a majority of ComfortZone, for Bucket List, he handed the reins over to to Chicago musician Phoelix, who acted as the executive producer for the tape. Phoelix—who's not only a skilled producer, but pianist, bassist, singer, and rapper—exhibits a luminous production style, spanning the entire breadth of R&B and soul. A serene soulful quality marks the first cut off the project, "In Loving Memory," while "Most" is hard-hitting and bass-driven, and the title track is even more varied, spurred by hypnotic, undulating synths.
Phoelix serving as executive producer allowed Saba's vocal stylings to truly blossom. His flow on the Noname-assisted "Church / Liquor Store" is brash and aggressive, while on "The Billy Williams Story," his voice appears slurred and casual. On "Photosynthesis," his delivery is pitched lower and more melodic, reminiscent of Krayzie Bone from Bone Thugs-n-Harmony—also Saba's favorite rap group.
"Westside Bound 3," meanwhile, presents the tape's central tension between reality and hope. That balance also manifests in Saba's flow, as he flips between a hurried pace—where some of his lines obscure into the next—and something a bit more enunciated and relaxed.
During the song, he remembers his uncle, who died in his sleep only a few months after ComfortZone was released. "Losing my uncle had a lot to do with the idea of the bucket list," Saba says, "I think it took something like that to kind of just remove me from everything. [His death] was like a slap in the face, a wake up… it was really important to who I feel like I am now."
While working on Bucket List in Los Angeles this summer, Saba received some upsetting news: Pivot member John Walt was involved in a shooting. "I get a call from Walt, and Walt is like, 'Man, I'm on the expressway. They just shot up the car.' Fortunately, neither one of them had on they seat belt so they were able to duck… They emptied a whole clip on the car, on the expressway, and neither one of them got touched."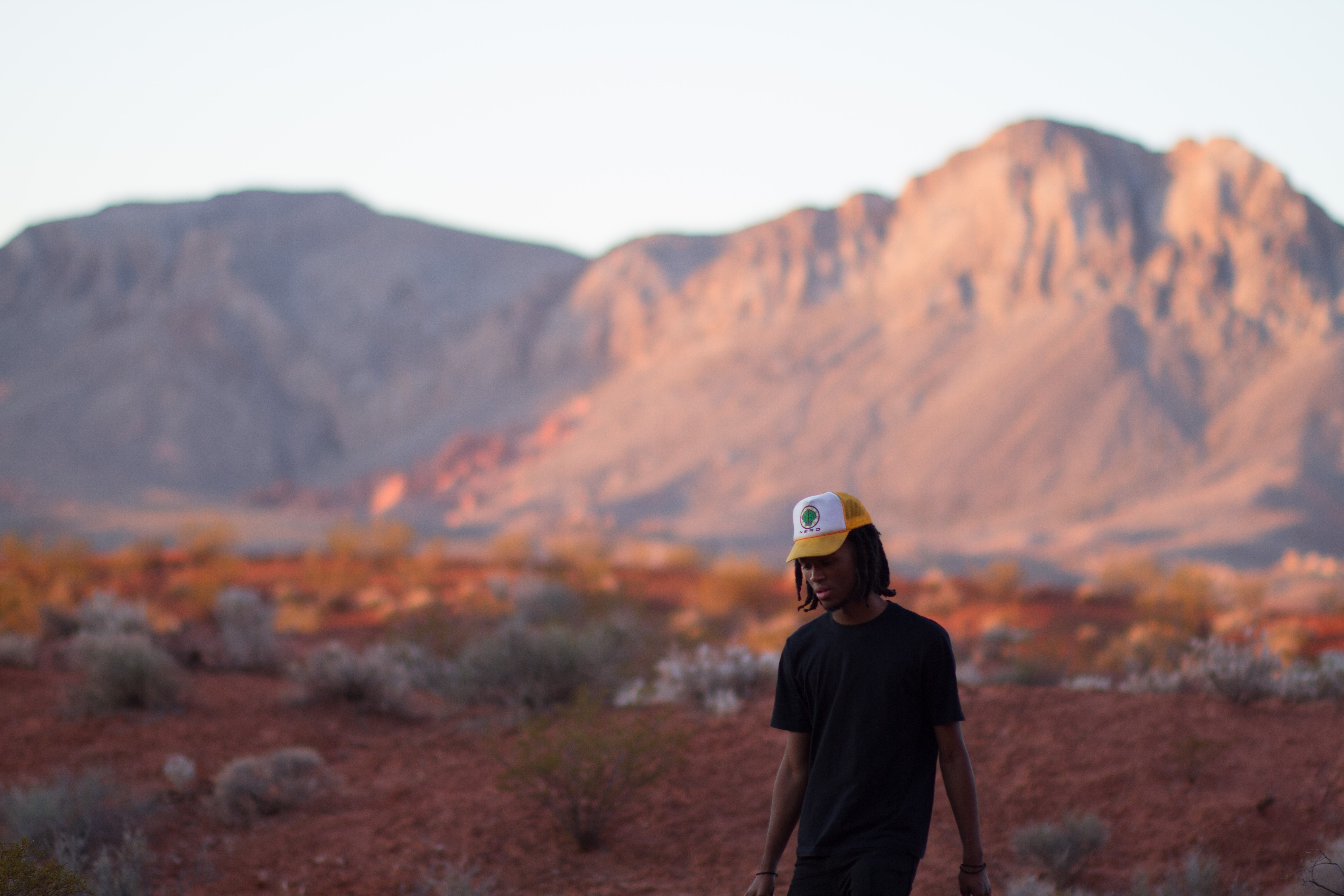 Austin exists in a duality; the neighborhood lives on the border of the city and the suburbs. Division is the street that alienates Austin from affluent Oak Park, something Saba addresses on "Westside Bound 3." Saba describes how that separation creates a ubiquitous feeling of desolation in the area. "A lot of hoods in America are like that, and it's intentional. We're given like the basic necessities, like you have somewhere to eat and shit, [but] don't come to the good parts of the city. Stay here."
Despite his music's frequent optimism, Saba doesn't want to come off as being phony positive. "I can't really speak on the gun violence and stuff like that too much because it's like, what do you say about it? What do you say? I can put it in my music, I can be hopeful about it but that's one of those things where it makes it hard to be optimistic. It feels naive to be optimistic in times like this. But we know it's possible." 
IT FEELS NAIVE TO BE OPTIMISTIC IN TIMES LIKE THIS. BUT WE KNOW IT'S POSSIBLE.
Among the things on his own bucket list are going back to school, going back to drawing and painting, meeting Lil B, and learning the piano and guitar. Most importantly though, he wants to thank the people who have helped him.
While it's not a particularly grand list, it proves that routine goals can be visionary too. "Start that conversation about the belief, the ideas of just doing what you want to do, doing what you love. I wonder how many could've, should've, would've had stories turn into deaths and jail time—I see it every day."
"I'm trying to instill some type of hope, some type of like realization that there are option. You can be peer pressured into not believing in yourself. I think that's what happens to a lot of people that I know."
Bucket List is rooted in Chicago's West Side, but the message is universal. "To the people that don't live there, or don't even live in Chicago, it's just knowing that there are places, there are slums, there are ghettos and hoods where many great minds come from," Saba says. "These people are human too."