Beats by Saif is everywhere.
If you've opened up a tweet by a popular rapper this summer, you've probably seen his name in the replies, along with a handheld video of his computer screen as music blares in the background.
Basically, he's a spammer. But his persistence is working. With each new video response, his name gets more recognizable, and "beatsbysaif" is turning into a meme. He even has his own parody accounts at this point. Naturally, his inbox is full of negative reactions to his constant posts, but these messages are starting to be balanced out by people who respect his hustle and defend him with comments like: "Let the man live and try. All artists have to start from somewhere."
So, who the hell is this guy?
What gave him the idea to start doing this in the first place? Is the tactic working? Is he actually selling beats? What does he think of all the attention he's receiving? We spoke to him over the weekend and found out.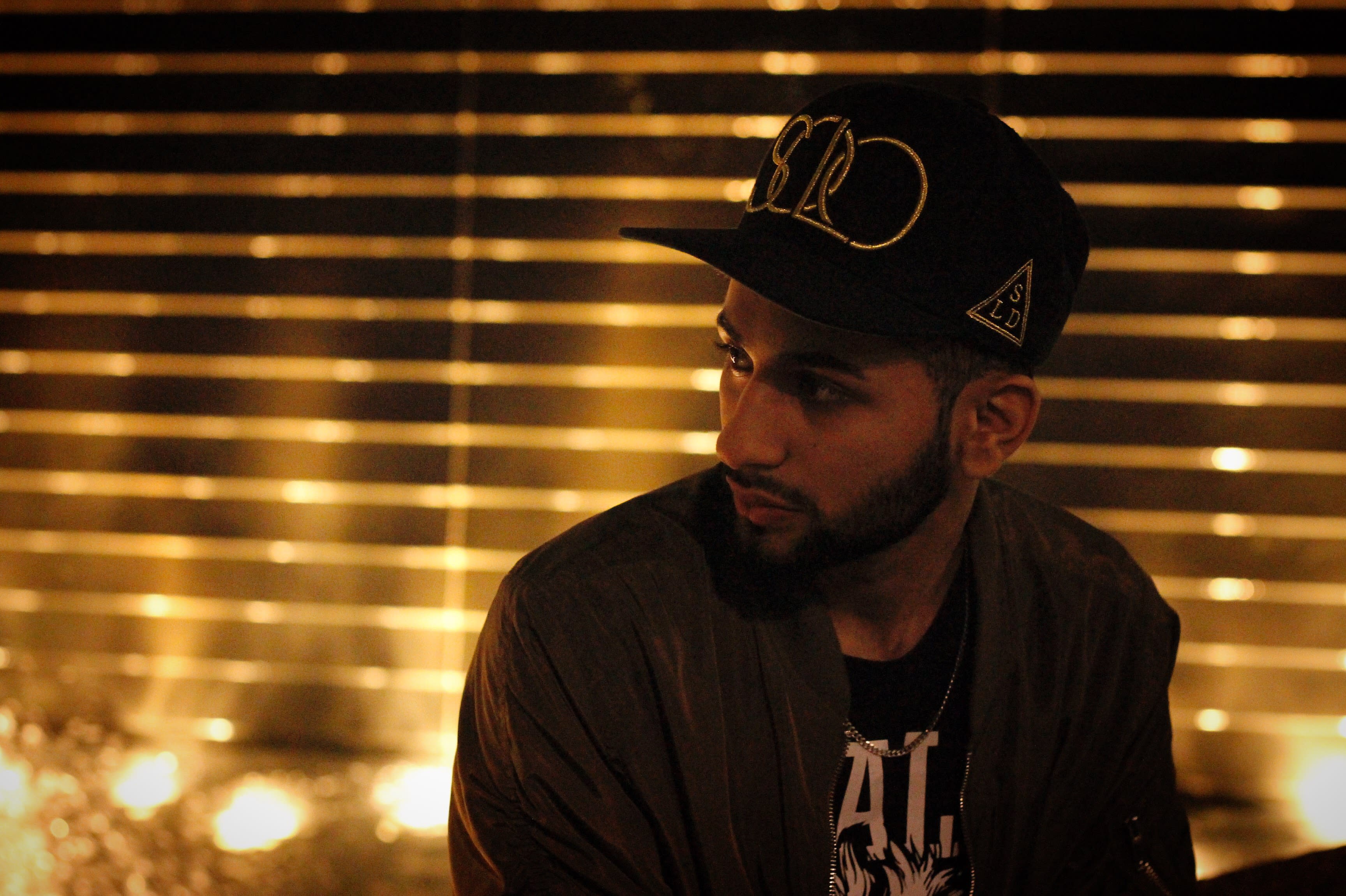 Like most people, I found out about you by always seeing your name pop up under popular tweets. Where did that idea come from and when did you start? 
Well, I started doing my Twitter scheme in April 2017. I replied to a Nav tweet with a video of this song I produced for my boy Babar called "Burn It," and it got like 60 favorites. Then I replied to an XXXTENTACION and Ugly God tweet, and it got about a 120 retweets and 400 favorites.
I was on my phone one day and I got a thought that all these kids are commenting on these celebrities' tweets and there would always be a tweet at the top with the most likes and retweets, so if I put a video of my beats right when the artist tweets, it could get the same attention. I ended up getting like a 1,000 favorites on a video and whole bunch of views. So then I just started going ham. 
I'll be honest, at first, I was annoyed by seeing your videos all over the place. But the more I saw them, the more I was impressed by your hustle and ability to show up under pretty much every tweet I ever looked at. How are you able to do that so consistently? Is there a secret?
I'm working really hard, bro. A lot of people are getting annoyed. I'm getting blocked by famous rappers now. Tyler, The Creator just blocked me. I'm on a mission and I want to make it as we speak. I really can't tell you how I do it, I just do it.
What has the response been like? I've seen a lot of negative comments, but also positive messages mixed in as well. What are some of the craziest or most memorable tweets you've received?
The response has been crazy. I got 20 Million views on Twitter in three months and 7,000 new followers. I'm gaining a whole bunch of real fans. I love them! A lot of people have been trolling me and a lot of people have been showing me mad love.
I actually like the trolls because some of the stuff they say has me dying of laughter. And it's just more publicity for me.
The craziest tweet I have received is SmokePurpp quoting my tweet and saying, "Stop nigga, please." I was like, "ohh shit!" I couldn't stop laughing. Lowkey, I feel like he did that on purpose to give me more attention.
And all the memes people are making of me: It's lit. Kids telling me that I inspire them and comparing me to Metro Boomin and Nav, and saying I'm gonna work with Drake—I find that crazy. There's definitely a couple more but I can't remember them right now.
What do you think about the negative comments? Do you understand where they're coming from? Are you annoyed by them? Or do you care?
Haters gonna hate. I don't care. The only reason I believe they're saying stuff like that is to troll for likes and retweets and get a couple of mentions. It just makes me go even harder, really.
Do you think the strategy is working?
Yeah, it's definitely working. A lot of kids are starting to copy me now and I've sold a few beats. So I'm having a bit of success for sure, but there's more success to come.
Now that you're getting more recognized, I've noticed you're almost turning in to a meme yourself. What are your thoughts on that?
They're hilarious. Like I said, it's good publicity so I don't mind it at all. I get a good laugh out of it and I try not to take anything personally.
I want to shout out to Ugly God. He blocked me a while ago and a few days ago he followed me and DM'd me saying he was sorry for blocking me and that he loves me.
I noticed your SoundCloud page doesn't have anything on it. Why?
I've never really paid my SoundCloud any attention. I definitely got something in the works though so stay tuned.
When did you start making beats in the first place, and what originally made you want to make music?
I started my senior year of high school. I met up with this dude from Craigslist and bought a Maschine Mikro for $300. I didn't like it so I switched to Fruity Loops and that's what I've been using ever since. I wanted to make music because I wanted to be the first Indian in the music industry. Now we got Nav, so that just pushes me to go even harder.  
Is there anything else you would like to add? Or any stories you want to tell about the whole experience so far?
I'm from a suburb in Detroit called Farmington Hills. People are calling me "Jehovah's Witnesses of Twitter" which is too funny. I want to shout out to Ugly God. He blocked me a while ago and a few days ago he followed me and DM'd me saying he was sorry for blocking me and that he loves me. So I thought that was pretty interesting and hopefully I get the same treatment from the heavy hitters in the industry.