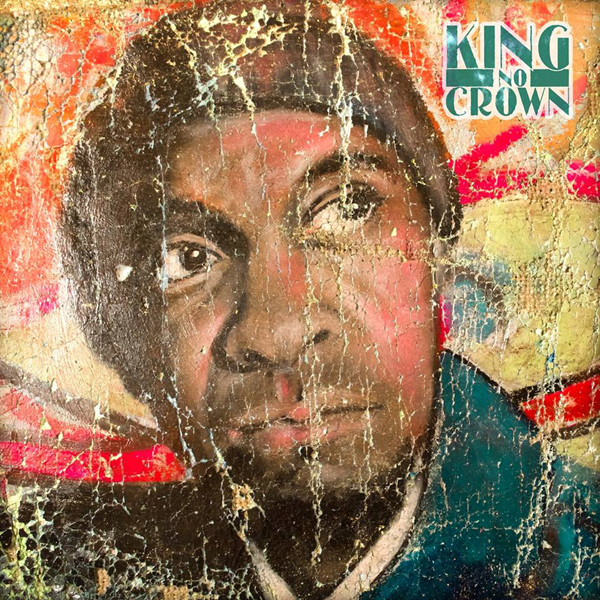 In hip-hop, sometimes there's the feeling that it's not what you say, but how you say it. This has never been the case with Blueprint. With him, it feels like each word holds weight—like each line is a mission statement, and no lyric gets recorded without thought.
On his fourth studio album, King No Crown, rapper/producer Blueprint gets more personal than ever, paying tribute to fallen artists Eyedea and Dilla, and reflecting on life, hip-hop, and a life in hip-hop. Fiery verses like those on "The Talented Tenth" and "Persevere" prove that time hasn't dimmed the passion that Blueprint has exuded throughout his career. Musically, the album—entirely self-produced—blends genre-blurring sounds with traditional hip-hop sensibility.
"I've made a lot of records in my career that I am proud of, but King No Crown is the first album that I feel I brought everything that makes me unique together seamlessly," Blueprint says. "From rapping, to singing, to the music's composition–it took a lot of work to pull together, but it was worth the effort."
The album will be out April 28 on Weightless Recordings. Buy King No Crown here.
---
Tour dates:
6/1 – Fairborn, OH @ One Eyed Jacks
5/2 – Columbus, OH @ Brothers Drake
5/21 – Evansville, IN @ PG
5/22 – Harrisburg, PA @ Appalachian Brewing Co
5/23 – Washington, DC – Heaven & Hell
5/24 – Raleigh, NC @ The Pour House
5/25 – Charlotte, NC @ Snug Harbor
5/27 – Nashville, TN @ The Stone Fox
5/28 – Knoxville, TN @ Long Branch
5/29 – Boone, NC @ The Local
5/30 – Asheville, NC @ Timo's House
5/31 – Columbia, SC @ Back Alley
6/1 – Atlanta, GA @ 529
6/3 – Gainesville, FL @ The Backyard
6/4 – Orlando, FL @ The Social
6/5 – Jacksonville, FL @ Rain Dogs
6/6 – Fort Myers Beach, FL @ Nervous Nellie's
6/7 – Dunedin, FL @ The Dunedin Brewery (FREE SHOW)
6/12 – Austin, TX @ Flamingo Cantina
6/13 – San Antonio, TX @ Fitzgerald's
6/14 – Fort Worth, TX @ Lola's
6/16 – El Paso, TX @ Sector 7 (Basement S7)
6/17 – Albuquerque, NM @ Burt's Tiki Lounge
6/18 – Santa Fe, NM @ The Underground at Evangelo's
6/19 – Colorado Springs, CO @ Flux Capacitor
6/20 – Denver, CO @ Moe's
6/21 – Grand Junction, CO @ Mesa Theater
6/24 – Los Angeles, CA @ Dragonfly
6/26 – Reno, NV @ Holland Project
6/27 – Santa Cruz, CA @ Blue Lagoon
6/28 – San Francisco, CA @ Honey Hive
6/29 – Lake Tahoe, CA @ Whiskey Dick's
7/1 – Eugene, OR @ Lucky's
7/2 – Portland, OR @ Hawthorne Lounge
7/3 – Juneau, Ak @ Rendevous Bar
7/4 – Sitka, Ak @ Bayview Restaurant & Bar
7/5 – Seattle, WA @ Nectar
7/7 – Boise, ID @ Shredder
7/8 – Idaho Falls, ID @ Sickhouse
7/9 – Missoula, MT @ The Real Lounge
7/10 – Great Falls, MT @ Machinery Row
7/11 – Minot, ND @ Souris River Brewery
7/14 – Duluth, MN @ Red Herrig Lounge
7/15 – Sioux Falls, SD @ Billy Frogs
7/16 – Lincoln, NE @ Bourbon Theatre
7/17 – Minneapolis, MN @ Icehouse
7/20 – Kansas City, MO @ Riot Room
7/23 – Osh Kosh, WI @ Reptile Palace
7/24 – Traverse City, MI @ The Hollow
7/28 – Manchester, NH @ The Shaskeen
7/29 – Portland, ME @ Asylum
7/30 – Boston, MA @ Middle East Upstairs
7/31 – Buffalo, NY @ Studio at The Waiting Room