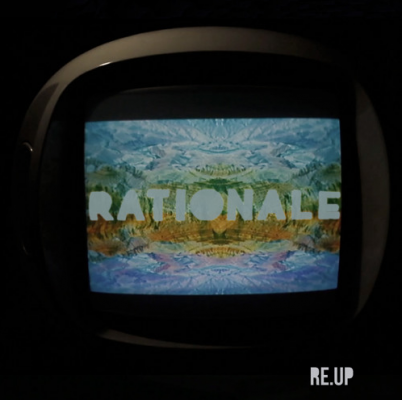 Daily Discovery is a feature that highlights a new or recently discovered artist who we're excited about. See the rest of our Daily Discoveries here.
---
We learned of Rationale through "Fast Lane," a stunning debut from the London-based producer and vocalist that is now sitting pretty at nearly half a million plays on Soundcloud. The production is lush and the lyrics poignant, but although lines like, "Holding back the tears on the last train homeward bound," suggested "Fast Lane" was a tale of lost love, Rationale explains that it was more about being worn down by the grind of modern life.
Today, Rationale is back with "Re.Up," and the quality is just as high. That same loose, faintly '80s inspired production is present and correct, while this time he is joined by an unknown female, who opens the song and harmonizes with him in various sections throughout. Listen to "Re.Up" below and then get to know Rationale a little better through a short interview.
---
What can you tell us about the person or people behind Rationale?
How long have you got?! To be honest I try not to talk too much about the person behind the music.
The Rationale project, I suppose, is in many ways much like a publication of musical excerpts from my diary. I rarely write about fictional subjects or stories, so everything you need to know about who I am is in my songs and more importantly, in the lyrics.
The basis behind this project is to make music for people like me. People who seek out sincere music which emotes and provides that special relatable something we all feel when a song really connects.
The project was conceived in east London. Thankfully these days the modern musician isn't shackled to making music in one specific place. So, the material you'll hear over the next few months was created wherever inspiration took hold. Admittedly, often crouching in the corner of a packed carriage on the last Central line tube home from work!
I've been making music ever since I could hold a note so pretty much as long as I can remember.
Can you tell us about the new music that you've been working on? Is it built from a similar palette as "Fast Lane" or will we be surprised?
The music that will follow "Fast Lane" will hopefully surprise listeners. This body of work will no doubt have an instantaneously recognisable musical undertone/vibe that will carry across to a final album. However, I don't believe good, memorable music is made by finding a formula and creating carbon copies from it. So, there will definitely be surprises!
"Fast Lane" seems like a tale of modern heartbreak – is it based on personal experience or more from what you see in the world around you?
"Fast Lane" is definitely a modern tale of heartbreak of sorts, but not the commonly documented kind. It was written at a time when I felt stuck in a rut and making this record was proving to be almost impossible between work and the general pressures that we all feel from day to day.
At the time I remember thinking 'Is this really it? Is this all that I am? Just another rat wrapped up in a daily race from A to B, 40 hours a week, so I can just about manage to survive from month to month?'
That kind of heartbreak and self reflection is something I find fascinating to write about.
Do you plan to stay mysterious in terms of not showing your face? And is the idea of mystery and the faceless modern musician something you're interested in exploring?
The project will not remain faceless. It's important to me to ensure that listeners are able to visually engage with it too.
Although the idea of mysteriousness is interesting, it would somewhat inhibit my future plans for the project on a performance level. Would it be easier to make music without having to promote and in some ways, commercialize a physical identity? Most probably, yes. However, for me there is too much to be lost on an artistic basis for that to remain a reality.
Do you have plans for Rationale live shows in the future?
I definitely plan on making my live debut in the not too distant future. I'm working the live show as we speak and I can't wait to share with people.