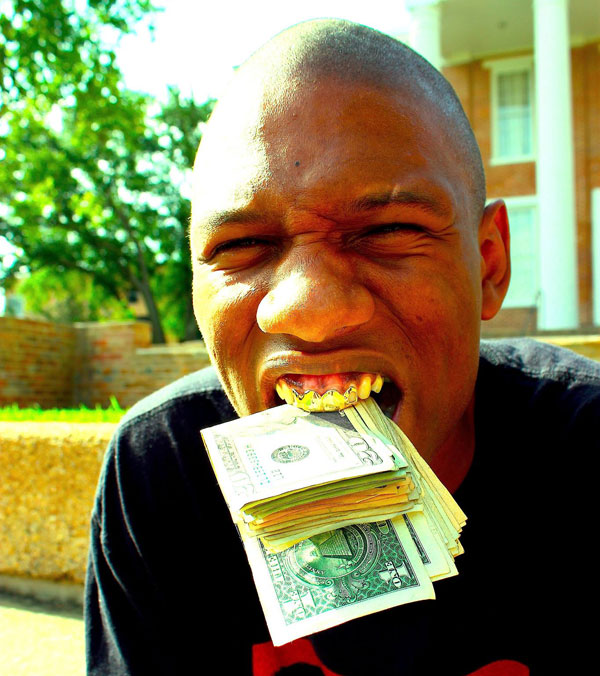 Daily Discovery is a feature that highlights a new or recently discovered artist who we're excited about. See the rest of our Daily Discoveries here.
---
25-year-old Ois4 OMARI is from Houston, but you might not be able to tell by listening. Stylistically, he's got more in common with Lil B than he does with Slim Thug, but the raw, off-the-top feel to his music is a deliberate choice, and it's one that makes Ois4 OMARI so compelling. His knack for hooks almost makes his music feel like it could be mainstream accessible, but it's delivered in a way that only a YouTube-scouring artist who looks up to iLoveMakonnen and Bones could pull off.
In 2015, the most interesting music is usually stuff that blends styles and cultures in new and unexpected ways, and Ois4 OMARI is doing just that. Of course, to some people, his music is going to sound amateurish, unpolished, and underdeveloped. These are probably the same people who wonder why Lil B and Makonnen are so popular.
---
---
On releasing his music with videos:
I consume a lot of my music via YouTube because I'm very much a visual person. That's how I get put on to so many things I haven't heard of. I stopped reading back in AP English classes in high school when I realized I like movies more than novels. Diving into Youtube is no different then getting lost in the web that is Facebook, but instead of winding up 5-10 friends deep, you wind up 5-10 artists deep like, "How the fuck did end up here?" Anyone can drop a song on Soundcloud, but making videos and bringing your songs to life—everybody can't do that.
On Houston:
Coming from Houston, I just want people to know it's OK to be different. You don't have to drive around in an old school Oldsmobile or Chevorlet and swang and bang, drawing attention to yourself and getting pulled over by the cops. If you want to swang, race, or ride clean in a Honda Civic or Mazda Protege, it's OK. I can't judge, I've been there. It's a whole generation of Houston youth that identifies with "Still Tipping," but at end of the day, they know that's not who they really are. This is for all of them, the people sick of out-of-towners bringing the same special guest on stage acting like we don't already know. Houston Appreciation Weekend is cool and all, but Drake ain't from Houston, he's just a visitor.
---
On "*NSYNC":
*NSYNC, I sampled "I Want You Back" and ultimately had to do something related since I tend to make my hooks as the beat is being crafted. Is there a particular message or is just for fun? Both. Ultimately the overall theme is the inevitable effect and undeniable quality of late '90s pop music, which was a staple whenever I visited my older sister who spent her grade school years 30 minutes outside Orlando, home to OTOWN, Backstreet Boys, Britney Spears, 98 Degrees, LFO, and *NSYNC. At the same time, there are lines that tap into my Houston influence and stuff that people from Houston can relate to. "You ain't the Bar Baby" is a Big Moe Reference for all the Houston Rappers acting like they are.
I made this video to pay homage to *NSYNC and everybody whose influenced by them and doesn't want to admit it. If you were born between '89 and '95 you can't say you've never heard of *NSYNC. And yes, they were coordinating Flashy Suits and FUBU together stunting like nobody's business.
On his raw style:
It's intentional, all these songs and everything to come has been recorded in a studio. I do all the beats and take the stems to the studio and let my engineer mix and master as I see fit. It's that Red Flame, Blue Flame, #1 Bitch, Hoop Life influence.
I produce for myself for the most part. Outside of my production, I do have a couple projects with my close friend and frequent collaborator Steve Cali coming soon, but for the most part, it's all me. Might be feeling old school Sebastien Tellier/Cassius/Modjo French House one day, Uncommon 90's/80's pop/alt-rock singles another, you never know, just depends on how I'm feeling.
---
On his influences:
I grew up on Public Enemy, Stevie Ray Vaughn, Jimi Hendrix, and ZZ TOP. My favorite rap albums ever: Let's Get It: Thug Motivation 101, Diplomatic Immunity, Gangsta Muzik, but in terms of modern hip-hop, Riff Raff, Lil B, Migos, ILOVEMAKONNEN, Black Kray, Bones, are the types of artists I hope to be doing shows with one day. People like many of the artists you feature on your site.
At the same time I love artists from other genres and periods like Grimes, Mac Demarco, Ariel Pink, Kraftwerk, Prince. While living in Houston, you can't deny the effect artist like Z-Ro, Mike Jones, and Slim Thug have had on you, but at the end of the day you don't have to be Slim Thug, Paul Wall, or Bun B to get some love, because there's no hand outs and the OG's will keep that gate shut unless you get out there on your own. Am I plugged in with any of these OG's in the scene? No. Troy Ave would probably call me a weirdo rapper. There's a young generation of artists getting love, people like Fat Tony, BeatKing, Sauce Twinz, Maxo Kream, but competition isn't welcomed and the same rules apply: fuck some new nigga I ain't heard of. It's ignorant, but that's the city, and that's why I and others like myself do our own thing.
On his name:
Ois4 OMARI is something I was always saying in my raps that I hadn't heard anybody use and it stuck. Ain't no Bfor Brian or Lis4 Larry, so it stuck. One day Waka Flocka and Rick Ross woke up thinking they was Waka Flocka and Rick Ross. I like to think one day I woke up knowing I was Ois4 OMARI.
What else he wants people to know:
What else do I want people to know? I'm Jon Snow of this Houston music. I rep that far North Side, that North of the Wall Mance Rayder shit. This is that 12 Years a Slave and popping pills at the rave sounds like. I'm Just A Black Dude and so much more. I'm the Black Ricky Fitts. Travis Scott isn't the only person making different music in the H. If he's gonna be our Kanye, I wanna be our MF DOOM.
---