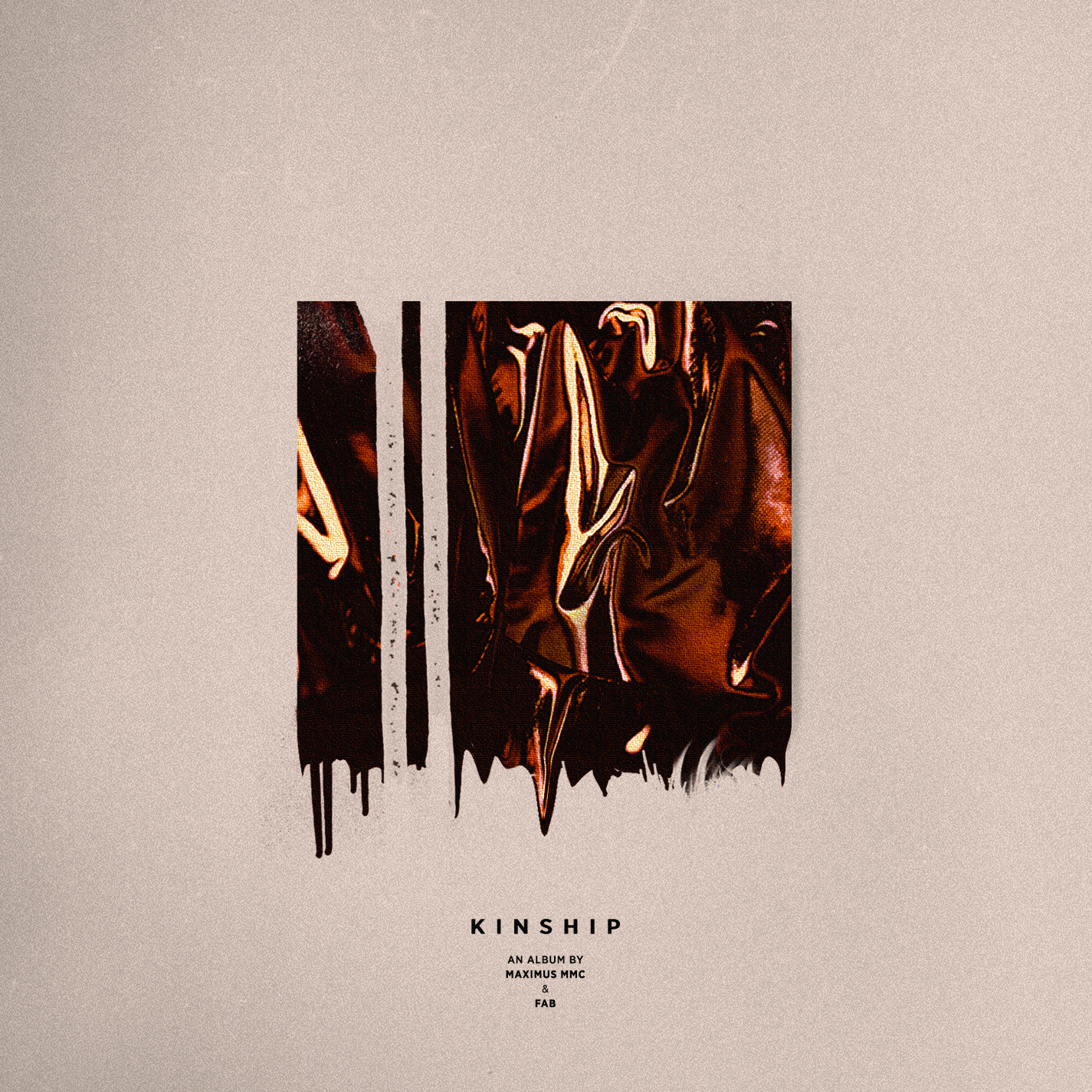 "We don't get to hear a lot of music with Middle Eastern influences nowadays, so we decided to create our own style by mixing up oriental melodies and hip-hop," FAB explains. But rather than cutting audio from a YouTube clip or downloading a sample pack, Parisian producers Maximus MMC and FAB used the voice of Marine Randriantsalama, a friend of FAB's from the island of Mayotte in the Indian ocean.
It is partly Marine's voice that makes this project sound so unique, put also the choices the two producers made, eschewing club bangers or tracks made purposely to please the SoundCloud masses and instead challenging the listener with a variety of styles. Lead track "Sorry" uses space to create atmosphere in the way early dubstep did so well, while Marine's unique vocals tie the whole project together.
Listen to Kinship below and read on to find out about the two artists, the meaning behind this project, and more. Buy the EP here.
Can you each introduce yourself, and explain how you linked up for this project.
Maximus MMC: Max aka Maximus MMC, born and raised in France with a tad of Dutch farming ('09-'11), 1/15th of the brain of this awesome international label called Flow-Fi (S/O to my brothers), full time software engineer (you can call me a nerd for that), part time power napper (life wouldn't be what it is without naps), producer when I feel like it and pianist in my lost times.
I basically linked up with FAB through our mutual friend, Parisian producer LeMarquis. Back in January/February I was chatting with LeMarquis when I suddenly saw that he reposted one of FAB's track (back then he only had 100 followers). I loved what I've heard so I decided to reach out to show some love… A few weeks later we connected at these Parisian events called Discothrill, from there we just built up a strong relationship and decided to work together on this project.
FAB: I'm FAB, from my real name Fabien, 22 years old, been producing for about three years now. I remember chilling at this party in Paris, the music was boring (too much techno being played), Max showed up and we went outside. Max suddenly came up with this project idea, and as we had similar musical tastes and kind of the same vision of things it made sense to me to just jump in it. About a month later we started working on it.
Why is the EP called Kinship?
M: Kinship is a sort of reflection of human blood relationships, all of our inner connections with each of our beloved ones from this world. Our society is very diverse, it is kind of hard to explain it in a few words but here are my thoughts. People tend to have different backgrounds depending on what region/country they're from, depending on their religions and believes, but humans should forever be united as a whole to make this planet a better place. I feel like the direction in which today's world is heading is very disquieting, instead on focusing on what's right/wrong people should focus on how to make this planet a better place to live, while protecting it from our many misbehavior.
F: In "Sorry" we've sampled the voice of a man saying "By what right do you exclude the population?" This pretty much captures the entire spirit of the EP. This statement means a lot when you see what is happening in Today's world. Max, Marine (the singer) and I all come from different places, countries, we have different cultures and background but yet, we succeeded in working together and becoming good friends. Kinship basically represents the links between each other and what makes us human.
Who is Marine Randriantsalama and how did you discover her? What do you like about her voice?
M: Marine is one of FAB's good friend. When Fab and myself decided to collab on that first track "Sorry," he sent me this demo with Marine's voice all over it. It blew my mind straight away, I felt like it didn't sound like anything else you've heard before, on some rare tip. By then I instantly knew where I wanted our project to head towards. I wanted it to be more than just four random collaborations, it had to have something experimental to it and I wanted the tracks to flow from one to another.
F: Marine is a friend from Mayotte (French island in the Indian ocean). People there have a unique culture, quite similar to Hindi cultures. What your hear in the EP is typical songs that women sing during celebrations in Mayotte. She recorded these vocals before hands but we thought it would be interesting integrating them to our project.
Can you each tell me what you've enjoyed most about working with each other, and one thing you've learned.
M: The way FAB's put things up with Ableton is flawless, he's such a perfectionist and makes every session enjoyable to work on (tracks well grouped / properly tagged, sorted out). We used one of my favorite collaboration tools called Splice and went through countless sessions from there. Since we both live in the Paris area, we had a few IRL sessions, even though I'd like to say that I'm the most unproductive dude when it comes to home studio sessions with other people (Playstation is standing close-by). Anyways, he's one of the hardest working person I've ever worked with and his knowledge in sound design is amazing, he taught me a lot about song mixing / mastering and we got the chance to exchange our favorite VST's.
F: It is great working with someone that has the same vision and goals. Max got along pretty much every ideas I came up with and so did I with his ideas. Max has an interesting way of working which consists of adding several small elements in aim to create a particular atmosphere, I really enjoyed it.
How would you describe the style of this EP? In what ways is it different to the music you have made previously.
M: IMO, this is a multi-genre project involving tribal / oriental / industrial sounds. I'd like to say that the first half of the EP is a bit experimental, especially "Sorry". This track progression is crazy and it was such an enjoyment working on each drops and bridges. "Switching Lane" has more industrial sounds to it, you could even say that it has a tiny little bit of a grimy sound to it, thanks to this amazing plugin called Serum (especially used in the first part of the track), it also features pitched down vocals from a Californian-born friend / rapper called V3RB. The other half of the project is a bit different, "For You" has that summer feel that you can't really get tired of, thanks to FAB's amazing vocal chop / chord progressions, and "Kwassa" has some more darker trappy/edm sounds to it, which I believe is a pretty good way to end this project.
F: We don't get to hear a lot of music with Middle Eastern influences nowadays, so we decided to create our own style by mixing up oriental melodies and hip-hop. The atmospheres of the EP can be cinematic at times (especially "Sorry").
Anything else you want to add?
M: I wanna thank everyone that believed in me since day one, you guys really have been my daily protein in this brutal world, my family, my friends and last but foremost my soul mates from Flow-Fi that are the reason why I'm still here making tunes, know what I'm saying (inside jokes with the crew). Oh, and FAB of course who's an amazing person and multi-instrumentalist musician.