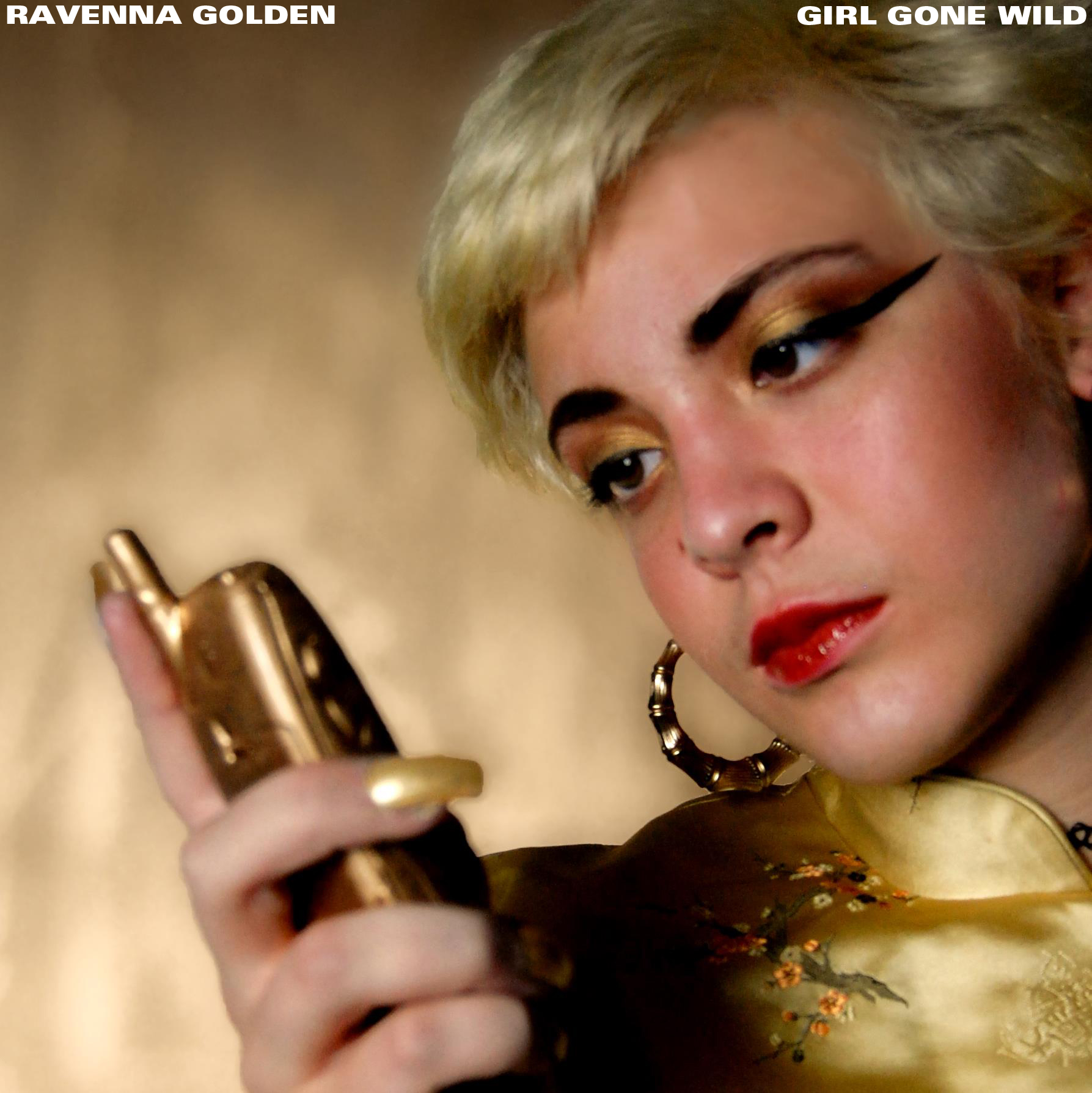 There's a weird, but incredibly interesting scene stemming from St. Louis right now. Proudly spearheading this wave of outsider pop right now is burgeoning collective HELLA figurehead Dylan Brady, who confidently made a name for himself earlier this year with his refreshing debut album, All I Ever Wanted. Since then, he's been putting on for his city by closely working with a number of like-minded musicians, and among those is Ravenna Golden.
Entirely produced by Dylan, Ravenna's debut album Girl Gone Wild is concise, refined, and just a little fragile. It represents all the contrasting feelings of growing up with the internet, with all the particular representations of intense anxiety and self-doubt counter-acted by selfie-based social media-fueled confidence. It's based on real world feelings a lot more than Dylan's debut, but his touch is felt prominently throughout thanks to his thunderous, twinkly production.
It's a different beast to Dylan's album, but it also sounds like the logical follow-up. Ravenna's songs are a lot more reserved, and she plays off of his production in a more playful manner. As if the hip-hop was mostly ripped out of Kanye's landmark pop odyssey 808s & Heartbreak, Girl Gone Wild is the type of internet-based pop music only 2015 could provide. This is a story about unread messages at 3am and the frigid millennial perception of self.
Read an interview with Ravenna Golden and listen to the premiere of her debut album Girl Gone Wild below, or download it here.
---
How did you and Dylan Brady meet?
Dylan and I met through mutual friends when I was a freshman in high school. Over the years I have kept up with him, but within the last year or so we have started associating musically as well. We are both from the St. Louis suburbs and enjoy artistic practices, so we were bound to link up eventually.
There's definitely a very exciting scene coming out of St. Louis right now, but would you say the city has influenced your music in any way?
I think to an extent the album has been a lot about the time I have spent in St. Louis and traveling back and forth from KC to STL. But overall, I would say that the album is mostly influenced by the emotional content of my life.
There's a lot of surprisingly honest lyrics on the album, did it take a lot of time to be so upfront in your songwriting or was it something that came naturally to you?
I literally can't not talk about my feelings. I don't know how to not blatantly say how I feel. I've been writing forever but once I put them into a lyrical format I think my emotional state was more accurately conveyed.
Have you been making music for a long time? It seems very natural and there's an overarching feel of gleeful experimentation despite how concise and well-refined it is at the same time.
To me it is all very natural. I've only been writing lyrics for about two years, and I had only made one song before working with Dylan. It's all pretty new to me, I just do what feels natural, Dylan does all the refinement.
Is it very much a collaborative process in that sense, then?
Absolutely. This project is as much Dylan's as it is mine.
I want Girl Gone Wild to be a self portrait that speaks to a generation.
His distinct touch is definitely felt, but tonally speaking it's a completely different beast to his solo work. It feels like you're making outroverted music for the introvert, would you say that's an accurate description of what you're doing with this album?
Each song is definitely reflection of myself. I am an outgoing person who puts on a lot of flash, but ultimately, my life is a lot of paranoia and second guessing so I wanted to convey both of those elements.
Could you perhaps tell me about the genesis behind the "Sparkly" video? It's such a great concept.
The "Sparkly" video is mainly capturing a moment in mine and Dylan's friendship, and is a sort of egocentric unapologetic millennial approach to the perception of self, while poking fun at social media.
Would you say that social media and the effects it has on people is a recurring theme on the album?
The interconnectivity of youth social media presence is definitely something I have capitalized on with the album.
There's not a lot of music that really tackles the subject of youth growing up in the age of the internet, but you seem to embrace it. Is that something you're proud of in your music?
I absolutely want to encapsulate my human experience as a millennial teen girl going through life, love, and an artistic making process. I want Girl Gone Wild to be a self portrait that speaks to a generation.