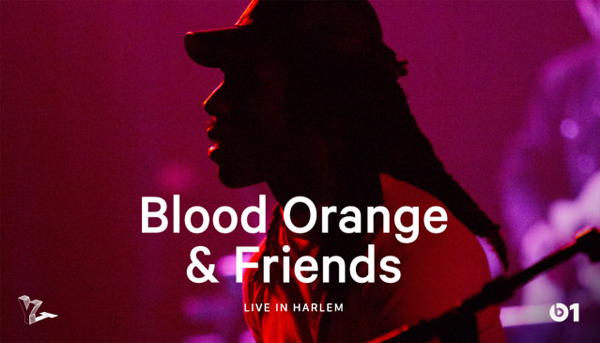 Dev Hynes performed two big Blood Orange & Friends benefit shows at Harlem's Apollo Theater earlier this month, and Hynes worked with Yours Truly to document the entire event (which had all of its proceeds going to Opus 118 Harlem School Of Music). During the shows, he was joined onstage by Solange Knowles, Nelly Furtado, Despot, and a number of others. Yours Truly's hour-long audio documentary aired on Beats 1, and featured live recordings of the set he played across the two shows, as well as interviews and behind-the-scenes audio.
Perhaps most interestingly, though, is that the show also featured a number of snippets from his next album as Blood Orange. The show also featured two new songs in full, including his collaboration with Nelly Furtado, "Hadron Collider," as well as "E.V.P.," a collaboration with Dutch artist Bea1991. Those new songs can be heard at 31:50 and 48:00 during the show, and you can listen to the show in full if you have Apple Music right now.
Listen to the show in full via Apple Music here, and check out the songs that are featured in the show below.
"You're Not Good Enough"
"Everything Is Embarrassing"
"Sutphin Boulevard
"Chamakay"
"Hadron Collider" (Feat. Nelly Furtado)
"Say It Right"
"Sandra's Smile"
"Clipped On" (Feat. Despot)
"E.V.P." (Feat. Bea 1991)
"Uncle Ace"