In last week's excellent interview with CliqueTV Future warned that he wasn't slowing down and that he would drop new music without warning. Only 16 days into 2016 and Future's first project of the year is almost here.
It's not Beast Mode 2 or Monster 2, both rumored to be coming out this year. Instead, we're getting Purple Reign, executive produced by DJ Esco and Metro Boomin, and it's dropping tonight. Purple Reign continues with the rockstar symbolism—remember, Future's album Honest was originally called Future Hendrix—this time referencing Prince's 1984 album Purple Rain. 
Listen to Purple Reign below and download via Live Mixtapes here (if the site isn't broken by the weight of the #FutureHive).
---
UPDATE 1/16/2016: After tweeting the link to the mixtape, Livemixtapes shared the following message, saying Purple Reign isn't ready yet.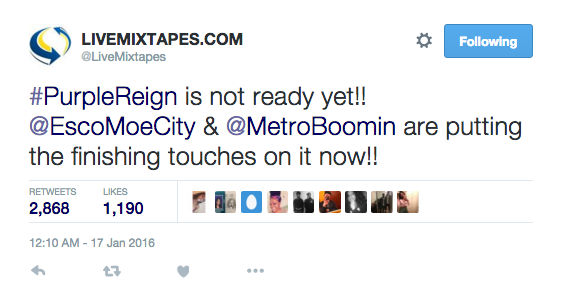 Related: 20 Songs That Need to Be Remixed By Rappers
Related: The Timing Is Right: How Drake Is Capitalizing on Our Diminishing Attention