UPDATE 2/16/16: Jay Electronica is not done throwing shots. On "The Curse of Mayweather," he references Kendrick, saying "He's got eleven Grammy nominations, y'all not equal / Maaaan fuck these white people!" Last night Dave Free, the president of TDE, tweeted at Electronica, who quickly replied. See their exchange below.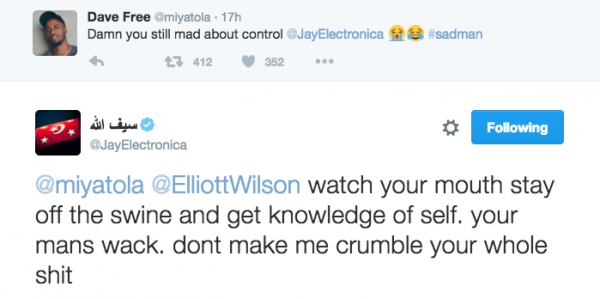 ---
Jay Electronica is back with a new song. His latest, "The Curse of Mayweather," seems to have been prompted by tension between Electronica and 50 Cent, whom he's said some strong words about in the past.
When asked about Electronica on his Instagram, 50 responded, "who is that? I don't even know a song from him. LMAO." Clapping back on Twitter, Jay Eletronica called out 50 Cent for lying, citing an article by The Guardian from 2010 in which 50 refers to Jay, and obviously knows who he is.
With lyrics like "I might be on Periscope getting pissed / talking reckless / contemplating all out war with Fif," it will be interesting to see how 50 responds. In the meantime, listen to "The Curse of Mayweather" below.
---