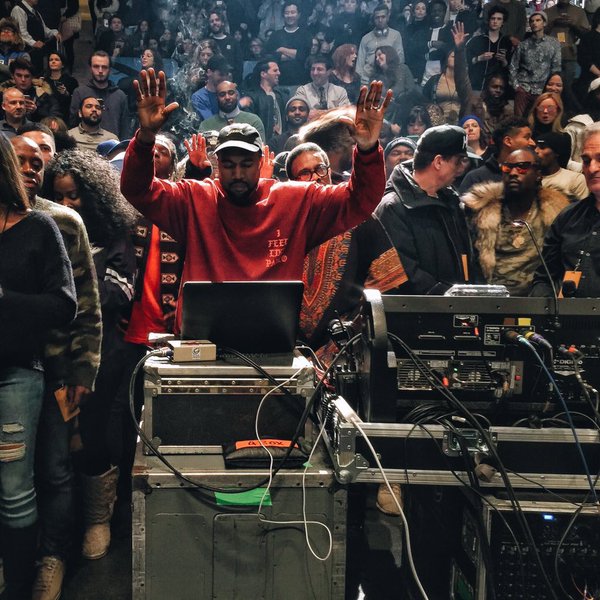 UPDATE: The live stream is now over. Scroll down to find out everything we know about The Life of Pablo and read a track by track breakdown of the show. Rewatch the show on Tidal here.
---
The build-up to the release of Kanye West's new album The Life of Pablo has been crazy. There have been multiple name and tracklist changes, information about who worked on it has been teased out via notepad, and of course who could forget that little "misunderstanding" with Wiz Khalifa.
Well the wait is nearly over, with Kanye debuting his new album and the Yeezy Season 3 collection alongside a performance by Vanessa Beecroft at Madison Square Garden today. The show kicks off at 4 p.m. EST, and is being live streamed via Tidal and to movie theaters worldwide.
Kanye also just shared the cover of his album. Check that out here.
We will be updating this post throughout the show with highlights so stay tuned.
Related: Kanye by the Numbers: A Career Spanning Infographic
---
UPDATE:
Kanye played the entirety of The Life of Pablo at MSG this afternoon. This is what we learned.
The first track, "Ultra Light Beams," starts off with children's voices and features a brilliant Chance The Rapper verse. It sounds like The-Dream also features, and there is a Kirk Franklin outro. The song has a definite gospel influence.
Next, Kanye played "Father Stretch My Hands Pt. 1/ Pt. 2," which started with a Metro Boomin tag and features Kid Cudi and Future. Earlier today he tweeted the song's lyrics and said that he cried while writing it. There was also a section which interpolated some of Desiigner's track "Panda." Kanye announced towards the end of the show that Desiigner was the newest member of G.O.O.D. Music.
This was followed by the track which had been playing before the show even started, "Freestyle 4," which led into "Famous," featuring Rihanna and crazy production from Swizz Beatz. It features Sister Nancy's "Bam Bam." The track contains some provocative lines about Taylor Swift, namely, "I feel like me and Taylor might still have sex / I made that bitch famous."
"Highlights" features Young Thug and The-Dream, and the line about Ray J that Ebro mentioned yesterday. "Me and Ray J would probably be friends if we wasn't in love with the same bitch," Kanye raps, followed by, "You might have hit it first but I'm riiiich." Young Thug also modeled Yeezy Season 3 during the broadcast, complete with a bottle of "sprite" in his pocket.
Kanye then played "Feed Back" and skipped over "Fade," going straight to "FML," which features The Weeknd on the hook, singing, "Even though I always fuck my life up, only I can mention me." Next up was "Real Friends," which Kanye shared in January. It features Ty Dolla $ign crooning on the hook and is produced by Boi-1da.
Finally, it was time for the world to hear the "Wolves" CDQ! Kanye performed the track with Sia and Vic Mensa on SNL in February 2015, but the album version includes new verses from Kanye, and an appearance from Frank Ocean at the end.  Ocean was also spotted at the show today. "Wolves" includes the great line, "Cover Nori in the lamb's wool/We're surrounded by the fuckin wolves."
After playing a new version of "FACTS" with a different beat, Kanye eventually played "Fade," which features Post Malone and Ty Dolla $ign. The track has a sample of Mr Fingers' "Mystery Of Love," and was debuted during last year's Yeezy Season 2 fashion show.
After thanking fans, family, and collaborators, Kanye passed the AUX (very literally) so Young Thug and Vic Mensa could play new music. Before Virgil Abloh took over and made it party time, Kanye shared a video clip of a video game he's working on called "Only One." The game follows his mother's journey to heaven and you can see a screenshot below.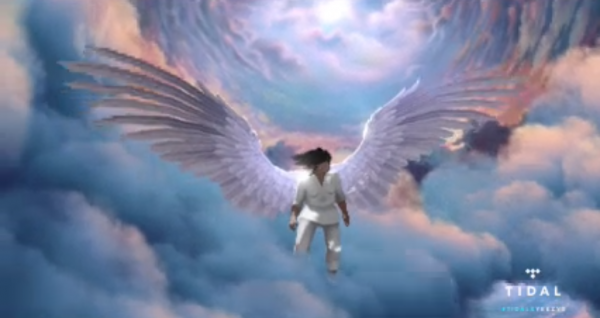 ---
After the show Kanye tweeted the names of some of the collaborators: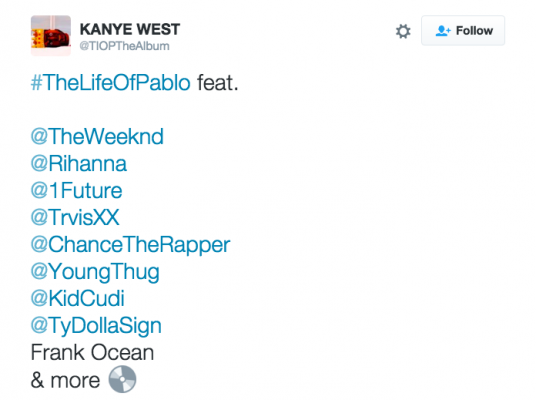 ---
There were some issues with the stream, which Def Jam say over 20 million people tried to watch.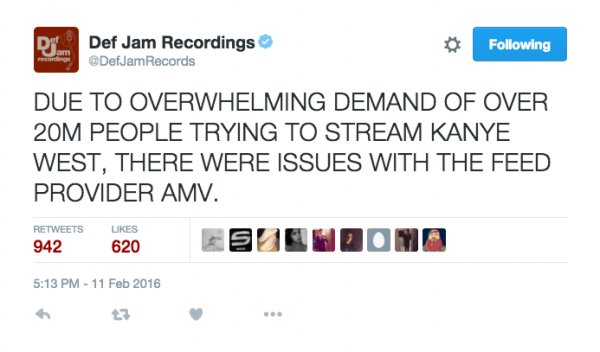 ---
Here's Kanye rapping about Kanye!
what if Kanye made a song about Kanye? pic.twitter.com/PTE1bILP6z

— Pigeons & Planes (@PigsAndPlans) February 11, 2016
---
Here is some of the merchandise on sale at MSG, via designer Joe Perez.