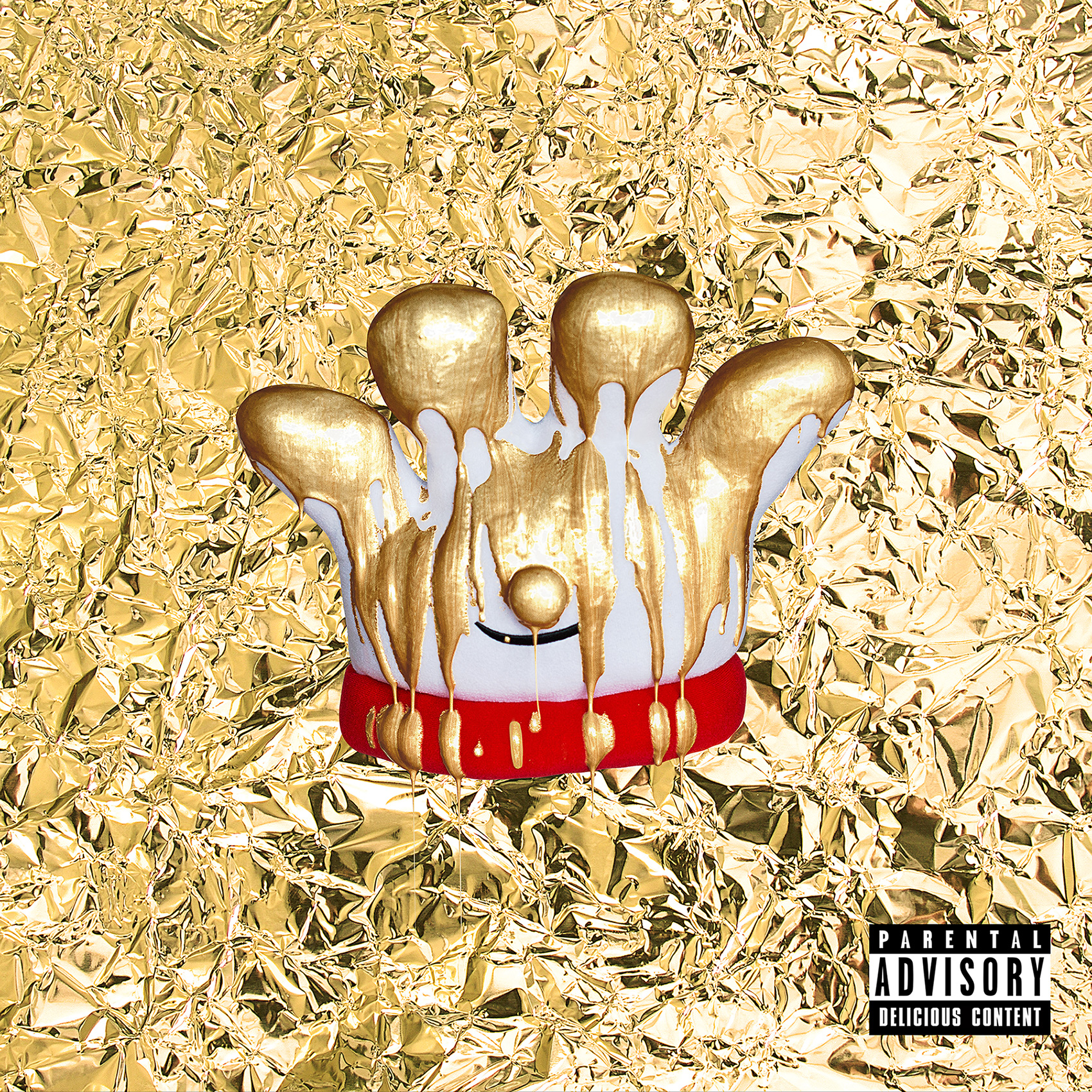 Hamburger Helper's mascot "Lefty" dropped a mixtape today and the Internet lost its mind.
Titled Watch The Stove, the project initially looked like another goofy marketing ploy from a corporation looking to cash in on hip-hop culture. Then we all pressed play and thought, "whoa, this thing is actually really good." Within hours, it was a trending topic on Twitter.
We had to find out who was behind the music on this thing.
After some digging, we learned that General Mills reached out to music manager/educator Craig Rice for help putting the project together. Rice, a teacher at McNally Smith College of Music in Minnesota, then linked GM up with Toki Wright. An established hip-hop artist having released albums with Rhymesayers, Wright is also the Department Head of the nation's first fully accredited Hip-Hop Studies Diploma and Minor Program at the school.
Jumping at the chance to get the students involved in a project that could reach a large audience, everyone got to work. After spending months developing concepts, they pitched their ideas to GM and recorded the mixtape. They also connected with Minneapolis College of Art and Design to produce videos for two of the songs (which can be seen at the bottom of this page).
Coming from all over, the students involved were GeNreal (New Hampshire), Dan D (North Carolina), Theory (Indiana), and illWIN (Ohio)—who saw recent success on a Parker Darling track that racked up over 500k listens on SoundCloud. Hamburger Helper also reached out and got Minnesota artists Bobby Raps and DJ Tiiiiiiiiiip to jump on the explosive intro track "Feed The Streets."
Listen to the five-song mixtape below and continue reading for our conversation with Toki Wright about how they all managed to pull this thing off.
---
At first glance the mixtape looks like a gimmicky marketing ploy, but the songs are actually really good. I think a lot of people were surprised by that. How'd you guys approach the music on this thing?
We always have this expectation that whatever you make has to be as good as what you would actually go buy or support. The idea is, don't take this experience lightly because it might be what catapults you to the next level of your career. So, how do you want to present yourself? And does this sound match up with something you would actually vibe to? That was really the basis. We didn't want to put anything out in the world that somebody couldn't put their face on and be confident about. We wanted it to be fun, but done from a genuine place.
There are a bunch of funny food-related lines on here, but nothing ever gets too corny. It hits that midway point really nicely. How'd you guys handle that?
Originally, when we were drafting the songs, I told [the students], "try to allude to it without ever having to say Hamburger Helper." We didn't know exactly how the mixtape was going to be framed, other than that it was going to be a Hamburger Helper mixtape. So we had this discussion: "Your name is about to be on this song. You don't want it to sound like a commercial." Had it been just a commercial by itself and didn't have their names on it, then say what you want. But this is something different than that.
It's kind of how I look at Outkast's "Player's Ball." That was originally a Christmas song. Most people don't know that, but when you go back and listen to the first line, "It's beginnin' to look a lot like what?" you'll notice that. Nobody would know that, they just know that it's a dope song. I told them to frame it like this: "If you can let this song live beyond this tape, what would it sound like?"
---
This came out on April Fools' Day. Was that always the plan?
I know that's one of the dates they were looking at. The marketing team over at Hamburger Helper thought that was the smartest time to come out with it. Because people don't have to take it seriously—and they shouldn't. That's the thing. This is not a social-political thing. In the age of Trump, Bernie, Hillary and all the other craziness going on in this country, we need to laugh.
We're in Minneapolis. St. Paul. People are protesting in the streets. Two officers that killed Jamar Clark weren't being prosecuted by the Hennepin County attorney. The Twin Cities are literally at the brink of a big social uprising. So, this is, like… at least laugh for a day.
In the age of Trump, Bernie, Hillary and all the other craziness going on in this country, we need to laugh.
It went crazy immediately and became a trending topic on Twitter. What's that response been like? Were you surprised by it?
As weird as it sounds, I kind of knew it was going to happen. Not that I knew to the scale that it's happening, but I knew that it was going to happen. I was trying to convince them early that you have the right amount of ingredients here for this to be picked up and have it go way beyond what you think it is. So you need to start thinking about it as being something that is big and seen by a lot of people. Because all of these guys (and ladies) are from different cities. They're all from different parts of the world and you never know how far it's going to go if you're all connected to those different communities and you have a major company behind it—and the music is good.
All the chips were there and I've seen it happen other times on projects I've worked on and people I've seen in the music scene here. It makes sense. There's a certain level of unpredictability that comes with everything. You never know what's going to hit. But if you go back and look at Helper's timeline, you'll see they put out a meme of Lefty's hand when Drake's album If You're Reading This It's Too Late came out and it ended up getting retweeted like 12,000 times. So they were like, huh. Okay, there might be something to this (laughs).
Any final thoughts on the experience in general?
Yeah, this shows it is possible for you [as an artist] to be heard in 2016. I think a lot of people either give up on their dreams or have always expected that the only way they'll ever be heard is through some big record label. There's just so many ways to be successful in music. There are so many ways for your music to be heard. You have to be open to try a bunch of different avenues in today's day and age. This is the best example I could ever give. They get to see that with their own eyes.
— Helper (@helper) April 1, 2016