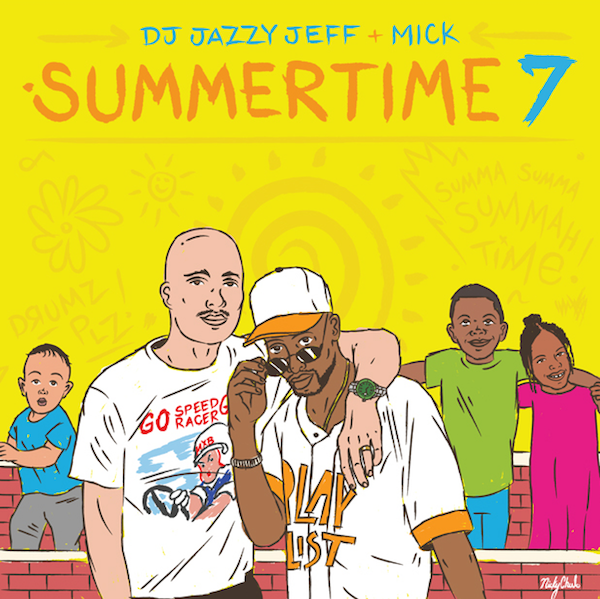 Calendars may have indicated that summer began on June 20, but summertime isn't really summertime without Summertime. Like clockwork, DJ Jazzy Jeff and MICK's annual Summertime mixtape—this year, in its seventh edition—has arrived.
The duo's collaborative project is as much of a tradition as the season's pool parties, barbecues, and road trips, and yes, the 46-track mix is the perfect accompaniment to your Fourth of July's festivities. This year's instalment features Jay Z, De La Soul, Eric Clapton, TLC, Outkast, A Tribe Called Quest, and many more.
As for post-summer plans, Will Smith revealed that he and DJ Jazzy Jeff may be heading on tour next year to perform their classics, as well as some previously unheard tracks.
Listen to and download the mixtape in full below, and revisit mixes one through five over at their site. Welcome to summer.
---
---
Tracklist
01. De La Soul f/ Ebony Joi: Time For The Summer (produced by Jazzy Jeff & Eric Lau)
02. Norah Jones: Sunrise
03. Bill Withers: Ain't No Sunshine
04. Tony Toni Toné: It Never Rains In Southern California
05. SOS Band: Tell Me If You Still Care
06. Jill Scott: Watching Me (Roy Ayers Edit)
07. Total: Kissing You
08. Jay Z f/ Nas: Dead Presidents (Garden Of Peace Mix)
09. Jay Z: Allure (Pete Rock Remix)
10. Jay Z: Seven Straight Summers (MICK + Chi Duly Interlude)
11. Salt N Pepa: What A Man
12. Big L: Put It On
13. Chubb Rock: Just The Two Of Us
14. EPMD: Strictly Business
15. Eric Clapton: I Shot The Sheriff
16. Pete Rock & CL Smooth: Mecca And The Soul Brother
17. Mary J Blige: Love No Limit
18. Mad Lion: Shoot To Kill
19. Capleton: Tour (Lil Jon Mix)
20. Foxy Brown: Foxy's Bells
21. Puff Daddy & Mase: Bad Boy Freestyle
22. Talib Kweli: Get By (Jazzy Jeff's Nina Edit)
23. Birdman f/ The Clipse: What Happened To That Boy
24. 50 Cent: 21 Questions About My Magic Stick
25. Chaka Khan: Hollywood
26. Slum Village: Tainted Love
27. TLC: No Scrubs
28. 50 Cent: Do You Think About Me?
29. Mystikal: Bouncin' Back
30. Outkast: Ms. Jackson
31. A Tribe Called Quest: Check The Rhyme
32. A Tribe Called Quest: Award Tour
33. Ralph Tresvant: Sensitivity
34. Troop: Spread My Wings
35. Lisa Lisa & Cult Jam: Let The Beat Hit 'Em
36. Vanilla Ice: Ice Ice Baby (MICK + Chi Duly's Thin White Duke Blend)
37. David Bowie & Queen: Under Pressure
38. Hall & Oates: I Can't Go For That
39. Prince: Starfish And Coffee
40. Nice & Smooth: No Delayin'
41. Chi Ali: Funky Lemonade
42. Gangstarr: Words I Manifest
43. Notorious BIG: Big Poppa (Da Soul Remix)
44. MC Lyte: Cha Cha Cha
45. TLC: Creep
46. Aaliyah & Prince: Rain In A Million (DVSN Remix)