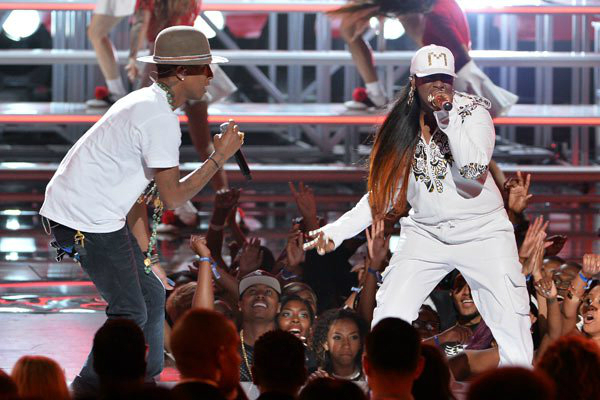 Pharrell's run in 2014 was something incredible. Although he's most known for working with other artists, his solo career skyrocketed thanks to the smash hit "Happy." So how is he following that up in 2015? He's back to the studio with some other greats again.
Most recently, he's finished up the collaboration album with Snoop Dogg titled BUSH and helped for the soundtrack to The SpongeBob Movie: Sponge Out of Water film.
While visiting Jimmy Fallon on The Tonight Show last night, Pharrell revealed some of the artists he's working with currently, mentioning the likes of Maxine Ashley and Cris Cab, as well as Snoop. But more excitingly, he told Jimmy he has work on deck with the talented Missy Elliott, who had her own coming out party earlier this year when she surprised fans at the Super Bowl Halftime Show to rock the stage with Katy Perry. It was enough to land her songs in the iTunes Top 10 that week.
Whenever it is that we'll get to hear the records they're working on, you can guarantee they will be big.
---