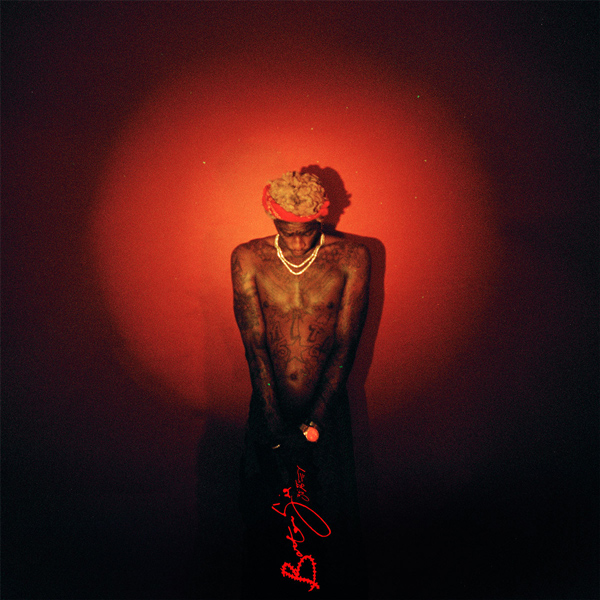 As 2014 came to a close, it was still impossible to predict what Young Thug's next steps would be. "Stoner" and "Danny Glover" started the momentum, and he dominated the end of the year with a string of show-stealing features—"Hookah," "About The Money," and "Old English." The Rich Gang mixtape closed out the year with a bang, earning Thugger and co. a platinum plaque for "Lifestyle."
But for fans who had never listened to an entire Young Thug mixtape, his emergence was confusing. Who was this tall, skinny man with face tats and a bull ring, yelping and croaking over ominous trap beats, hip-pop radio hits, and oddball rap tracks? Kanye likes this guy? Drake likes this guy? Wait, he's attached at the hip to Birdman now?
It was a weird time, but it was exciting. Young Thug was becoming a rock star.
Once he got hot, previously unreleased Young Thug music started surfacing on an almost daily basis. Most of it was coming from shady sources, and most of it sounded unfinished, unmastered, and old. The outpouring of mediocre material that was being perceived as "new" masked the evolution that we heard on the Rich Gang tape and on Thug's mainstream features. Leading up to his debut, we were still in the dark about what we'd actually be getting.
"About The Money" was one of the best songs of 2014, and it proved that Young Thug could sound more focused and that the quality of his vocals and his recordings could be better. "Hookah" and "Old English" suggested that he could probably string together an album's worth of strong hooks, entertaining verses, and melodically laced, awesomely unintelligible deliveries.
On Barter 6, he does exactly that.
From the second the drums drop on "Constantly Hating," it's clear that this is not Mixtape Thug, even though a recent press release claims that Barter 6 is just a mixtape, and that Thug's proper debut album, Hy!£UN35, is on the way. The bass is deep and booming, the vocals are crystal clear, and the overall quality of the production is more luxurious than anything from pre-2014 Young Thug.
Thug's knack for simple and effective hooks is present throughout the tape (e.g. "Halftime," "Check," and "Can't Tell"). His raps are so melodic and wildly varying that sometimes it's hard to tell the chorus from another verse until he starts repeating it, but after three or four listens to any song on this album, it becomes clear how low-key catchy these songs are.
---
The production on Barter 6 is strong, too. Thug works best with some space—his deliveries are already so overloaded with spiking inflection, feral ad-libs, and bursts of energy that too much other noise can be sloppy and distracting. While none of these beats stand on their own as instrumentals, they give Young Thug the backdrop he needs. London On Da Track only has three production credits on here but he's listed as an executive producer alongside Birdman and Thug, and this album definitely has a strong London On Da Track feel to it—clean, spacious, and steady. ATL producer and frequent Thug collaborator Wheezy has eight production credits.
This album is more cohesive and consistent than any project Young Thug has been a part of so far, save for the Rich Gang mixtape. But here's the thing: we already knew Thug could make this album. It's that same Rich Gang/Birdman/London On Da Track vibe that we've heard Young Thug doing very well for the past six months.
The problem with Barter 6 is that there's nothing new here. There are no extra layers. No experimentation with the production. No outside-the-box collaborations that could balance the album out. No attempt to branch out and make something that might turn Young Thug haters into believers. It's like a Rich Gang mixtape continuation, but with no Rich Homie Quan and a little less Birdman.
With Barter 6, I was hoping Young Thug would silence those doubters with an album full of undeniable hits and a little more depth and experimentation. Instead, we got a really good album that people who already liked Young Thug will enjoy.
It's not always easy being a Young Thug fan. As he addresses on Barter 6's opening track, there's a lot of hate. He's a polarizing artist, and those who hate him despise his existence and abhor his success. In the comments section of this website, it's not uncommon to see people saying Young Thug is ruining hip-hop, or that he's literally the worst artist of all time, or that [insert something offensive and outlandish, include a GIF].
With Barter 6, I was hoping Young Thug would silence those doubters with an album full of undeniable hits and a little more depth and experimentation. Instead, we got a really good album that people who already liked Young Thug will enjoy. I know I will. But I knew I would before I even listened.
According to his label, Young Thug's debut album, Hy!£UN35, will come at the end of August. Maybe on that album, Thug will finally push far enough to convince naysayers that there's more depth than they're realizing. Until then, we Young Thug fans will be enjoying Barter 6 and trying to convince the rest of you that Young Thug is actually really good.
---