If you've heard Post Malone's previous songs like "White Iverson" or "Too Young" you should already be aware that of the fact that his voice is decent enough to hold a tune. That's easy to tell just by the way he creates melodies on his songs. But it looks like he's been hiding quite a few surprises up his sleeve.
An old video has surfaced of a young Post Malone—going by Austin Richard at the time—covering Bob Dylan's "Don't Think Twice, It's All Right." And it's surprisingly great—not only does he have a great voice but he can also play the guitar really well. Once you get over the initial shock, it's understandable if many ideas begin to pop into your head about all the possible things Post Malone could do with music in the future.
Maybe he'll keep the rap and folk personas separate or perhaps he might just find a seamless way to blend it. Sounds crazy, but that's how all great ideas begin right? As for now, all we know is that he definitely wants to be a folk singer in the future.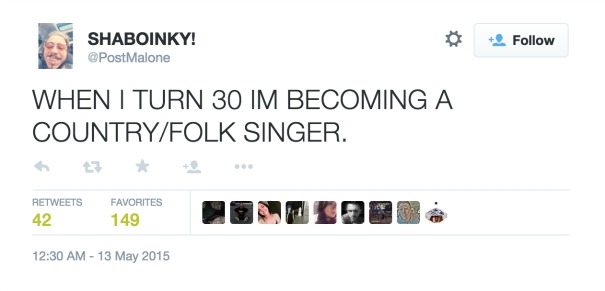 Watch the video above.