Two weeks ago, the Chicago Tribune reported Chief Keef would hold a benefit concert in his home city and direct proceeds to the late Dillan Harris' family. The one year old's death came at the hands of a man involved in the shooting of Capo, Keef's friend and a fellow rapper.
Currently a resident of Los Angeles and restricted due to ongoing legal troubles, the artist announced he'd appear in hologram form—a capability enabled by his newly inked deal with a Greek billionaire.
Last night, as the unannounced headliner of Craze Fest in Hammond, Indiana, he did just that, and the police managed to halt the festival within minutes of his set starting. Indiana cops don't mess around, apparently, even if the hip-hop star in attendance isn't actually real. No one was arrested, fortunately, but this is the second failed attempt in July to raise money for the family of the deceased infant. Chicago's City Hall cancelled last week's scheduled show at Redmoon Theater over fear of public safety.
Watch a news segment about the shut-down concert above.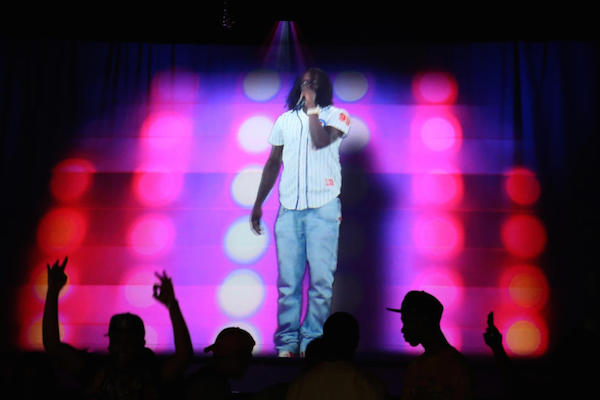 (NME)
---
Update: More bad news for Chief Keef and his hologram, this time from the administrative offices of Madison Square Garden. The rapper was scheduled to simultaneously perform at the MSG-owned Chicago theater as well as the New York City venue, but those plans are no more. The concert was slated for this coming September. Alki David, Keef's billionaire investor, shared his frustrations with the decision.
"Andrew Lusgarten and his team from Madison Sq Gardens were on the phone with us earlier this week and they couldn't be more excited about getting into the Hologram USA business," he said. "I mentioned Keef to them and his controversial image but they didn't seem to mind. We had a verbal agreement to build the partnership and 'agreed to agree on the exact terms' but basically agreed to move forward with a mid September show as the first in a series Hologram USA specials.
"Apparently since doing their research The Madison Square Gardens people have bought into Rahm Emanuel's disturbing disregard for the 1st amendment rights. Personally I feel disappointed and but not surprised. Regardless the show will go on."