---
At Summer Ends Fest in Tempe, Arizona last night, Chance The Rapper covered Kanye West's "Family Business" and Kanye brought out Vic Mensa for "U Mad," but the moment that is generating the most buzz is Kanye performing "Piss On Your Grave" with Travis Scott, playing the song live for the first time. Check out video of that performance above. Most of the excitement was created by Scott himself with two Instagram posts today, both of which not-too-subtly suggest that a new creative endeavor from Scott and Kanye will soon be upon us:
---
That's the only info currently available about a collaboration between Kanye and Scott, although it was reported yesterday that recent rumors of a potential collaboration between Kanye, Scott, Kendrick Lamar, Pusha T, and Hudson Mohawke were unfounded. Still, Scott's teases from today seem separate from the debunked dream collaboration from yesterday, and at least one Twitter user is making optimistic proclamations:
---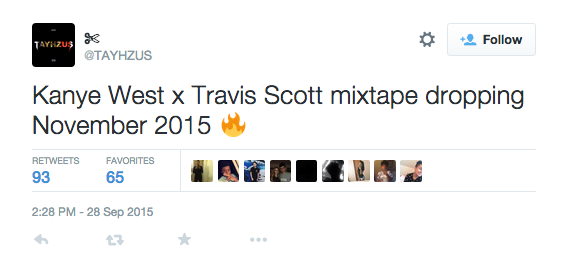 In this fruitful era of high-profile hip-hop collaborations, don't be too surprised if the rumors Scott is starting actually hold water.