Fancy getting your hands on an incredible piece of rap history in the form of Tupac Shakur's handwritten lyrics? Well just make sure you have £30-50, 000 ($46-78, 000) handy.
Famous British auction house Sotheby's has two lots in an upcoming Rock & Pop auction that will be of particular interest to Tupac fans. Three pages of lyrics for "Ambitionz as a Ridah," the opening track from the legendary All Eyez On Me album, and one page of lyrics for the spoken outro from "Tradin War Stories," from the same album, are up for sale on September 29.
Both were written while Tupac was in jail, and you can see the full pages above plus some closeups below. You can register to bid and find more info on Sotheby's website here.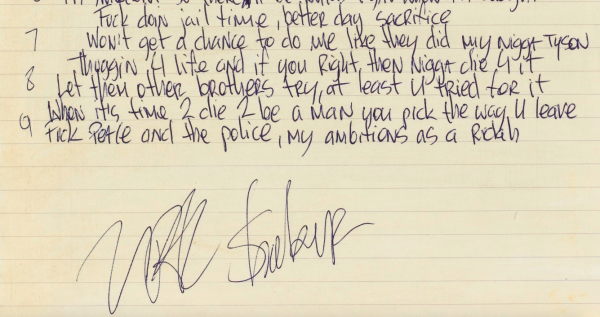 ---