With Drake's seemingly endless success in hip-hop, it's easy to forget that he got his first major taste of spotlight as an actor on Degrassi: The Next Generation. Recently, Drake revealed that he'd like to get back into acting, but there aren't a lot of offers on the table for him at the moment.
In a recent interview with W magazine, Drake said, "I can't wait to get back into acting. No one ever asks me to do movies, and, although music is my focal point now, I'd love to do a film."
Aside from a brief cameo role in Anchorman 2: The Legend Continues, Drake hasn't done much acting since his Degrassi days, which Drake claims came to an end when he was forced to choose between acting and music.
"Eventually, they realized I was juggling two professions and told me I had to choose. I chose this life," Drake said.
Update: Drake's lack of movie roles may change soon, as Brian Grazer (Apollo 13, A Beautiful Mind) expressed interest shortly after this post went up.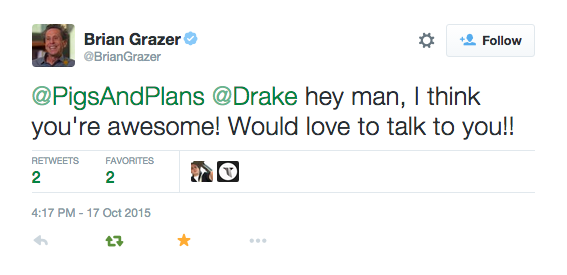 ---