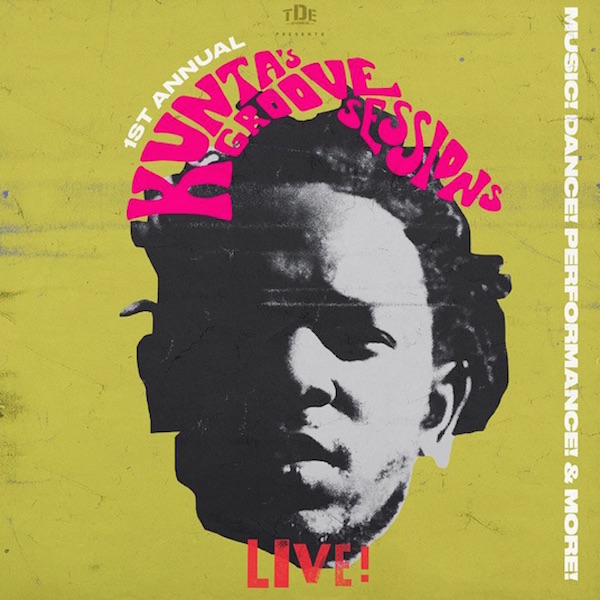 Kendrick Lamar announced an upcoming concert tour today, dubbed the first annual "Kunta's Groove Sessions," and at the moment, there's not much more to know about it beyond the information on the poster above.
Lamar posted the photo on Instagram earlier today with the caption "8 cities. 8 nights, 8 intimate shows," but dates and locations have yet to be revealed, although there should be plenty of "MUSIC! DANCE! PERFORMANCE! & MORE!" at each stop.
What we do know apart from the tour is that on October 20, Lamar will perform with the National Symphony Orchestra at the Kennedy Center in Washington DC, and he has other October and November shows coming up in New York, Columbus, OH, Chicago and Los Angeles. Find a listing of Lamar's previously announced concerts at his website.
---
Update: Lamar has finally shared the dates and locations of his "Kunta's Groove Sessions." Jay Rock and Kendrick's band, Wesley Theory, will join him on selected dates as well. Check out the schedule in full below:
10-20 Washington, DC – Kennedy Center
10-22 Brooklyn, NY – Barclays Center
10-24 Columbus, OH – LC Pavilion
10-25 Chicago, IL – United Center
10-27 Atlanta, GA – The Tabernacle *
10-29 Dallas, TX – South Side Music Hall *
11-01 Washington, DC – Lincoln Theatre *
11-08 Los Angeles, CA – The Forum
11-10 Oakland, CA – Fox Theater *
* "Kunta's Groove Sessions" with Jay Rock and the Wesley Theory