Killer Mike has already thrown his support behind Democratic Presidential candidate Bernie Sanders, and at Sanders' rally in Atlanta today, Killer Mike is set to introduce him. He also used to opportunity to take Sanders out to lunch to "Busy Bee on MLK," a "soul food" restaurant:

Killer Mike taking Bernie Sanders out to lunch was unsurprisingly a great photo opportunity, based on the picture above and the one below, which was taken by Killer Mike and is possibly the most Bernie Sanders photo in existence:
---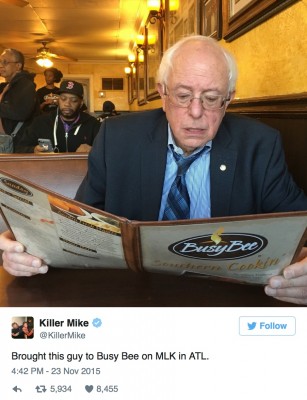 The rally is being streamed live right now, so you can head here if you're interested in watching it.
---
Killer Mike delivered a powerful speech during Bernie Sander's rally. Watch it below.
---
---