In a brief Twitter exchange with a fan, A$AP Rocky revealed that A$AP Mob will be releasing new music every Wednesday. The rapper didn't give much more information, but he dubbed the weekly releases as "Wavy Wednesdays." It remains to be seen if a project will happen, as it has been rumored for quite some time that the Mob will be releasing a mixtape.
---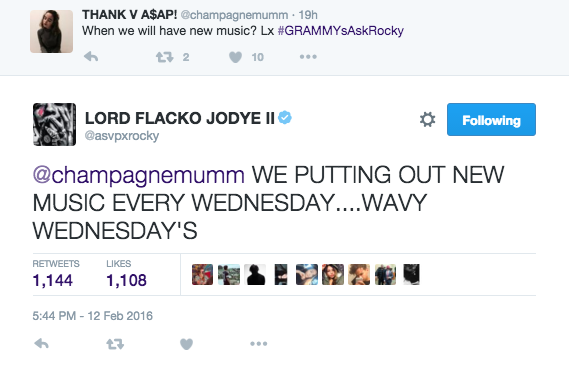 The Harlem rapper was partaking in a Twitter chat, #GRAMMYsAskRocky, as he was recently nominated for the Best Music Video award for "L$D." The Grammy Awards show will take place on Monday, February 15.
Throughout the questions, Rocky also revealed that he's excited to do more movies, that Coachella is going to be lit, and that he appreciates fan protection from the trolls.