Someone at the University of Michigan has been making students' hotline—um, email—bling. On Wednesday evening many of the students received multiple emails from an address named hotlineblingblingboi@gmail.com which, as you might've guessed, featured a line from Drake's hit single, "Hotline Bling."
Multiple students took to Twitter to talk about the e-mails, including Vineela Appalaneni.

---

"I got [the e-mails] yesterday and they all came in rapid succession within the span of a couple of minutes," Appalaneni said. "Each email was a separate line of the song, and I got like 30 of them."
Appalaneni initially thought that the messages were from a friend that was pranking her (she really likes Drake), until she realized that the messages were coming from an address she didn't recognize. Appalaneni didn't realize other students were affected by the "Hotline Bling" emails, until The Michigan Daily wrote an article about it, and her friends told her that they had used her tweet.
According to The Michigan Daily, the source of the messages is cited as "Michael's Macbook Pro" and for "LSA Sophomore Initiative," which has led many students to believe that hotlineblingblingboi is a sophomore.
Ironically, prior to all of this happening another email list mishap occurred, when somebody replied to a bio interest group email asking to unsubscribe but actually hit reply all, resulting in many students receiving countless emails from random people.
Although most of the students are still confused as to where the messages came from, most of them don't seem too bothered by the emails. "When it's Champagne Papi lyrics, it's kind of hard to actually be angry," Appalaneni said.
Check out some of the Twitter responses in regards to the "Hotline Bling" email chain, below.
---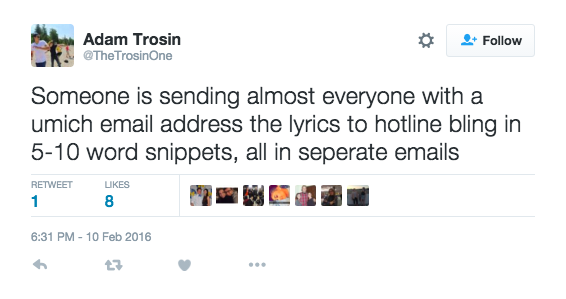 ---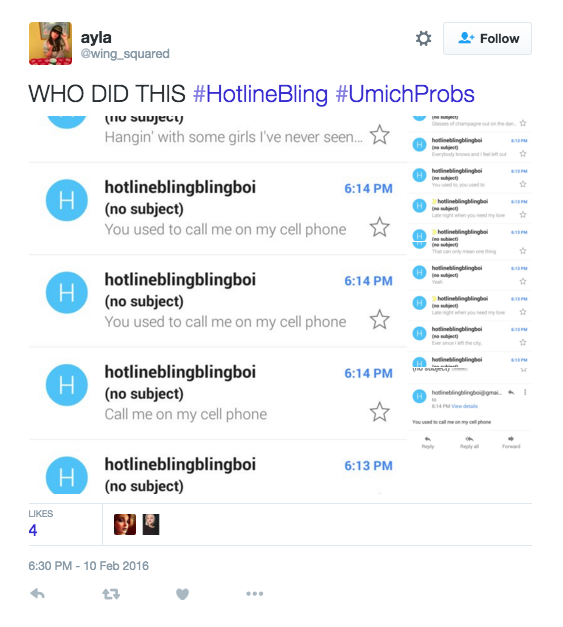 ---