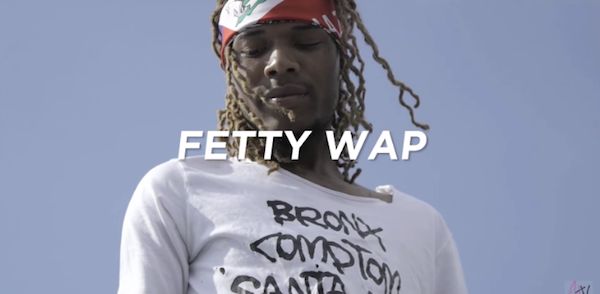 With the Grammys soon approaching, YouTube made a deep dive analysis into Fetty Wap's "Trap Queen" popularity. Not only did they look at the major spikes in popularity, but why those spikes happened. Below are their findings:
---
Among this year's Grammy nominees, Fetty Wap's "Trap Queen" epitomizes a rags-to-riches success story. It's one of the few nominated tracks that, at its inception, was released by an unsigned artist.
"Trap Queen" charted on Billboard in February 2015, but the song was first uploaded online in April 2014 without any promotion—the DNA of a sleeper hit. What happened in those nine months? How did a high school dropout, with only a couple of years' worth of rapping, rise from anonymity? And, perhaps most importantly, how does a homegrown hit from a small New Jersey city germinate into a full-blown international phenomenon?
To find out, we analyzed the "Trap Queen"'s video views, a strong barometer of his popularity, as well as the articles and posts which brought it most attention.
First, let's examine "Trap Queen"'s ascent, from May 2014 to present-day.
---
Weekly Average Views of "Trap Queen" by Fetty Wap
"Views" is based on both official and fan-uploaded videos claimed using Content ID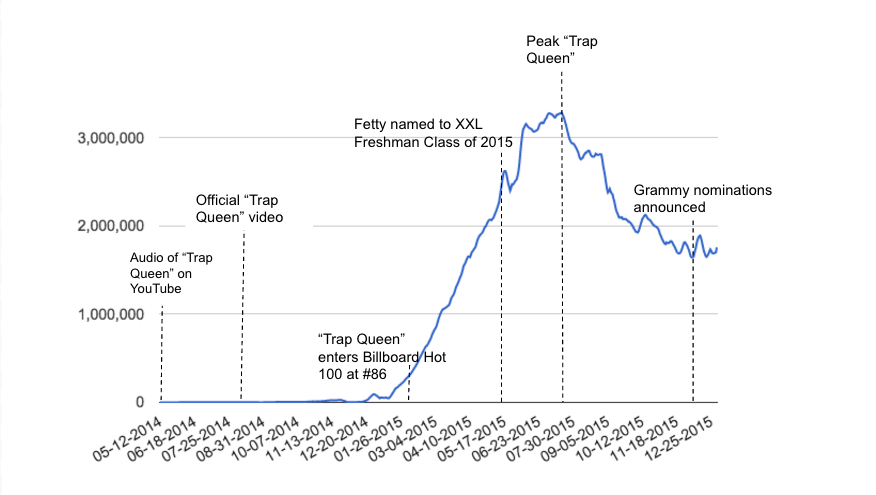 "Trap Queen" experienced huge growth in January 2015, but it took eight months to get there. "Trap Queen" may seem like an obvious hit, but from May to December 2014, it was freely available on YouTube, unknown to most of the music community.
Here's a timeline documenting the track's views, articles, and social media that spread the video to new audiences.
---
May 2014
Fetty Wap uploads an audio-only version to YouTube. It receives approximately 1,000 views/day (190,000 total) until he uploads the official music video in August 2014.
During this period, "Trap Queen" is a local hit. 57% of his views are from his home-state of New Jersey, followed by 25% from New York and 2.2% from Virginia.
---
August 2014
Fetty Wap releases the official video for Trap Queen on August 7.
---
October 2014
Views of "Trap Queen" increase to about 15,000/day.
A majority of views for Trap Queen shift from New Jersey, Fetty's home state, to neighboring New York.
Rapper Bobby Shmurda posts a video of himself singing to "Trap Queen" to his hundreds of thousands of Instagram followers.
---
November 2014
Views of "Trap Queen" increase to about 30,000/day.
Pigeons & Planes tweets and showcases "Trap Queen" as one of the Best Songs of the Week, one of the first major media outlets to drive visitors to the YouTube music video.
Complex Magazine covers Fetty Wap in his first major interview.
Fetty Wap signs to record label 300 Entertainment.
---
December 2014
Views of "Trap Queen" remain steady at about 30,000 – 50,000/day.
Near the end of December 2014, Trap Queen appears on a number of "best of 2014" lists, including a wrap-up from Huffington Post and Noisey (which called it the "hottest New York record of the year").
By the end of 2014, "Trap Queen" has received an impressive 2.2 million views, but it still has a long way to go before reaching mainstream status (at the time of writing, it's been viewed more than 700 million times). The song effectively spent 75 percent of the year under the radar—a perfect example of slow, word-of-mouth growth. But it's still a local hit, played predominantly in the Northeastern U.S. New York, New Jersey, Pennsylvania, and New England represent 73 percent of "Trap Queen"'s plays.
In 2015, however, things quickly change.
---
January 2015
Views for Trap Queen skyrocket to 200,000/day.
Month-to-Month Growth of "Trap Queen"'s Views
"Views" is based on both official and fan-uploaded videos claimed using Content ID

Having appeared on several prominent end-of-year lists, Fetty is gaining mainstream popularity.
Funkmaster Flex, on his radio show, debuts French Montana's remix of "Trap Queen."
For several weeks, "Trap Queen" has been going head-to-head against other hip hop tracks on hip hop site The Boombox. It now enters its Hall of Fame after users vote it superior to songs by Fabolous, J. Cole, Dipset, and Lil Wayne.
---
February 2015
Views double again, month-to-month, to 400,000/day.
In an interview with i-D, Rihanna says that "Trap Queen" was the last song that she purchased.
During a performance, Kanye West brings Fetty Wap as guest to perform "Trap Queen" at the Roc City Classic in New York City, after declaring it to be his "favorite song right now." Footage of Jay Z and Beyoncé, dancing to Fetty's performance amidst the crowd, emerges.
---
---
---
Less than a week later, queen of acoustic hip hop covers Niykee Heaton uploads a cover of "Trap Queen" on YouTube.
Florida surpasses New York as the most popular source of "Trap Queen" views. "Trap Queen" reaches national status, spreading to multiple states beyond of the Northeastern U.S.
---
Views of the Official "Trap Queen" Music Video
August 2014 – July 2015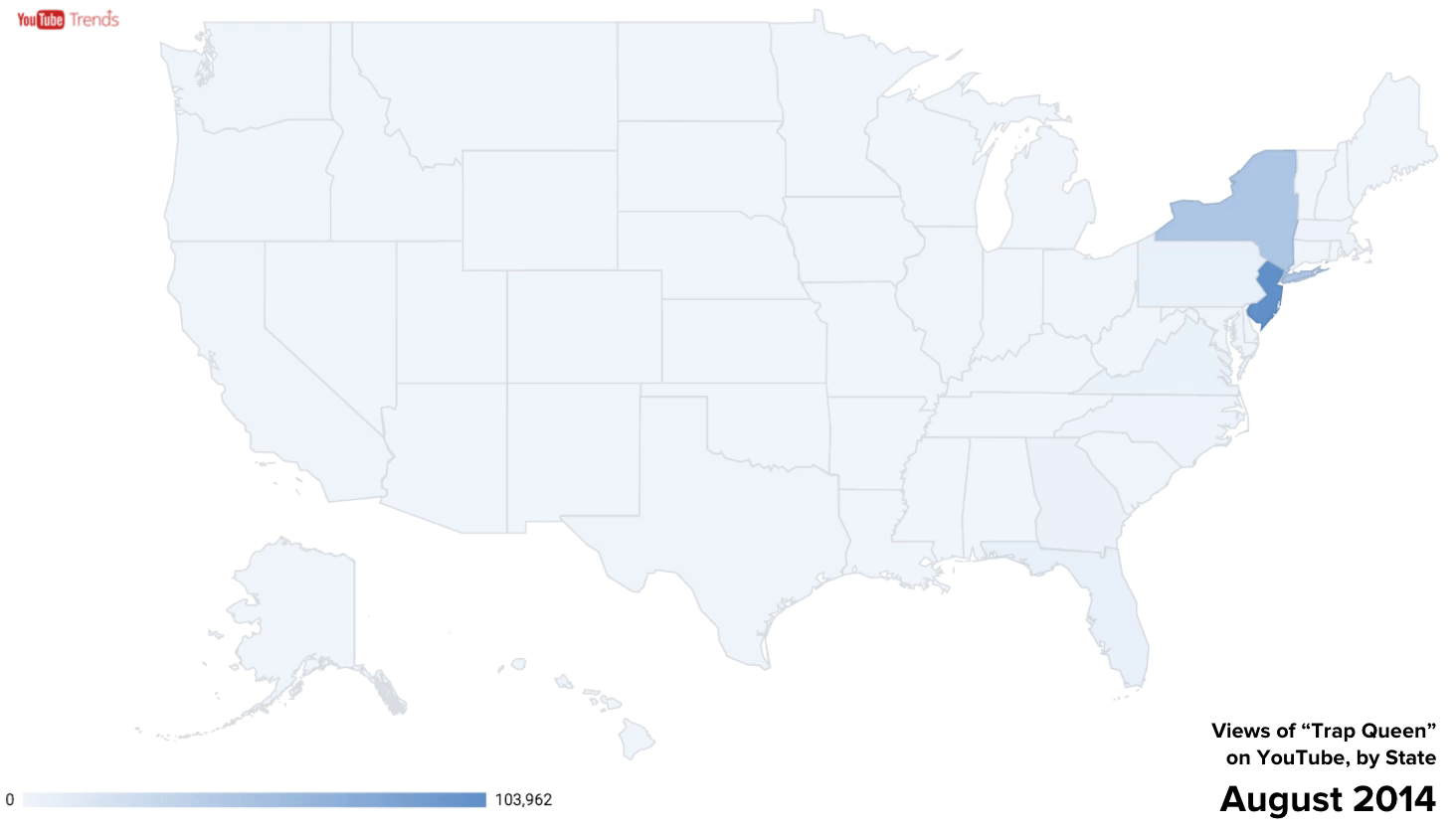 Once "Trap Queen" broke in New York in January 2015, it quickly spread to surrounding states over the course of next month. For Fetty Wap (and, likely, much of hip hop), the New York market seemed to be a catalyst for mainstream success.
---
March 2015
Views reach the 1,000,000/day mark.
Billboard runs an interview with Fetty Wap on March 5, where the rapper expounds on his unique blend of rap and singing: "I just wanted to do something different. Everybody was rapping. Everybody wants to be a rapper so I did something different. I started singing. But I ain't want to be a singer, so I did my own thing."
---
April 2015
"Trap Queen" reach 2,000,000 views/day.
In his most televised appearance to date, Fetty plays the MTV movie awards alongside Fall Out Boy, with the band providing the backing to his performance of Trap Queen.
Fetty, whose Paterson, NJ, roots are often discussed in interviews, is featured on NJ.com. His mother reveals that despite his perpetual modesty about his musical upbringing, Willie Maxwell II—Fetty Wap's real name—had played the piano and sang in the church quartet where his grandfather served as pastor.
---
May 2015
"Trap Queen" reaches 3,000,000 views/day.
Drake reaches out to Fetty about collaborating, and the pair release "My Way."
Fetty gives a video tour on YouTube of his hometown Paterson, NJ.
By now, it's so evident that "Trap Queen" is the summer's biggest track that pop culture site Jezebel names its songs of summer list Beyond Trap Queen.
---
June 2015
Fetty receives one of the top accolades for up-and-coming hip hop artists, and lands in XXL Magazine's Freshman Class of 2015.
The Music Choice channel uploads a video of Fetty receiving the award for Most Played Video in early 2015. Fetty, visibly moved, mumbles, "I ain't never win nothing in my life before…"
---
July 2015
Peak "Trap Queen." Daily views of "Trap Queen" climax at approximately 3,500,000/day and growth has stalled to roughly 3 percent more than the previous month.
Official video for Fetty's "679" is released.
August 2015
Fetty becomes the first artist in history to hold four top 10 spots simultaneously on Billboard's Hot Rap Songs chart with "Again," "679," "My Way," and "Trap Queen."
Fetty performs a "Back To School" concert in Paterson, NJ, and Jose Torres, the mayor, awards Fetty with the key to the city.
---
September 2015
Fetty's highly anticipated self-titled album is released. It debuts at #1 on the Billboard 200 Albums Chart, and proceeds to sell 75,000 copies in the first week.
---
October 2015
Fetty features on French Montana's "Freaky," as well as Ty Dolla $ign's "When I See Ya."
November 2015
David Guetta releases a his video for "Bang My Head," featuring Fetty alongside Sia.
December 2015
"Trap Queen" is nominated for two Grammy Awards in the Best Rap Song and Best Rap Performance categories.
---
Fetty Wap's path to success was highly unorthodox. Rather than approach his musical career through the tried-and-true approaches of A&R exec pitches and pushing for radio play, Fetty took a more unique route: he promoted the track on social media as far as it would go, and let the excitement of his growing fan base fuel its spread.
No surprise, with a song like "Trap Queen": it worked.