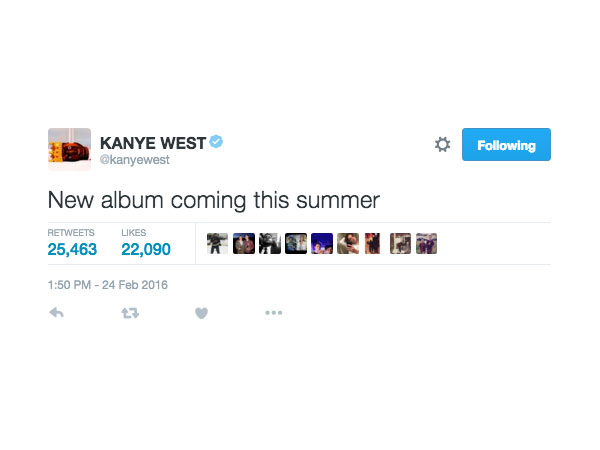 ---
UPDATE (2/24/2016 4:20 p.m.)
Neil Portnow has responded to Kanye's tweets via Billboard, saying:
"Kanye West is a creative pioneer who has been recognized and honored by The Recording Academy time and again. We value his input as a member of the creative community, and our doors are always open to him. I continue to welcome Kanye, personally, to engage in a direct and productive dialogue about the future of music and the important role that music creators play in shaping that future."
He also responded to Kanye via the Grammys' Twitter account:

---
Kanye West has taken to Twitter once again (after ethering Bob Ezrin last night), and this time he takes aim at the Grammys. "Yes I have a problem with the Grammys," he said, before explaining that he wants to see Future and Young Thug at the Grammys, and that A$AP Rocky's "L$D" was the best music video of the year.
After getting his Grammy frustrations out and explaining why he's been tweeting so much, he announced a new album, coming this summer. And for all those speculating about Kanye's sanity, he's got a message: "I'm happy and free and proud and confident. I'm not crazy. I'm free."
See his latest tweets below, and stay tuned for more on the new album.
---
. @kanyewest pic.twitter.com/2l3veOQfTS

— Pigeons & Planes (@PigsAndPlans) February 24, 2016