Last night at the Oscars, legendary producer Quincy Jones took the stage with Pharrell to present the award for Best Original Score. During his time on the microphone, Jones reflected on the importance of music in movies and dropped a couple of gems based on his personal experiences, but it was something else that caught viewers off guard.
"I was blessed to have gone to the U.S.S., the University of Steven Spielberg," Jones said. "When we co-produced The Color Purple, we used to refer to the music as motion lotion, you know what I mean Wardell?"
Wardell?
Immediately, Twitter started reacting, assuming that Jones just mispronounced Pharrell's name, or that he didn't know who Pharrell was at all.
---
But that isn't the case. Quincy Jones and Pharrell actually go way back. If you re-watch the speech, you'll notice that Quincy is looking into the audience when he mentions Wardell. He's referring to the band Wardell, a Los Angeles duo made up of Sasha and Theo Spielberg. They are Steven Spielberg's children.
One of the other Spielberg children, Destry, stepped in to clarify.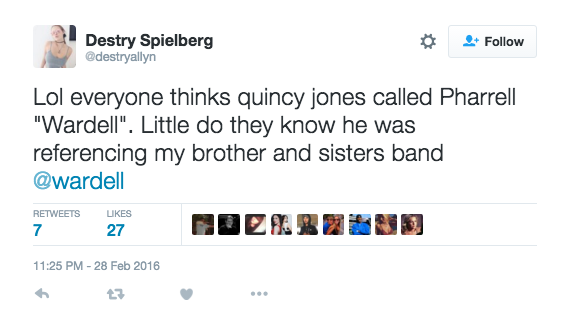 ---
And Wardell appreciated the shout-out, even if it did cause some confusion.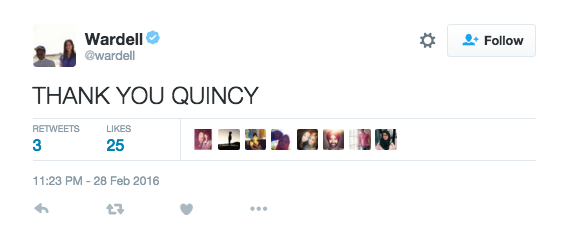 ---
Check out Wardell's music here.