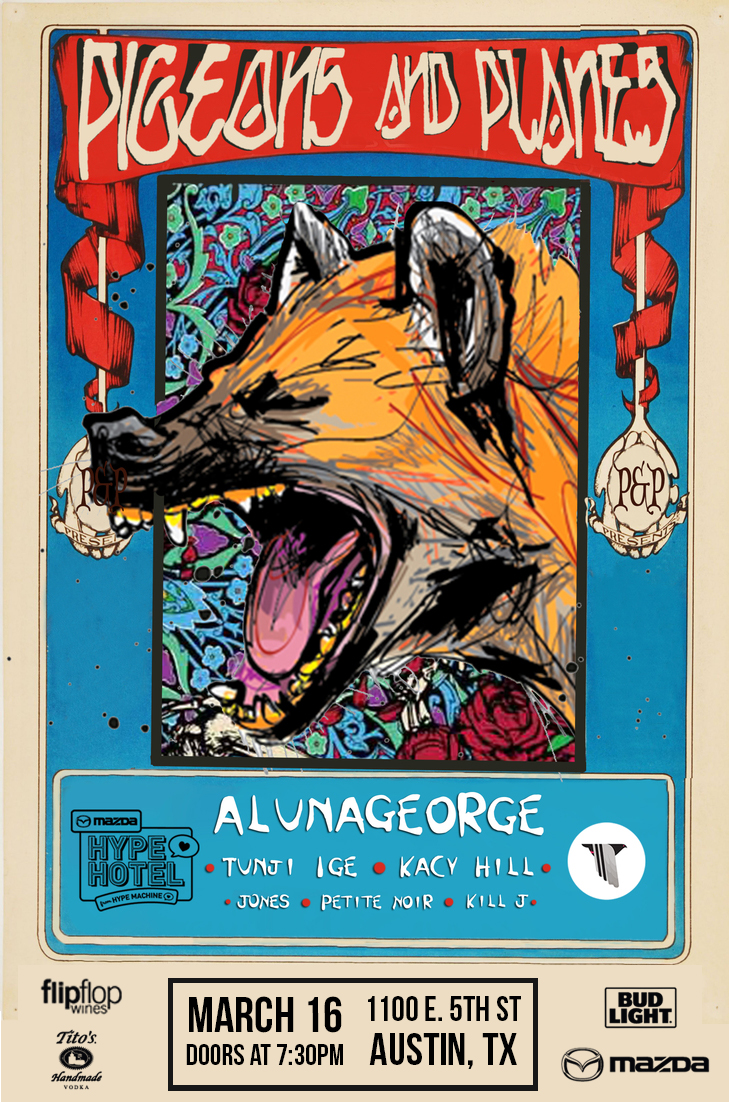 Last night was crazy. The Pigeons & Planes team is currently recovering in our Airbnb, looking through pictures from last night, and realizing how amazing it really was.
We took over the Hype Hotel at SXSW with a lineup featuring AlunaGeorge, Tunji Ige, Kacy Hill, Jones, Petite Noir, and Kill J. The performers all killed it, but we knew they would. Part of what was so great about the night was the energy of the audience. Other artists like Pusha T, Pell, WebsterX, Brockhampton, and Gianni Lee came through to see some music and show support, and we met with so many young, creative people who were in Austin to have fun, make real-life connections, and see good music.
We'll be here until Sunday, and we can only hope that the rest of the week goes as well as last night. Thank you to all the performers and everyone who came through.
Follow pigsandplans on Snapchat for more pictures and videos from SXSW.
---
How can you call this work ? @kacyhill is a star ! #PresidentPush #GOODmusic pic.twitter.com/X3V1rJT4SR

— PUSHA T (@PUSHA_T) March 17, 2016
---
A photo posted by Pigeons & Planes (@pigsandplans) on
---
---
.@iseeJONES is hands down the day one standout thus far #HypeHotel #SXSW2016 pic.twitter.com/vghCM39ASq

— Nick Scott (@bluetigermusic) March 17, 2016
---
The lovely @iseeJONES opening her set with "Hoops" @hypem #HypeHotel #MazdaSXSW pic.twitter.com/Q1i2Y47S8p

— Pigeons & Planes (@PigsAndPlans) March 17, 2016
---
A photo posted by Pigeons & Planes (@pigsandplans) on
---
Kacy Hill is on at #HypeHotel pic.twitter.com/xPfX2An8WV

— Pigeons & Planes (@PigsAndPlans) March 17, 2016
---
.@kacyhill backstage at @pigsandplans #hypehotel #mazdasxsw show @jessedeflorio https://t.co/j7IMeaw6lv pic.twitter.com/73iIKXDtEE

— Hype Machine (@hypem) March 17, 2016
---
So fun singing at #HypeHotel for all of you. Thank you @PigsAndPlans and @hypem for having me

— Kacy Hill (@kacyhill) March 17, 2016
---
Currently watching @killjkill own the stage! #SXSW #HypeHotel pic.twitter.com/xrrVCK587b

— Pigeons & Planes (@PigsAndPlans) March 17, 2016
---
.@tunjiige going in at the @hypem #HypeHotel pic.twitter.com/bAbeQabOZf

— Pigeons & Planes (@PigsAndPlans) March 17, 2016
---
.@tunjiige at the @PigsAndPlans #HypeHotel #MazdaSXSW show @jessedeflorio pic.twitter.com/OaiBkXh1ho

— Hype Machine (@hypem) March 17, 2016
---
.@alunageorge is on and killllling it at @hypem #HypeHotel pic.twitter.com/PzURmnam9g

— Pigeons & Planes (@PigsAndPlans) March 17, 2016
---
---
Shout out to @PELLYEAH and @giannilee for coming through last night #hypehotel #MazdaSXSW pic.twitter.com/nmbhVUnJ2S

— Pigeons & Planes (@PigsAndPlans) March 17, 2016
---
Our own @TheConstant_G is keeping the crowd warmed up between sets! #HypeHotel #MazdaSXSW @hypem pic.twitter.com/fujvumZftD

— Pigeons & Planes (@PigsAndPlans) March 17, 2016
---
Petite Noir after a killer set at the #HypeHotel #SXSW pic.twitter.com/lpbLVrPGRl

— Pigeons & Planes (@PigsAndPlans) March 17, 2016
---
Day one of SXSW done! Thank you! @pigsandplans @urbanoutfitters @dominorecordco pic.twitter.com/fLyE9Renpf

— Yannick Ilunga (@PETITE_NOIR) March 17, 2016