Update: Another (final?) round of edits hit Tidal this evening during Kanye's biggest TLOP facelift yet, as he updated twelve tracks. Most of the adjustments are minor, but as TeamKanyeDaily points out, he did finally add Chance The Rapper's "no one can judge" line from the SNL performance. Listen to a snippet of that update below and check out the rest on Tidal—or if Mashable's claims are correct, you'll be able to stream the whole project on Apple Music and Spotify this Friday.
Kanye added @chancetherapper's "No one can judge" lyric to "Ultralight Beam. It was used during the SNL performance. pic.twitter.com/2AP8UjXC3y

— TeamKanyeDaily (@TeamKanyeDaily) March 30, 2016
---
Earlier today, it was reported that Kanye West's The Life of Pablo was finally available for download for those who had purchased it through Tidal when the album was first released in February. The purchase option was eventually removed from Tidal after TLOP's initial release, meaning no new customers can acquire the album.
Those who had purchased the album along with the tickets to the Yeezy 3 live stream through See Tickets, though, have not been given an option to download. Despite the fact that those purchases would have been made before February 11, the album has yet to be made available to said customers.
On February 15, See Tickets told paying customers that the album would be released "in the next several days." You can see their email below.
---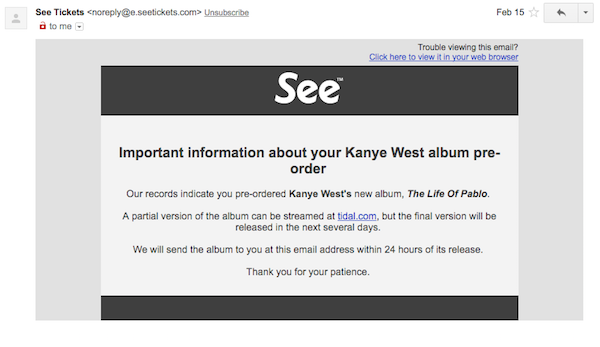 ---
One customer reached out to See Tickets today to ask whether he would receive the album or the merchandise he had paid for. You can See Tickets' response below.
---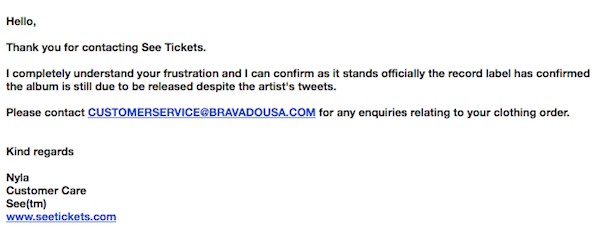 ---
Although today's email isn't clear, See Tickets are claiming that Kanye's label still have plans to "officially" release TLOP. If this is a full release with the album available for download on all platforms, it would go against Kanye's tweets. On February 15, he tweeted, "You can only get it on Tidal."
We have reached out to See Tickets for further clarification.