UPDATE 2: Kehlani posted on Instagram to thank people for their support. She says she is healthy and at home with people who love her. We're happy Kehlani is doing better and wish her all the best.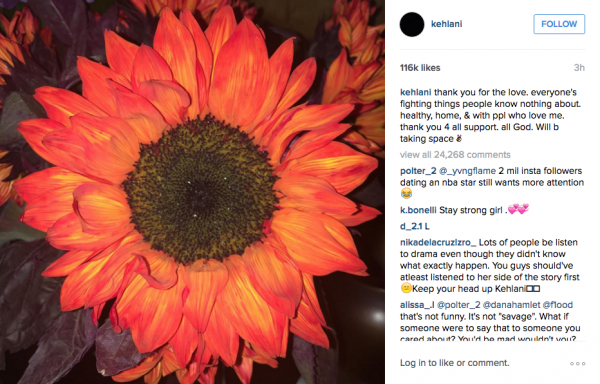 ---
UPDATE: According to TMZ, Kehlani has apparently be placed on psychiatric hold. She was transported from her Hollywood home to a nearby hospital in L.A. to receive a mental evaluation because the emergency responders determined she "posed a threat to herself."
There's no word yet on how long Kehlani will be remain under the doctors' watch, but close sources tell TMZ that she is "doing much better."
---
Late last night, R&B singer Kehlani posted a photo of herself in the a hospital bed after an apparent suicide attempt. The photo shows Kehlani's arm hooked up to an IV with a long caption beginning with the haunting words, "Today I wanted to leave this earth."
This news comes after a long day of swirling rumors that followed after her ex-boyfriend and singer PartyNextDoor posted a photo on his Instagram of the two of them allegedly in bed. Kehlani briefly addressed the rumors surrounding her, PND, and her current boyfriend NBA player Kyrie Irving by saying, "No one was cheated on and I'm not a bad person. Everyone is hurt and everyone is in a place of misunderstanding."
Kehlani ultimately ended up deleting her entire Instagram account shortly after posting the image. As for now, there are no further updates on her condition but we're wishing her a speedy recovery.
View her full message below.