Here's a fun bit of nostalgia for fans of early-2000s WWE: Kurt Angle and Rey Mysterio faced off on Sunday in UR Fight, a pay-per-view event hosted by internet streaming channel UR Show. Of course, the match ended after Riff Raff interfered and effectively cost Angle the fight.
As Angle was about to bash Mysterio with a steel folding chair, Riff Raff grabbed it from him and distracted Angle long enough for Mysterio to kick him in the back, then perform his signature finishing move, the "619," before pinning Angle and ending the match.
Riff Raff might also be campaigning for a spot on the WWE roster, tweeting earlier today, "RETWEET iF JODY HiGHROLLER SHOULD JOiN THE @WWE AFTER HE LAMBORGHiNi LEG LOCKS KURT ANGLE."
Watch the truly bizarre action below or here.
---
---
---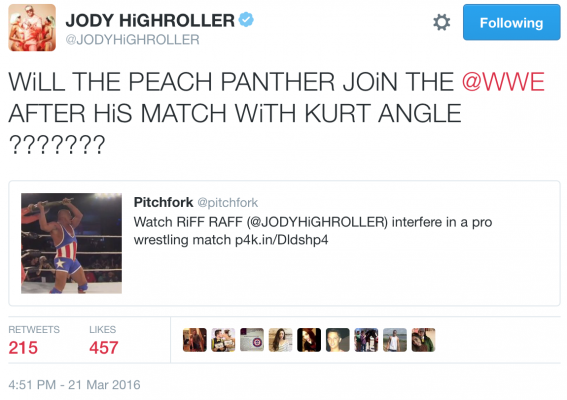 ---