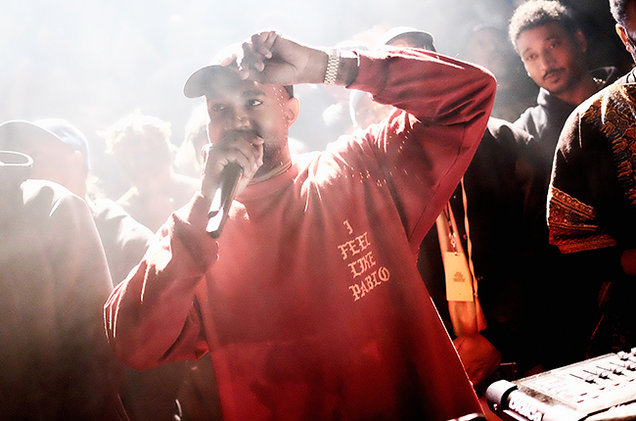 As we've said many times already, the rollout for Kanye West's latest album, The Life of Pablo, was a mess. There were multiple changes of plan and changes of release date, but the biggest surprise came when the album finally appeared on Apple Music, Spotify, SoundCloud Go, and for purchase on Kanye's own website on March 31. This was a surprise because on February 15 Kanye had tweeted, "My album will never never never be on Apple. And it will never be for sale… You can only get it on Tidal."
All this is too much for one man, who, as ABC reports, is now suing Kanye. Justin Baker-Rhett feels that fans were tricked into "paying for Tidal's rescue." The "exclusive" release certainly helped Tidal's numbers, with sources claiming that the streaming service's user base doubled, and the lawsuit stating that two million new users signed up. Tidal themselves reported that the album was streamed over 250 million times in its first ten days on the service.
Baker-Rhett's class action lawsuit, which names both Kanye and Tidal, claims that the new subscribers could be worth as much as $84 million for Tidal, noting that users' credit card information, music preferences, and other personal information have been collected.
"We fully support the right of artists to express themselves freely and creatively, however creative freedom is not a license to mislead the public," Baker-Rhett's attorney Jay Edelson wrote in a statement. "We believe that we will be able to prove to a jury that Mr. West and Tidal tricked millions of people into subscribing to their services and that they will ultimately be held accountable for what they did."
No word yet as to how much Kanye and Tidal are being sued for, or whether Kanye's tweets (and there have been a lot of them recently), will end him up in court.