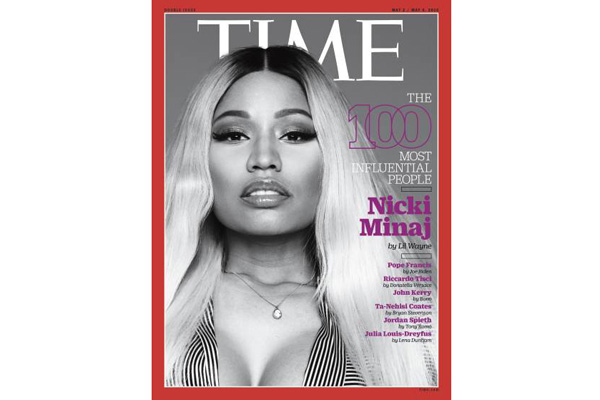 Nicki Minaj is on one of the six cover stars of TIME magazine's 100 Most Influential People issue, joining Mark Zuckerberg and Priscilla Chan, Leonardo DiCaprio, Lin-Manuel Miranda, Priyanka Chopra, and Christine Lagarde.
Today, TIME has shared the full list of 100 influential people, and each comes with a tribute written by a friend, fan, mentor, or admirer. Minaj's tribute is written by Lil Wayne, who discovered and signed her to Young Money in 2009. Wayne writes in TIME:
You know, in New York they used to have these street DVDs. It just so happened that I appeared in one, and when I looked at the finished product, Nicki Minaj was on a part of the DVD. I was like, "Woooooow!" She was just being Nicki without the glitz and glamour. When I heard the first two and four bars, it wasn't even about her rapping better than any female rapper. It was about, man, she's rapping better than other rappers—period.

I always wanted more for my artists and saw Nicki's potential from the first moment I laid eyes on her. She's reached far beyond everything I would have imagined. Man, she's so influential and doing all the right things. She's an icon, a boss and a role model to all these young girls out here on how to do it the right way. Her work ethic speaks volumes and has yielded these results. The scary thing is she's still going. Ha! Nicki Minaj will go down as one of the best to do it in the history of music.
---
You can see the full 100 Most Influential People list online here, and it includes everyone from Aziz Anzari to the Pope to Kendrick Lamar, with equally interesting people writing about each one. Jennifer Lawrence, for example, writes about Adele ("Her patience and kindness all wrapped up in the tough skin of a damn gangster.") and Alicia Garza about Kendrick Lamar ("[He] should be applauded for inviting us to face things that are uncomfortable.")