UPDATE 5/10/16: Following reports of being hospitalized, Chance The Rapper finally took to Twitter to thank Anderson .Paak and Joey Bada$$ for filling in for him, and revealed that he has pneumonia. Although Chance is rather ill at the moment, that apparently isn't pushing back the release of Chance 3.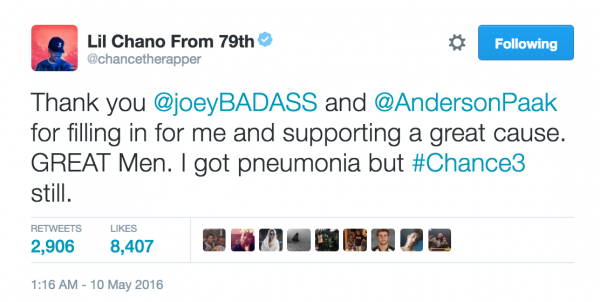 ---
Chance The Rapper was scheduled to perform at New York's Terminal 5 for the "Night For NYC" event tonight, but sadly, the rapper has been hospitalized for undisclosed reasons, according to Billboard.
The event is being hosted by the Robin Hood organization, in an effort to fight poverty. General admission costs $150, while deluxe admission costs $250, with 100% of both figures going towards "[feeding] a family of four for one week." Organizers have tapped Anderson .Paak, Mark Ronson, and Joey Bada$$ to perform in place of Chance.
"Looks like I'll be performing at Terminal 5 tonight in NYC covering for my brother @chancetherapper get well bro I got you [‼️]," Joey Bada$$ tweeted in support.
Get well soon, Chance, and remember: "When the praises go up, the blessings come down."
---

---