When you're desperate, you'll believe anything. This was demonstrated today after a Twitter account called @SnatchedBops tweeted that Frank Ocean's album is dropping tomorrow, June 3. The tweet went out last night, but it spread throughout the day, and now it has over 7,000 retweets from fans who want to believe. TIME even wrote an article about it.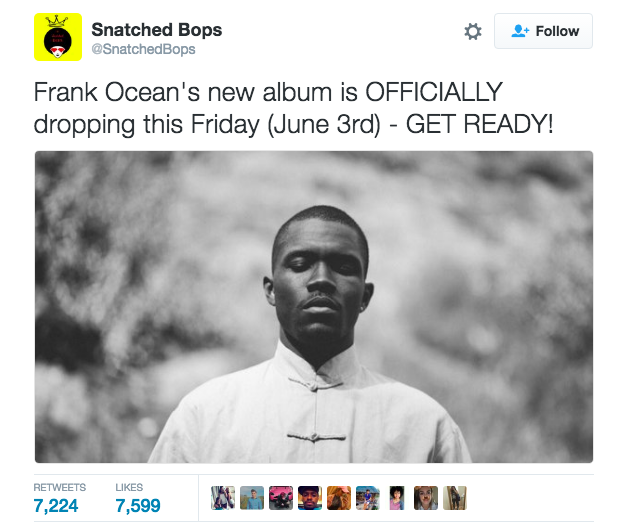 ---
Frank Ocean's last album, channel ORANGE, was released in 2012, and in the past four years, Ocean has been one of the most elusive figures in music. He pops up here and there, but he stays out of the spotlight, and details of the album he's been working on come in the form of rumors and whispers.
"No one really is able to find Frank when Frank goes away," Chance The Rapper told Complex in May. "Like, literally no one, not just publications. But I know he's away, making a masterpiece." James Blake told Pitchfork that Ocean is onto something, and that the album will be worth the wait. And although we've still not heard anything from the project, producer Malay said that Frank Ocean is "working harder than he's ever worked in his life."
This Snatched Bops account doesn't look to be a reliable source. They've got less than 600 followers and seemingly no connection to Frank Ocean, but don't tell that to the fans who so badly want to believe. We're going to be patient and let Frank Ocean decide when his album is done, but we can't blame fans for wanting the rumors to be true. If June 3 passes and we still don't have a Frank Ocean album, the next wave of rumors will come again soon, fans will keep hope alive, and one day—maybe this month, maybe the one after, maybe further down the road—the rumors will be true.
Until then, it's your move, Frank.
---