Earlier this year, Top Dawg posted a picture of a whiteboard with a list stating how far along each member of TDE is with their respective projects. Schoolboy appeared to be furthest along but the first project came from Kendrick with untitled, unmastered coming this past March.
The list also included two "John Doe" projects under a "New Artists" bullet point. The first John Doe ended up being Lance Skiiiwalker and he dropped of "Speed" last month. Today, the second John may have just revealed himself.
Kembe X tweeted "TDE" a little after midnight last night and followed up with a selfie featuring a TDE chain. There has been no official confirmation but this tweet lead many to believe that the Chicago rapper is in fact the latest signee to the powerhouse label.
Kembe has previously worked with Isaiah Rashad on tracks like "Die 4 It," has been spotted eating lunch with SZA last year, and Punch tweeted out his song "Buried Alive" this past November. TDE has definitely been hip to Kembe X so his signing would not be a huge surprise.
Check out the tweets from Kembe below.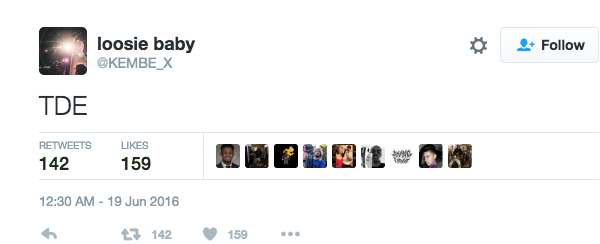 pic.twitter.com/qk1LQSMn8m — loosie baby (@KEMBE_X) June 19, 2016